'The Office': Jenna Fischer Nailed Her First 'Pam' Auditon With One Word Answers
It's impossible to think about the cast of The Office without thinking about Jenna Fischer. Fischer, of course, was a part of the main cast...
It's impossible to think about the cast of The Office without thinking about Jenna Fischer. Fischer, of course, was a part of the main cast from the very first episode and bought Pam Beesly to life. Fischer nailed the role of the mild-mannered receptionist and was the perfect counterbalance to over-the-top characters like Michael Scott and Dwight K. Schrute. Though fans of The Office likely can't imagine anyone else playing Pam, Fischer had to beat out a lot of other actors to land the role. So just how did she do it?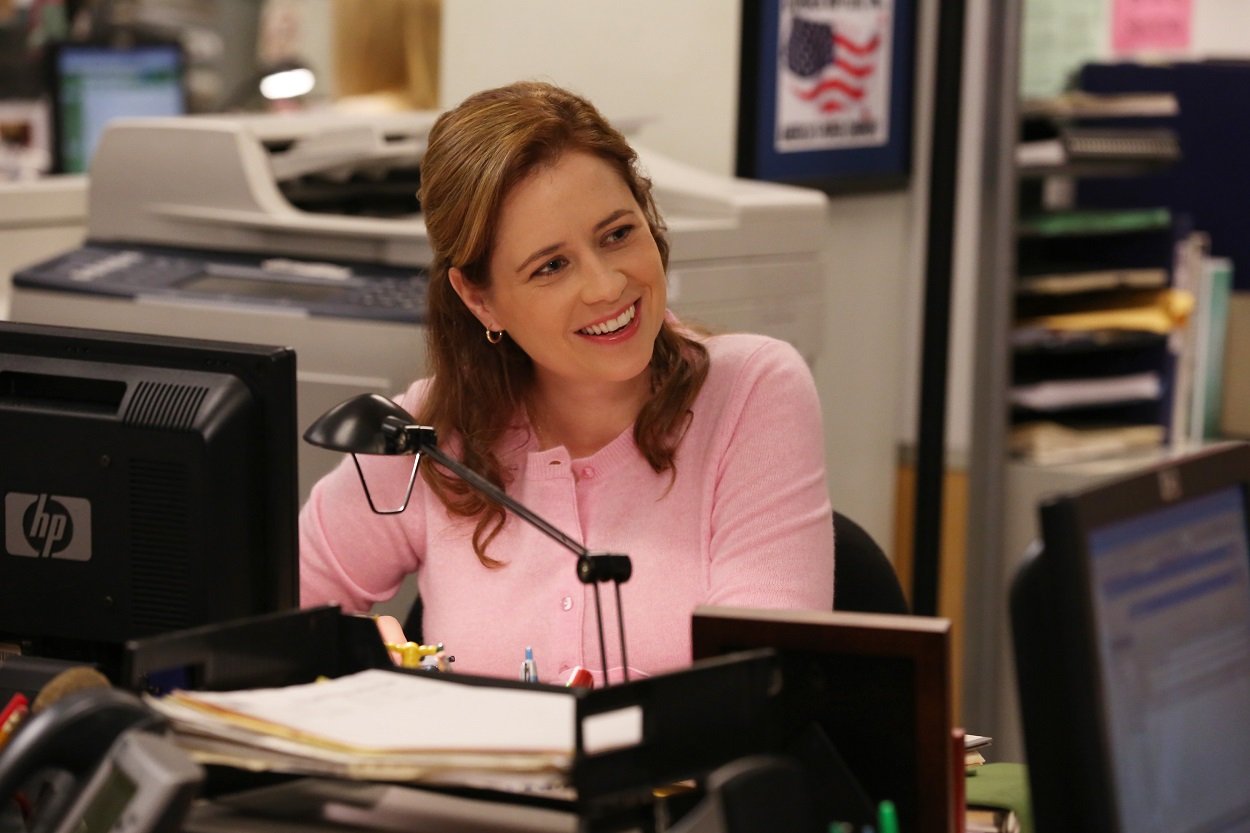 Auditions are always a weird affair, but for The Office, they were a bit more strange than usual. Rather than being given a script with dialogue to memorize, Fischer and the other actors who were interested in joining the cast were required to do a mock interview for their first audition. The interviews mimicked the documentary style of The Office.
Jenna Fischer reflects on her first audition for 'The Office'
"My very first audition for The Office, I had to sit in a chair, and the producer interviewed me in character," Fischer shared in an interview with NPR. "There was no script. He just said 'We want you to act like Pam, or your idea of Pam. And we're going to interview you like a documentary film crew might,' And they asked me a lot of questions about – did I like working at a paper company? How long had I lived in Scranton? How did I feel about being filmed by a documentary crew?"
While other actors who were attempting to join the cast of The Office may have taken the opportunity to dive into their character's backstory and provide as much info as possible, Fischer took a more conservative approach. Also, she was wary about saying clever things. The real comedy, from her perspective, was primarily situational.
Fischer had a very unique take on Pam's character
"And my take on the character of Pam was that she didn't have any media training, so she didn't know how to be a good interview," The Office alum revealed. "And also, she didn't care about this interview. And so, I gave very short one-word answers. And I tried very hard not to be funny or clever, because I thought that the comedy would come out of just, you know, the real human reactions to the situation. And it was great. It was great. We clicked quickly. And they liked that take on it."
Fischer's instincts turned out to be right on. The less she did as Pam the funnier the casting director and The Office producer found her to be. "The first question that they asked me in the character of Pam – they said, 'Do you like working as a receptionist?' And I said, 'No.' And that was it. I didn't speak anymore than that. And they started laughing," Fischer recalled.
Fischer's one-word answers led to a spot in 'The Office' cast
Fischer continued on with that tactic and it was enough to earn her a second audition, or a callback. "And then, they asked me a few more questions,' The Office star recalled. "My – I mean, my answers were really nothing. They were just yes and no answers. They – and I felt like the comedy would come in watching me think about what I wasn't going to say instead of being what was said."
Clearly, Fisher took the right approach to her first audition. While she'd have to go through several more auditions before she officially got cast in The Office, we're sure she'd agree that it was well worth the wait.