'The Office': John Krasinski's Chemistry With This Actor Helped Him Get the Part; It's Not Jenna Fischer
It's hard to think about The Office without taking note of the show's incredible ensemble cast. The show is packed with star-studded actors that have gone on to have illustrious careers. One such person is John Krasinski, who played Jim Halpert on the show. Since The Office ended back in 2013, Krasinski has gone on to flex his acting skills as well as his writing and directing chops.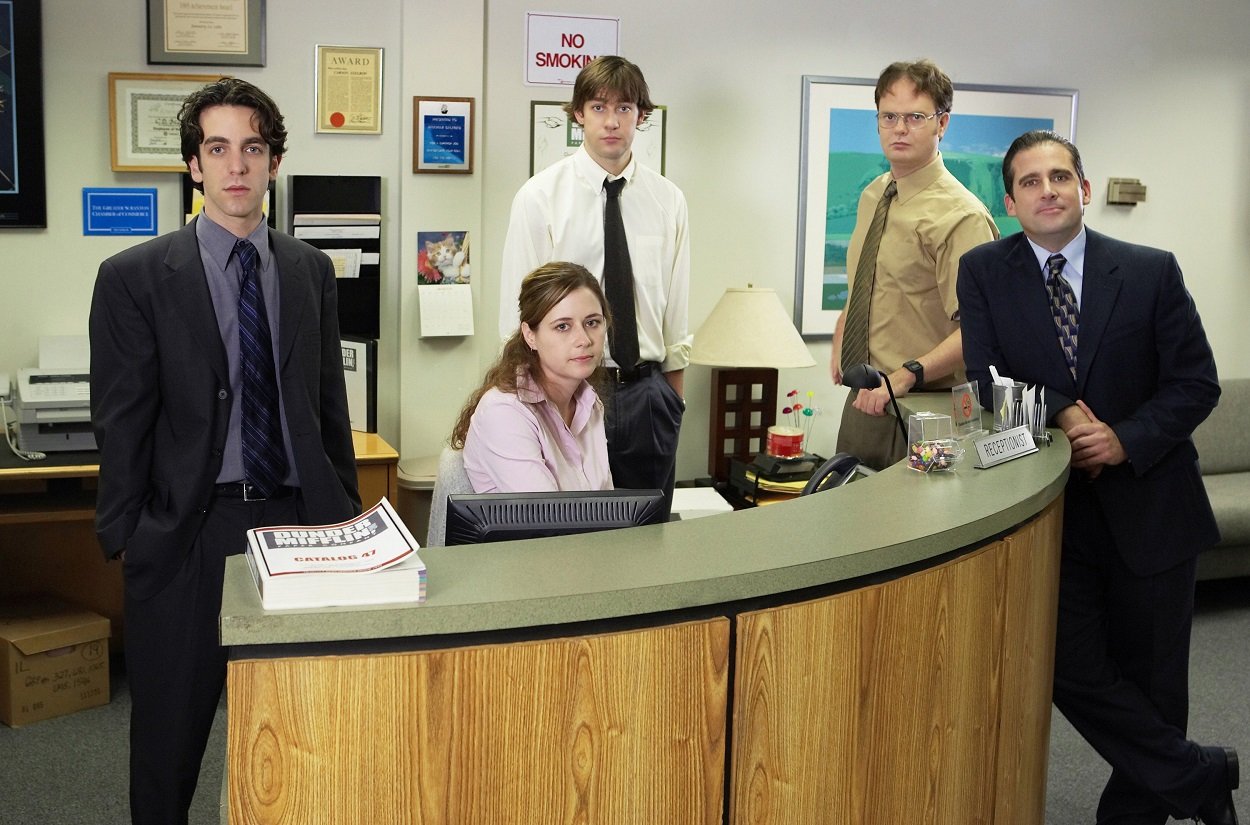 Though Krasinski has bulked up his resume in the last few years, he didn't have very many credits prior to working on The Office. So how did he manage to snag the role, especially since it was so competitive? In a press phone call, Greg Daniels, who created the American version of the show, shared how he knew that the A Quiet Place star was right for the part of Jim.
'The Office' creator on why John Krasinski was right for the role of Jim Halpert
Though The Office is undoubtedly a comedy, it also boasts a lot of heartwarming moments as well. Jim is at the center of a lot of those moments thanks to his relationship with Pam. Daniels admitted that this character duality made Jim a challenging role to cast. However, Krasinski was able to do both exceptionally well.
RELATED: Steve Carell Is Pretty Bad at 'The Office' Trivia for 1 Reason; 'Some of Them Don't Even Ring a Bell'
"Very infrequently, I think, do you find an actor who is very, very good at comedy and extremely sincere and vulnerable, and capable of being like a masculine leading man," The Office creator shared about Krasinski. "And I really felt that when all the different people came through, it was very clear that John was the best."
The cast went through multiple rounds of auditions as their characters
But being able to balance humor and sincerity wasn't the only thing that Krasinski had to do in order to secure his place in The Office. He, as well as all the other main cast members, had to go through a pretty extensive audition process that consisted of three days of screen tests. These screen tests involved the top contenders for the role navigating through various situations as their characters.
Fans of The Office likely know that Krasinski had instant chemistry with Jenna Fischer, who played Pam Beesly on the show. But, he needed to have a good rapport with another important cast member in order to really make the role believable. According to Daniels, Krasinski was able to do just that.
Krasinski's chemistry with two actors led to him being cast in 'The Office'
"But in addition to being very funny in the talking heads and having a great chemistry with Jenna, one of the aspects of the role was to be able to have this relationship with Dwight," The Office creator shared. "And in the improvs between John and Rainn [Wilson, who was cast in the role of Dwight Schrute], John was the only person who could stand up to Rainn and kind of throw Rainn back on his feet. And so he kind of hit all the marks and it wasn't a hard choice."
We can certainly see why it was important that Wilson and Krasinski had good chemistry with one another. As a hefty amount of The Office humor hinges on the frenemy relationship that Jim and Dwight share, the pair needed to have a solid back and forth. Personally, we can't imagine anyone other than Krasinski and Wilson playing Jim and Dwight, so we see why they were chosen.