'The Office' Cast Members Who Are Available on Cameo
The Office may have ended in 2013, but the show lives on in fan's hearts. Thanks to social media, podcasts that reveal behind-the-scenes stories, streaming platforms, and video apps like Cameo, fans of The Office have been able to stay connected with their favorite actors. Find out which of The Office cast are available for custom videos on Cameo. Plus, details about a giveaway that involves some of The Office actors.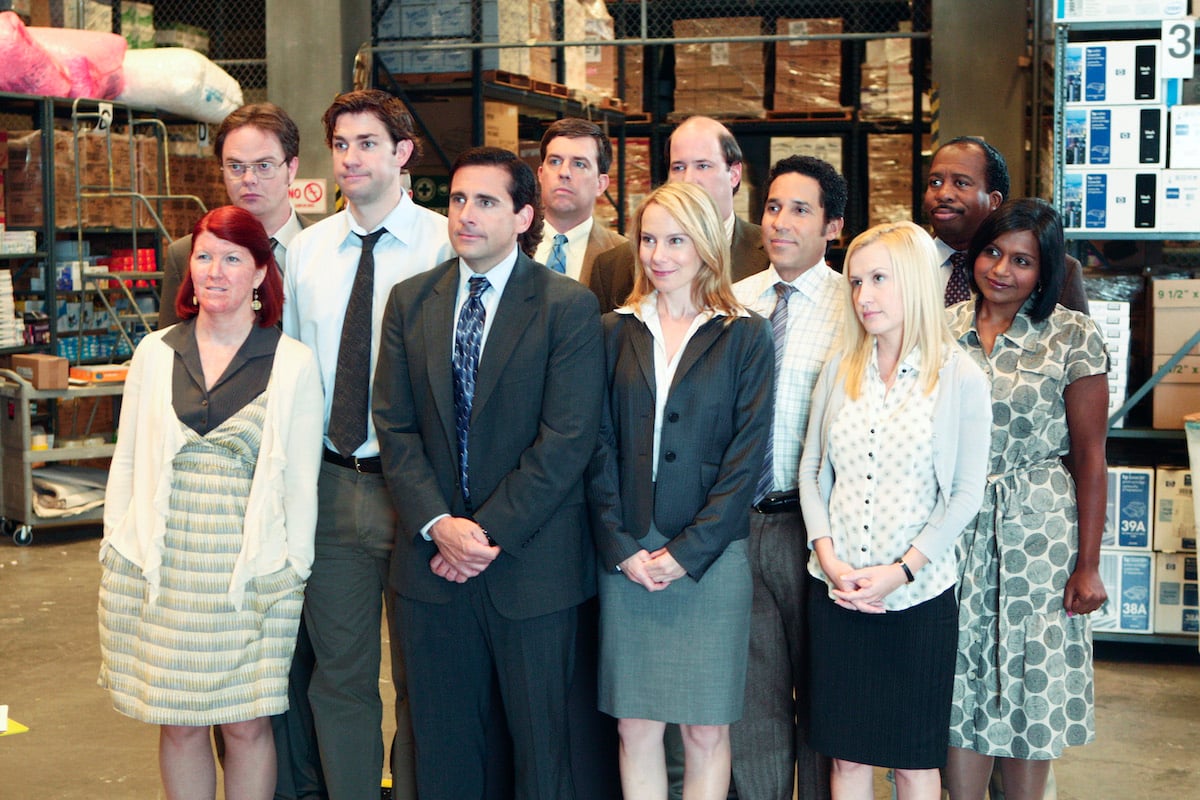 The cast of 'The Office' available on Cameo
Cameo is a service offering personalized video messages from celebrities. Fans can submit requests to stars from movies, reality TV, and even the cast of The Office.
Most of The Office cast members are available on Cameo. Kate Flannery, who plays Meredith Palmer on the show, is available for $190. Other cast members like Oscar Nuñez, Melora Hardin, and Leslie David Baker are a bit pricier. They're offering Cameo videos for $200, $350, and $349, respectively. 
Another big name on Cameo is Paul Lieberstein. He plays Toby Flenderson, but he also wrote and directed many episodes of The Office. Lieberstein is doing Cameos for $495. Other Office cast members like Robert R. Shafer (Bob Vance), Linda Purl (Pam Beesley's mom), and Jack Coleman (Senator Robert Lipton) are doing Cameos for under $100. 
There are so many Office cast members available on Cameo. But one Office actor has been extremely profitable on the app — Brian Baumgartner.
Brian Baumgartner's Cameo earned him more than $1 million in 2020
Baumgartner plays the lovable Kevin Malone in The Office. But now, the actor is devoting his time to two podcasts about The Office and creating Cameos for fans. 
For $195, The Office fans can request a video from Baumgartner. In 2020, the actor earned more than $1 million creating videos for fans. Cameo's co-founder and CEO, Steven Galanis, attributes Baumgartner's success to his fast turn-around and ability to personalize each message. 
"He really takes a lot of pride in his craftsmanship of the videos," Galanis said on the New York Times Sway podcast. "I do think the quality of the Cameo is something that is really important to people. And he just is somebody that really takes it seriously and does a great job. He's reliable [and] he turns them around quickly. And the content is really funny."
'The Office' cast partner with Cutwater Spirits and Cameo
Baumgartner, Nuñez, Hardin, and Baker teamed up with Cutwater Spirits and Cameo to kick off the summer season with a contest. Per the release, The Office stars want fans who are of age to set their "out of (home) office and 'cut out.'"
RELATED: 'The Office': 2 Sets of Stars Got Married in Real Life
One hundred winners will receive a customized Cameo message from one of The Office cast members. Each customized message will invite fan's friends and family to reconnect when it is safe to do so. Plus, one winner will be awarded a $5,000 trip to host a post-pandemic reunion with their family and friends. Of course, these stars are still offering Cameos for purchase through the app.
Enter to win on the Cameo site. Entries are being accepted now through May 31. And don't forget to stream The Office on Peacock.