'The Office': Creator Greg Daniels Told the Cast Exactly How to Feel About Steve Carell Leaving
Steve Carell's exit from The Office was an emotional time for the cast and crew, so you can imagine that getting through his final episode was challenging. Creator Greg Daniels, who wrote the "Goodbye Michael" episode, said he had to tell the cast to "care a little bit less" so they would stop crying and ruining takes.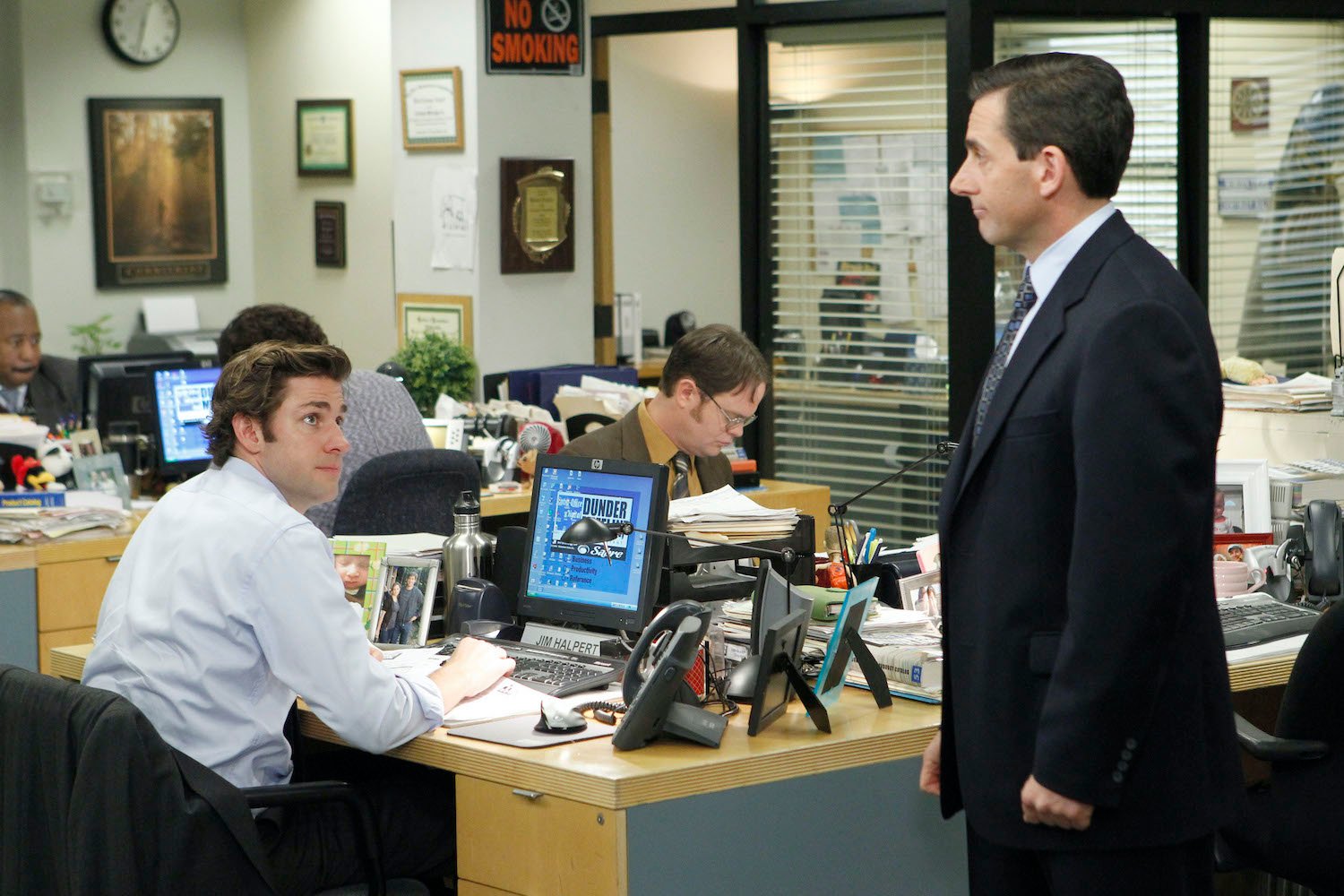 'The Office' cast was emotional when Steve Carell left
Filming The Office "Goodbye, Michael" episode had everyone feeling weepy. Oscar Nunez, who played Oscar on the series, told Yahoo! Entertainment, "People were crying all over the place… It was very emotional."
Daniels found keeping everyone on task challenging and had to remind them that there was comedy to deliver too. "You know, I wrote that episode and I think the trick was just to not be so maudlin with it," he explained.
"Because the cast was feeling really sad about the fact that Steve was leaving because, you know, obviously we all loved him," Daniels continued. "And he had told us for a long time that he was going to leave."
He added, "But I remember the hardest part was just saying to the actors, 'This is a comedy show, you can't cry in every scene with Steve. Try and care a little bit less or something. You know, just to keep it going.'"
John Krasinski said his final scene with Steve Carell was so difficult
On an episode of John Krasinski's YouTube series Some Good News, he spoke with Carell about their final scene together. Getting through it took many takes because neither of them could stop the tears from flowing.
Krasinski said it was "the most emotional I've ever been on a set."
Carell agreed, telling his former co-star, "That was a hard one. That one was tough."
The two men were reduced to puddles and grunting and the scene took almost 20 takes to complete. "I was sort of hoping that they wouldn't do your scene and my scene, the episode where you leave, last," Krasinski recalled.
"I think you and I counted, I think it was either 17 or 19 takes where there wasn't an audible word that came out," he added. "It was just 'action' and then you and I [emotional grunting]."
Steve Carell said his final episode of 'The Office' was 'emotional torture'
Carell said the last episode was "emotional torture" for him because he had to say goodbye to everyone individually during the week of filming.
During the Aug. 25, 2020 episode of An Oral History of The Office podcast, Carell said it was his idea for Michael to have these moments with each of his co-workers.
"I just thought that would be the most elegant representation of his growth as a human being," Carell shared. "Because Michael lives to be celebrated, you think that's all he wants. He wants to be the center of attention. But the fact that he'd walk away from his big tribute, his big sendoff, and be able to, in a very personal way, say goodbye to each character — that to me felt like it would resonate."
Carell said "it was almost more than I bargained for" as those scenes were an "emotional torture."
"It was just fraught with emotion and joy and sadness and nostalgia. But it was also really beautiful. I treasure it," he added. "I treasure just doing that episode because it did allow me to kind of have a finality with everybody."