'The Office': Ellie Kemper Once Weighed in on One of the Series' Most Controversial Couples
One thing that The Office certainly isn't lacking is couples. There are sweet couples like Phyllis and Bob Vance, Vance Refrigeration, toxic pairs like Jan and Michael, and couples like Dwight and Angela, who somehow are perfect together despite how odd they are as individuals. But one of the show's most controversial couples is undoubtedly Erin and Andy.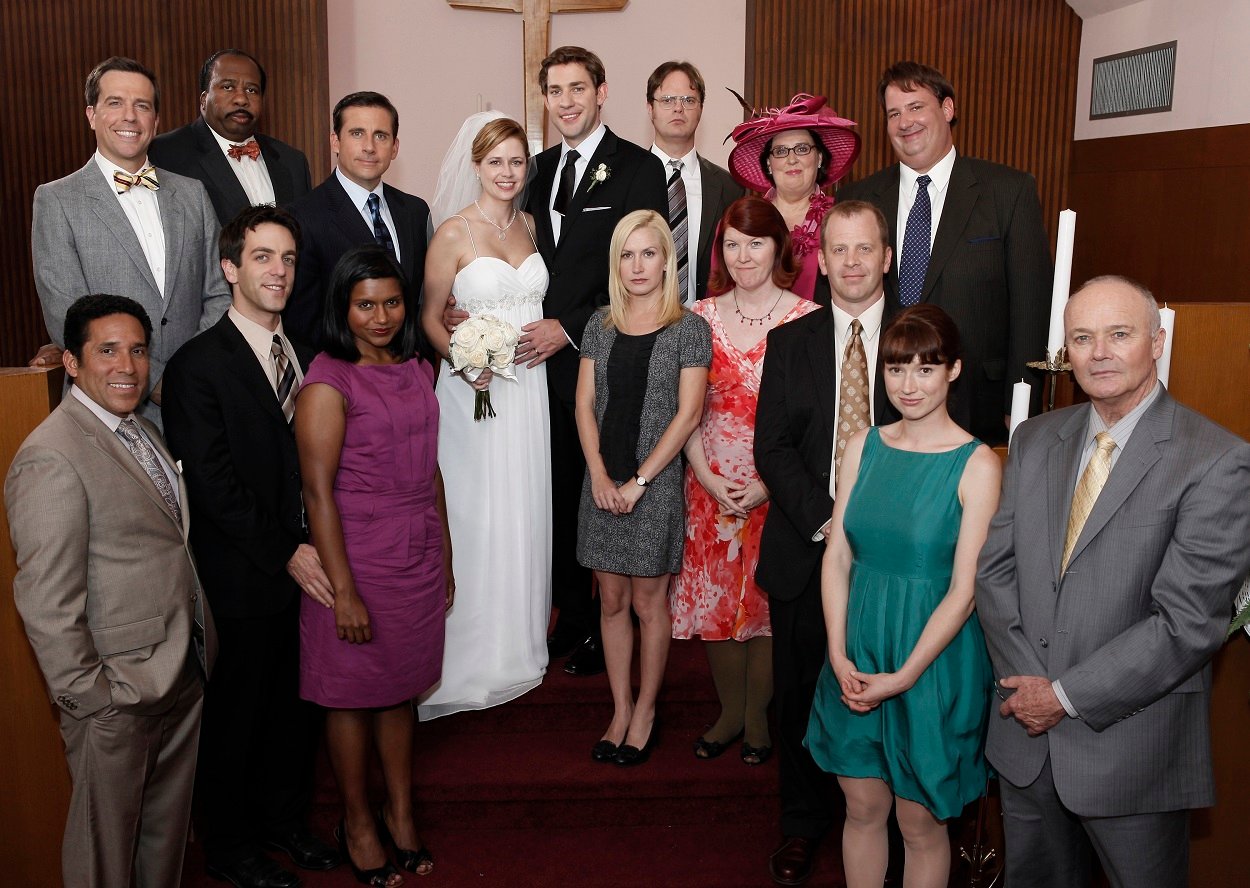 Of course, Erin and Andy didn't start off a controversial couple. In fact, many fans of The Office were rooting for them in the beginning. Despite the age-gap between them, their individual weirdness seemed to compliment one another. Of course, it took quite a while before the chemistry between the pair manifested into a romantic relationship. In fact, for many episodes, they took Jim and Pam's place as the will they/won't they couple in the office.
Ellie Kemper weighs in on Erin and Andy
While some fans of The Office found the pairing to be bizarre, Ellie Kemper, who played Erin Hannon, was excited when it became clear that there was something between Andy and Erin. "I'm thrilled that love line is being followed because I think that Andy is such an appropriate match for Erin, or what Erin is becoming," she shared in a 2010 interview with The A.V. Club. But what exactly did Erin see in the much older Andy?
RELATED: Revealed: This Couple From 'The Office' Is Married In Real Life
"This is her first real job, and… I don't really know what her boyfriend background has been, but this is a man that she's impressed by, who is already established in this world that she is so fascinated by. But also with Andy, she doesn't get that he's a little weird, because she's as weird," Kemper shared about her Office character's connection with Andy. "They are in the same world of weird, I guess. Her relationship with Michael is similar: She thinks Michael's a rockstar because he's the boss of this whole office. He can do no wrong. I don't think that Erin is dumb. I guess it's naïve, but it's so sincere. That's what I love, that there's no cynicism or sarcasm with her. It's just like, 'Andy!' Andy is so weird to her, but she's just charmed by it."
How Andy Erin became one of the most controversial couples in 'The Office'
Of course, Kemper's feelings about Andy's charm likely changed over time. Much like fans of The Office, Erin eventually got fed up with Andy's flightiness and treatment of her. Fans were particularly upset with how Andy treated Erin and the rest of his employees in Season 9. The regional manager abandons his relationship and his job for months on end.
RELATED: Revealed: These Two Cast Members From 'The Office' Dated In Real Life
But what accounted for Andy's drastic change of behavior in the show's final season? When Ed Helms booked a movie, the writers for The Office had to find a way to justify a long absence and they made the decision to have him experience a sort of midlife crisis. Unfortunately, this decision made his character much less likable and caused Erin to break things off with him and pursue a relationship with Pete aka Plop. Clearly, while Andy and Erin may have been cute to being with, they didn't have the staying power of other weird couples like Michael and Holly.