'The Office': David Denman's Backstory for Pam and Roy Sadly Explains How He Loses Her
Pam (Jenna Fischer) and Roy (David Denman) are already engaged at the beginning of The Office. So it's a bit of a mystery of how they fell in love. Denman revealed his backstory for their characters. It sadly explains how Roy lost Pam to Jim (John Krasinski).
David Denman thinks Pam and Roy of 'The Office' dated in high school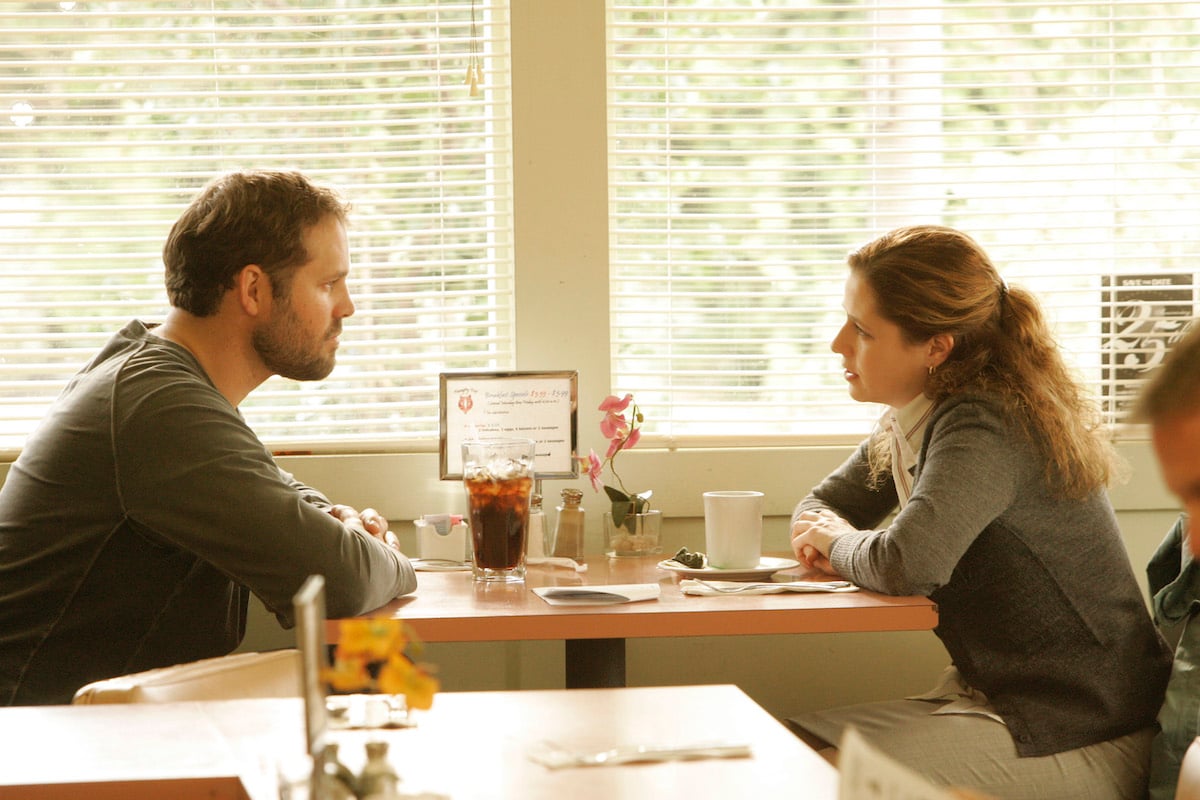 Actors tend to create a backstory for their characters to better understand them. Denman shared his story on the Office Ladies podcast.
"I assumed that these guys met in high school. They started dating and they just kind of fell into this dynamic," he explained. He believes they decided to get married mostly because it's what they thought they were supposed to do next.
"It wasn't until years later that like when he was gonna lose Pam that he was like 'Oh I actually care about this person. And I have to put some work into this,'" Denman said. "You know with any relationship you have to put some effort into it and I don't think Roy had ever thought about that until it was too late."
The actor said he based Roy off people he knew who were "meatheads." He still sometimes plays this type of character because of The Office.
Jenna Fischer's backstory includes Pam's parents
Fischer did the same thing for the characters. She revealed on another episode of the Office Ladies podcast how she thinks Roy and Pam met.
"I had written probably a three-page essay on Pam's backstory, some of which I got from the script or [borrowed] from the British show," she said.
"In my backstory, Pam's parents owned an appliance store in town, and Roy worked there in high school. That's how they met," she revealed. They also go to the same school and fell in love.
Pam's wardrobe changed after their breakup
Pam and Roy breakup for good in "The Negotiator." This is because Roy tries to punch Jim in the office after he finds out Jim kissed her.
We saw Pam being single before this because she called off the wedding after the kiss. There was small wardrobe change to symbolize this. Pam used to wear a heart necklace but fans asked about her new one.
"It is a unicorn and Pam used to wear a little heart necklace," Fischer said on the Office Ladies podcast. "But it was a gift from Roy and so when they broke up she took it off and with the wardrobe department we picked a new necklace for Pam and this is what we picked."
The actors seem to be on the same page about their characters meeting in high school. Sadly, they grew apart and never got married.