'The Office': Dwight and Angela's Wedding Was Missing an Important Detail
Dwight and Angela get married in the finale of 'The Office.' The episode missed an important detail about one of the characters.
The Office ended with a huge event. That was Dwight Schrute's (Rainn Wilson) and Angela Martin's (Angela Kinsey) wedding. It was an odd affair, which was to be expected for the comedy. But there was still an important detail missing that might have confused some fans.
'The Office' almost got a spin-off
Dwight became a popular character, given his love of certain shows and ambition to gain more power at Dunder Mifflin. So it's not surprising that he also got his own spinoff focused on his family.
"The Farm" acted as a backdoor pilot showing the paper salesman and Oscar Martinez (Oscar Nunez) go to his Aunt Shirley's funeral. Fans then got to see his cousins Mose (Michael Schur) and Zeke (Matt Jones). He also has two siblings named Jeb (Thomas Middleditch) and Fannie (Majandra Delfino).
They find out Aunt Shirley left Dwight and his siblings her estate, so they decide to move back to manage it. The new show was supposed to follow that journey together. 
"Rainn is a great, great screen presence, and I think it made a lot of sense to try him," Schur told TV Guide. "When [creator] Greg [Daniels] and I were first thinking about potential spin-offs, Rainn was an obvious person to think about because he's a comedy force."
Why didn't it work out? "It doesn't fit in with the current administration at NBC. I don't think they cared for it very much. But in a weird way, the timing was a little wrong," Wilson explained.
"The Farm" was in season 9, which Wilson believed was too late for a spin-off. So The Office ended that season without having any characters breaking off on their own in 2013.
Dwight and Angela's wedding was missing an important detail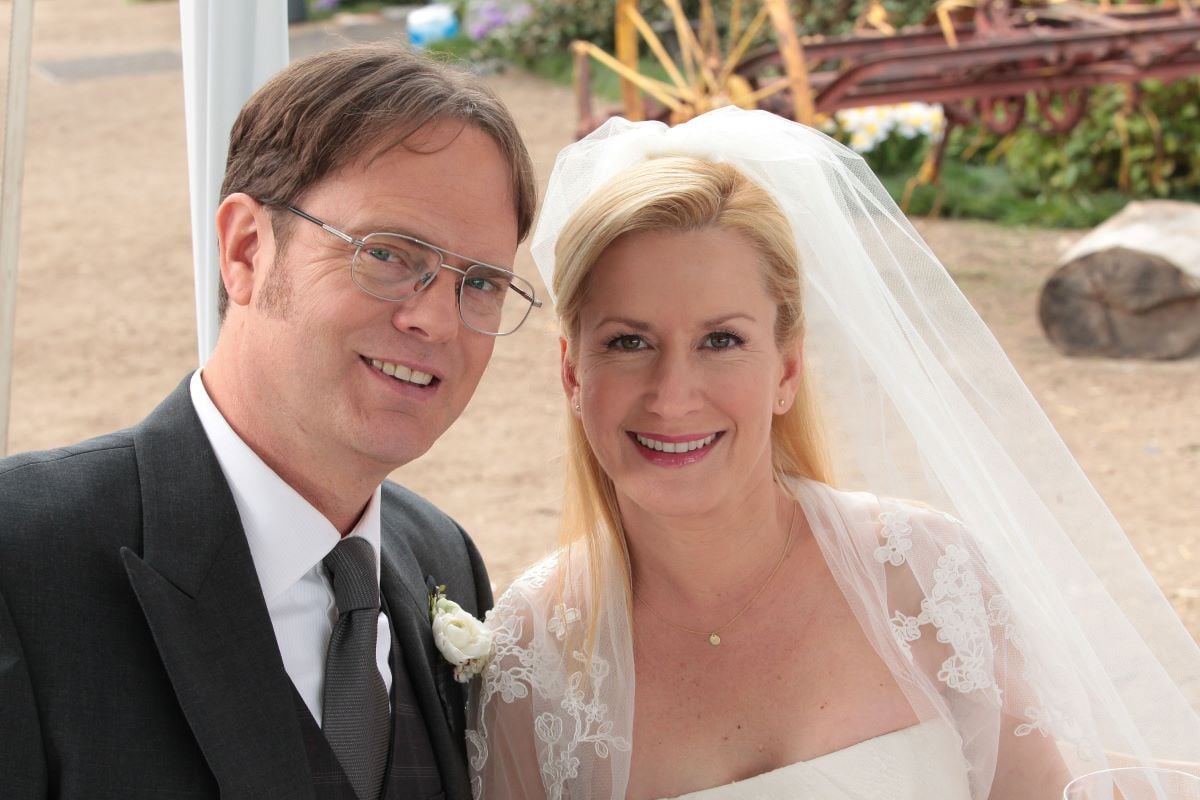 Dwight and Angela Martin finally got married in the finale episode. Many characters returned for their big day, but an important detail was missing.
Dwight's siblings weren't part of the wedding. We know that the hopeful spinoff didn't take off, but, strangely, the show didn't bring the minor characters back. 
Luckily, the employees of Dunder Mifflin are as good as family. All of them were there as guests or part of the wedding party. Michael Scott (Steve Carell) is also brought in at the last minute to be Dwight's best man. This was very important, not only for the audience. But to Dwight, who always wanted Michael's acceptance.
 The couple wasn't completely without family at their wedding. Angela did have her sister, Rachael (Rachael Harris) to stand beside her. This is actually weird, given we have never seen Rachael before this episode. But she was mentioned. Angela said she used to be close to her sister before they stopped speaking for years. Their big reunion is at her bachelorette party.
Angela got a nice wrap-up while Dwight got married without his brother or sister. Dwight did get the Regional Manager position, which is what he wanted for a long time.