'The Office': Dwight's Second Life Character Profile Still Exists
Dwight Schrute (Rainn Wilson) had many hobbies on The Office. Fans got to see him play Second Life in one episode and Jim (John Krasinski) had fun with it. The profile still exists and an actor revealed what it says about Dwight.
'The Office' showed Dwight and Jim getting Second Life characters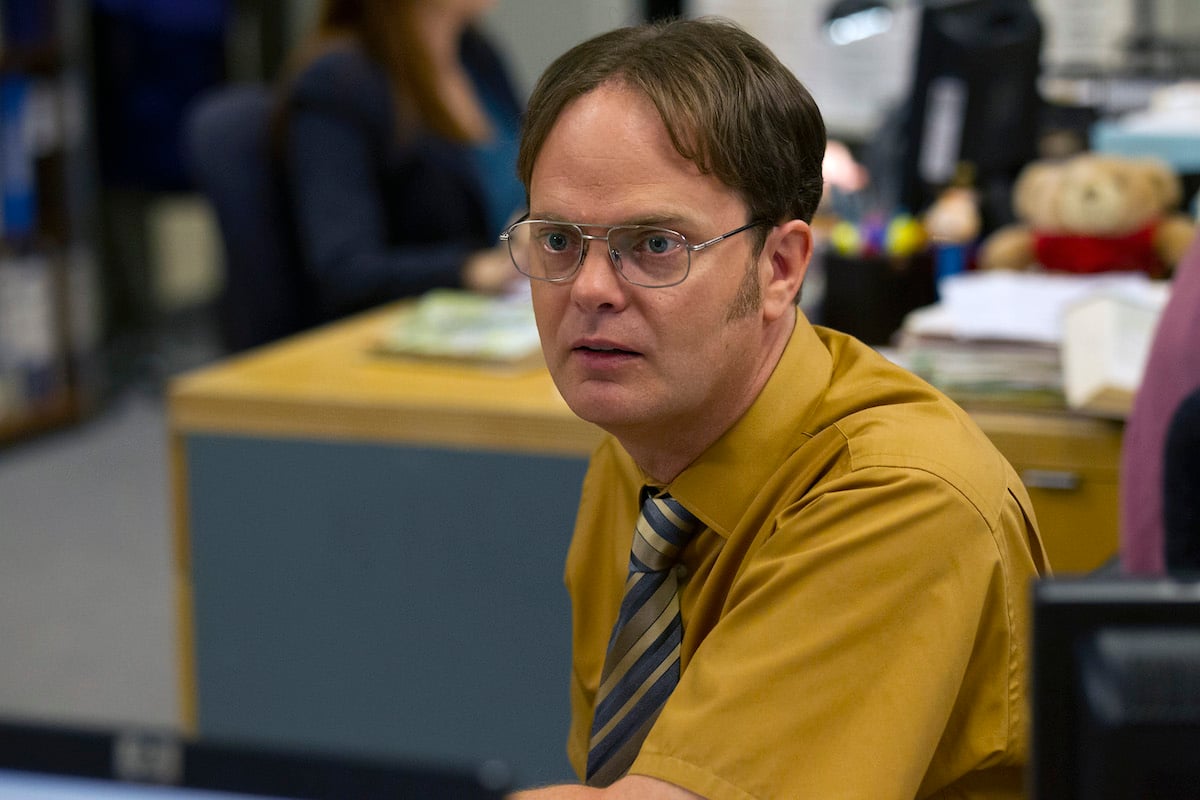 The episode "Local Ad" showed Michael (Steve Carell) trying to make a commercial for Dunder Mifflin. Andy (Ed Helms) starts talking about his relationship with Angela (Angela Kinsey) with Dwight, which upsets him. Jim finds out about Dwight's Second Life profile.
Second Life isn't a game but a multi-user virtual place for people to interact. "I signed up for Second Life about a year ago. Back then my life was so great that I literally wanted a second one," Dwight explained in his interview.
"In my second life I was also a paper salesman and I was also named Dwight. Absolutely everything was the same except…I could fly," he said.
Jim reveals this to Pam (Jenna Fischer) and decides to create his own character to mess with Dwight. It's obvious he also gets into it because his character looks just like him. But he has a guitar and is a sports writer in Philadelphia. 
Jim's character foreshadows his future
Jim does eventually pursue a job in Philadelphia in season 9. It turns out Second Life could have been a big source of inspiration for this change.
Fischer shared her theory with her co-host Kinsey on her podcast, Office Ladies. "I think this moment happened in this episode and it went into the show Bible," she said.
The actor thinks Krasinski pitched the idea that Jim would go to Philadelphia because he noticed this in the show Bible. "I didn't check with him," Fischer made clear. But that's her theory on how Second Life and the later story are connected.
Dwight Schrute's Second Life character profile still exists
Fischer revealed how Dwight's character was created on the same podcast episode. The show had a licensing agreement with Second Life. 
"They ended up creating all of the avatars and animation for us," Fischer said. Pictures of Krasinski and Wilson were given to them and they made their characters based on that.
The actor then revealed that the profile is still available. It has some interesting information about the farmer.
"I looked up Dwight's profile on Second Life," she told her co-host Kinsey. "I did. It's still there. Here's what he has down as his interests: muscle cars, pop culture, and sci-fi buff (Harry Potter, The Lord of the Rings, Star Wars, 24, Alias, Smallville, The Apprentice, Lost, and Battlestar Galactica)."
This is probably not surprising to fans given Schrute made references to some of these things in the show. But she went on to list his more secret talents as an avid corn husk doll maker, beet sculpture, and knot-tying champion.
His goal on Second Life is to calculate the exchange between Schrutebucks and Linden Dollars, the currency in Second Life. Sadly, fans may never know if he was successful at finding the answer.