'The Office': Ed Helms Felt a Lot of Pressure Becoming the Boss of Dunder Mifflin
Ed Helms was 'thrilled and excited' to take on the role of regional manager, but the thought of playing the boss on 'The Office' also 'terrified' him.
When Steve Carell left The Office, Dunder Mifflin needed a new regional manager for the Scranton branch. Many comedic actors guest-starred on the show as regional manager hopefuls, but the position was ultimately awarded to James Spader's character, Robert California. 
Ironically, Robert California didn't last for very long as the regional manager of Dunder Mifflin Scranton. He quickly climbed the corporate ladder, leaving Andy Bernard in charge of The Office. For Ed Helm's, stepping into the boss' shoes was terrifying.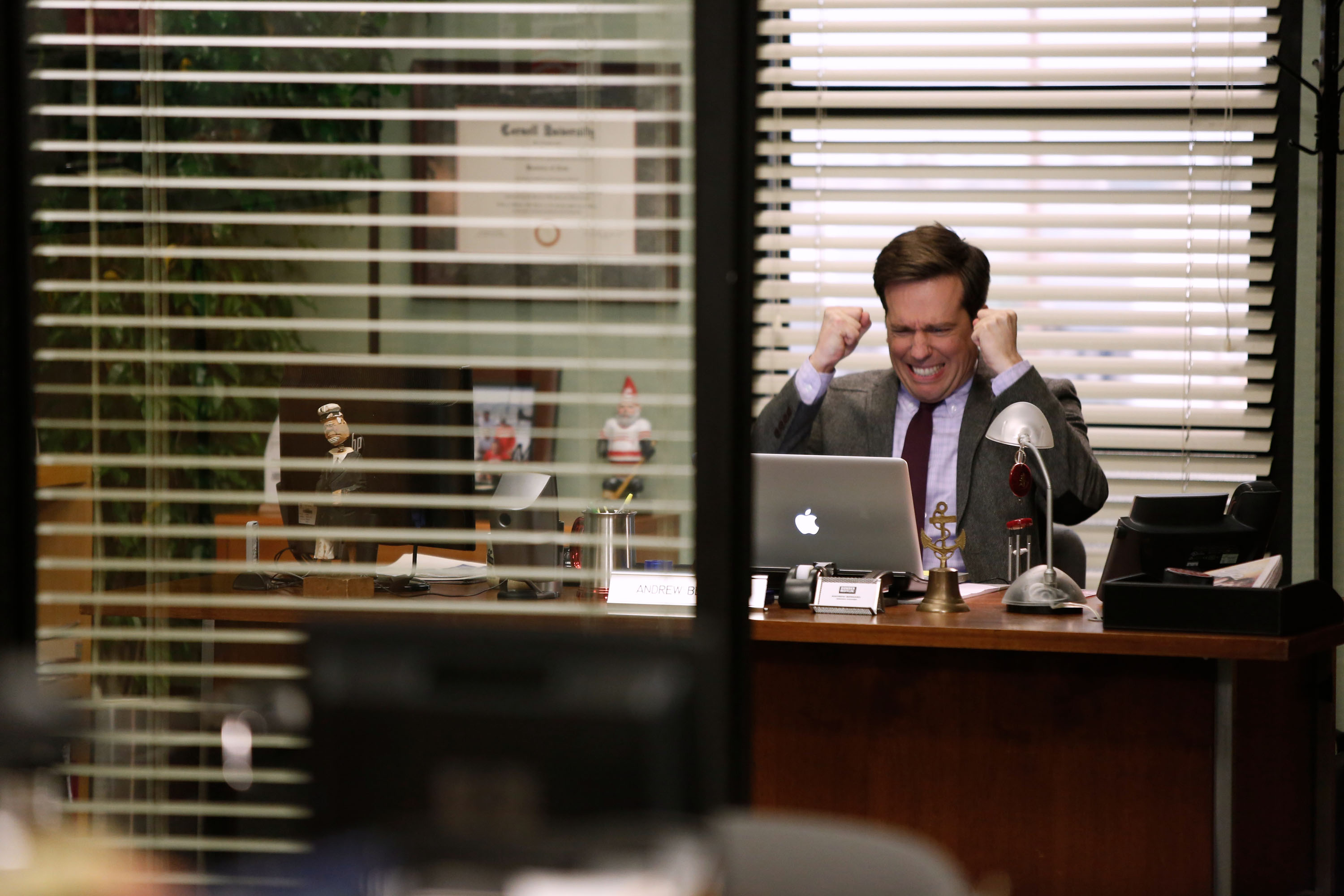 'The Office' had to replace Michael Scott after season 7 
When Steve Carell left The Office, many fans felt like the show would never be the same. The show only went on for two more seasons, and Carell did his best to leave in the most gracious way possible.
After his departure, showrunners worked tirelessly to find a new regional manager. Fortunately, there were plenty of actors willing to play the role — something that helped keep fans engaged and entertained in Carell's absence.
James Spader became Dunder Mifflin Scranton's new boss 
After Steve Carell's departure, showrunner's put together the "Search Committee" episode. The season 7 finale featured Jim Halpert (John Krasinski), Toby Flenderson (Paul Lieberstein), and Gabe Lewis (Zach Woods) interviewing candidates to replace Michael Scott. 
Comedians like Jim Carrey, Ray Romano, Will Arnett, and Will Ferrel were interviewed for the position. Ultimately, the committee decided Spader's eccentric Robert California was the right fit.
Spader joined the cast of The Office after his successful run on Boston Legal. He only stayed for one season, as that was always his plan. 
"James came to The Office to play a role that was two scenes long in the season 7 finale," Lieberstein told Grantland. "James always wanted this to be a one year arc, and he now leaves us having created one of the most enigmatic and dynamic characters in television. He's been a great friend to me and the show, helping us successfully transition into the post-Michael Scott years, and I'm grateful for that." 
James Spader wasn't the regional manager for long 
On Robert California's first day of work, he was so repulsed by what he saw, he drove to Florida to convince Jo Bennett (Kathy Bates) to give him her job as CEO. 
This left room for Lieberstein and the rest of the writers to put someone from the existing cast into Michael Scott's office. 
Darryl Philbin (Craig Robinson) and Jim Halpert were up for consideration. However, Lieberstein says they were "non-starters because they were too confident."
Dwight Schrute (Rainn Wilson) was also up for consideration. In fact, he played acting regional manager while they were looking for Robert's replacement. But, he fired a gun in the office and was immediately demoted. 
"Dwight is always angling to be the boss," Jenna Fischer explained on co-star Brian Baumgartner's podcast, An Oral History of The Office. "If you make him the boss, then who [replaces Dwight?]" 
Lieberstein wanted someone who could make mistakes as the boss of Dunder Mifflin Scranton. So, they awarded the position to the awkward-yet-loveable Andy Bernard. 
Ed Helms was 'terrified' to play Dunder Mifflin Scranton's new regional manager 
"I was thrilled and super excited and terrified," Helms told Baumgartner. For Helms, stepping into Michael Scott's office was a "ton of pressure."
"I really meditated a lot on this idea — I'm not trying to fill Steve's shoes," he continued. "I'm walking in a different direction. I'm going to be a little bit of a different thing here." 
Helms took comfort in knowing the new direction showrunners wanted to take The Office in its final two seasons. Rather than rely on the boss as the main character, like the show had done with Carell, "the show was going to be leaning harder into [the] ensemble," Helms said. "So there was a sense that even with Andy as manager, it wasn't necessarily all on my shoulders." 
While he wasn't Michael Scott, Andy Bernard did a fine job during his time as regional manager.