'The Office': Ed Helms Inspired This Quirk Andy Bernard Had
Ed Helms played the hilariously aggravated Andy Bernard on The Office. Like many of his co-stars, Helms provided a lot of influence as to who Andy really was — including this quirk.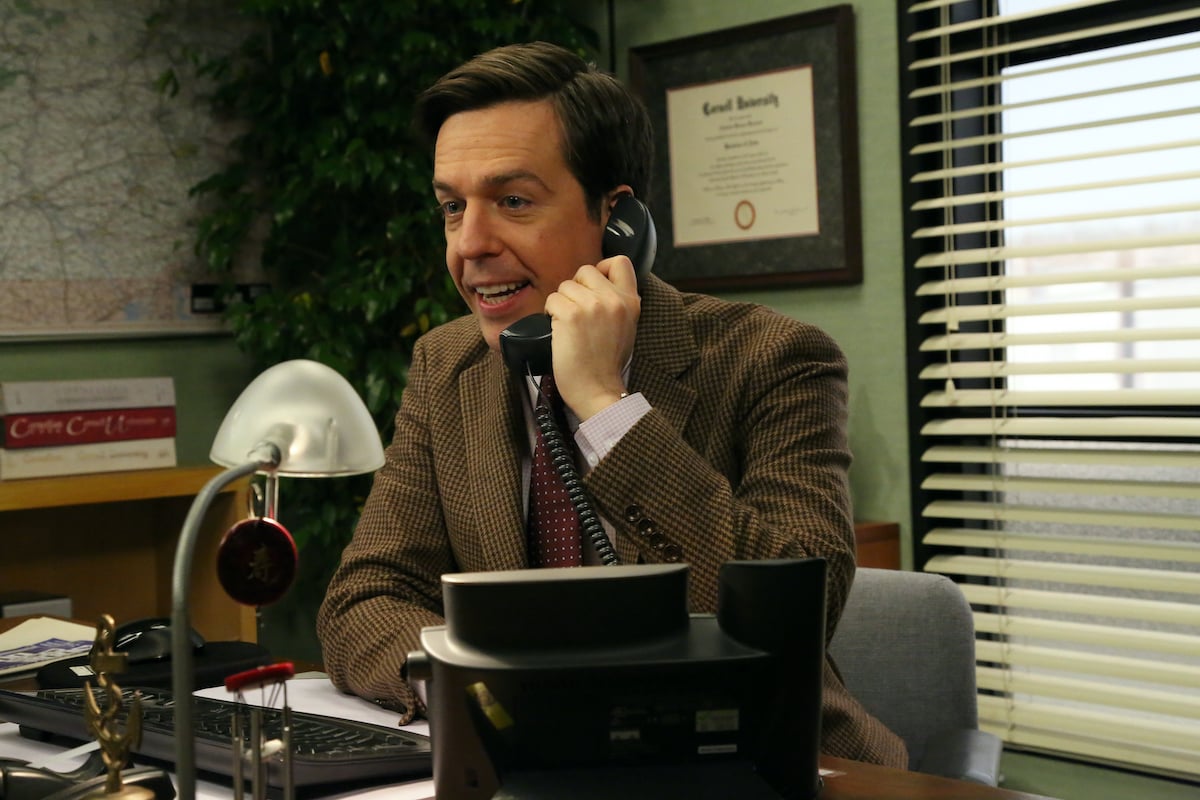 Showrunners felt like they could never know 'The Office' characters the way the actors did 
The Office had an incredible team of writers working on the show. Still, they often relied on the actors playing the part to influence how a particular character would act. 
"In our defense, we have 18 characters to deal with," writer Brent Forrester explained on Brian Baumgartner's podcast, An Oral History of The Office. 
What we do is we create a structure within the script that allows good character movemen. We've roughly plotted what these characters should do and feel, but I say roughly in relation to the depth an actor approaches any one of those characters. You are way deeper, way more knowledgable than we are about your character.
Forrester and other showrunners encouraged a collaborative environment where the actors and writers could work together to create memorable moments. 
Jenna Fischer had a '3-page document' for her character 
Fischer, who "believed with [her] whole heart that this was the part for [her]," created an extremely detailed backstory for Pam Beesly. During a conversation with Baumgartner, Fischer referred to "a document" she had that detailed Pam's motivations.
"I had written probably a three-page essay on Pam's backstory, some of which I got from the script or [borrowed] from the British show," Fischer said. "I had a whole backstory for why Pam is with Roy and how they met. Pam's parents owned an appliance store in town, and Roy worked there in high school."
Like Fischer, Helms played a big role in shaping who Andy Bernard was. 
Ed Helms influenced Andy's affinity for a cappella 
Helms helped influence how Andy Bernard behaved on The Office, including his love of singing a cappella.
"The creation of Andy's profile was one of the most thrilling creative endeavors of my life," Helms told Baumgartner. "If it was the a cappella thing, I would just start singing on set at wrong times. The writers would see that, and think 'Oh, that's fun,' and then they would write in more singing."
Helms reminisced about how much fun he had tailoring small details that made Andy one of the hilarious characters on the show. 
"There are so many little details that started to slot in like a tetris game about who Andy was and it was this feedback loop," Helms said. "Mike Schur in particular had a real shine for Andy. We just had so much fun. I would go up to the writers room and joke around with Mike about who Andy is and what made us laugh about him."
Ed Helms wasn't the only one to improvise on set 
Steve Carell also became known for improvising on the set of The Office. One of his funniest scenes was improvised. 
The kiss between Michael and Oscar (Oscar Nuñez) in "Gay Witch Hunt" wasn't written into the script. Carell made it up! 
"Steve had an ability to understand subtext," writer Jen Salata explained. 
"[The kiss] was not scripted," Nuñez told Baumgartner.
He just did it. I thought at the time he was just messing around because he was bored. [Then I thought] 'No, no, no.' He did it because he was just hugging me. Up to that point, he kept hugging me, and that's nothing — not for an Office scene. Not for a conference scene. Something's gotta happen in that conference room.
Moments like those were influenced by the amazing actors who starred in The Office. By working together, the actors and writers were able to strike a balance and create memorable television.