'The Office': Ed Helms' Starring Role in a Mockumentary Helped Him Land the Role of Andy Bernard
Many people know Ed Helms as Andy Bernard from The Office. But before he became a series regular, Helms was working on The Daily Show and shooting comedy shorts. One of Helms' side projects was a short involving zombies. Ironically, Helms' zombie short shot in a mockumnetary style is what got him noticed by The Office showrunners.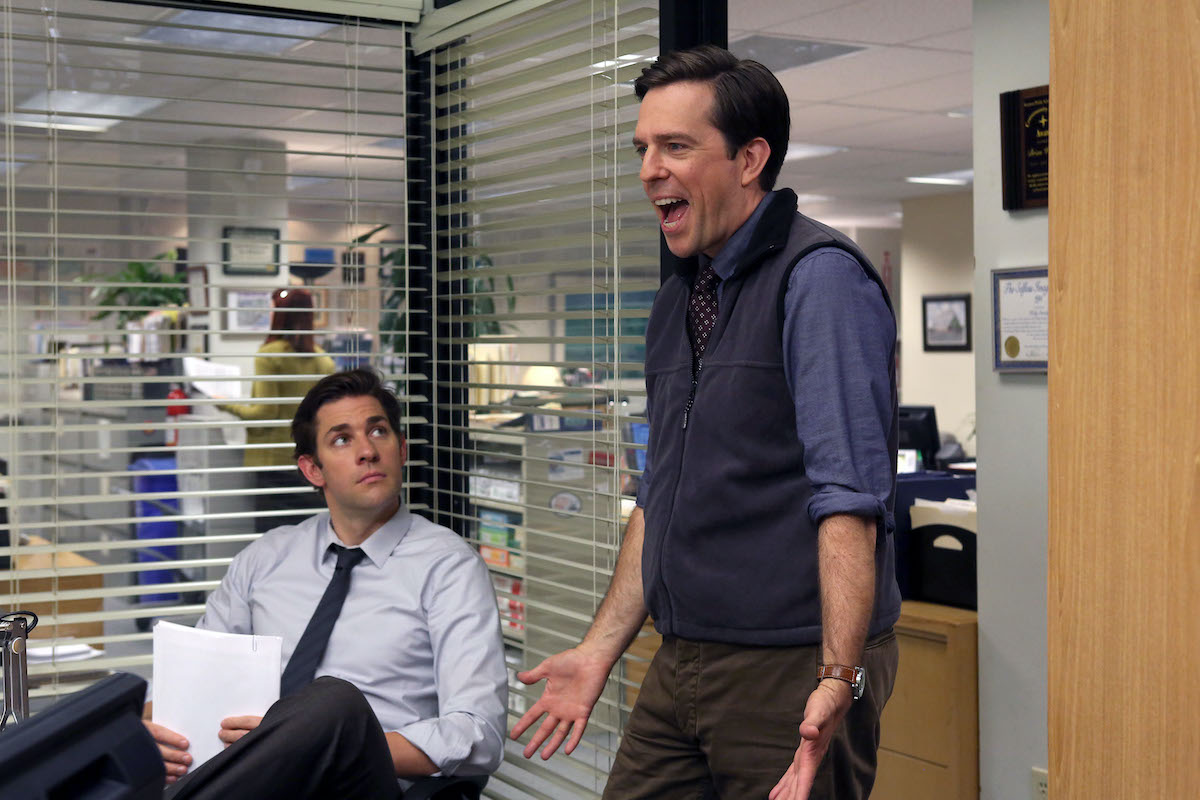 Ed Helms was a news correspondent on 'The Daily Show With Jon Stewart'
Before he played Andy Bernard, Helms was part of The Daily Show cast. He joined the show's roster in 2002. Helms became known for his coverage of the "Battle of the Bulge" and events like "Cooter Festival." Other Office stars like Steve Carell and Larry Witmore, were also correspondents on the Comedy Central series. 
When the time came to audition again for The Office — Helms initially tried out for Jim's role — he was excited. As he explained to Brian Baumgartner on The Office Deep Dive, Helms is a big fan of the British series. And even though he wasn't cast the first time around, Helms couldn't wait to join the show as Andy Bernard.
Ed Helms' zombie short demonstrates his mockumentary acting skills
During a conversation with Office co-star Baumgartner, Helms discussed his conversation with showrunners about the possibility of joining the cast. 
"Greg [Daniels] had seen this short I did with my friend Nick Poppy called Zombie American," Helms explained on The Office Deep Dive podcast. "It was basically a mockumentary about a zombie trying to get out on the dating scene and all of the pitfalls."
Most of the budget they had for Helms' zombie short was spent on makeup to create the zombie. "It was a hard commitment to a full-on prosthetic zombie," Helms added. 
"[Zombie American] was just a guy talking to the camera about how it's awkward on a date when your finger falls off," Helms laughed. "Or people show up for a date, see you from afar, and walk away."
Zombie American is less than 10 minutes long. Still, Helms believes it's a "poignant, very real, but very silly piece." Fortunately, Daniels got his hands on Helm's zombie short and loved it.
"That was my best foot forward as an Office character because [Zombie American] was talking heads to the camera, it was a small performance — totally in the same family as The Office." 
The plot of 'Zombie American' and how to watch the comedy short
Zombie American is an 8-minute comedy short that came out in September 2005. The skit tells the story of Glen (Helms), a zombie on the lookout for love. As explained in director Poppy's IMDb summary, the mockumentary seeks to educate viewers about the challenges zombies face in society, especially when it comes to finding a romantic partner. 
"As a plea for tolerance, [Zombie American] aims to clear up many of the terrible stereotypes and misconceptions we have about zombies," Poppy's summary continues. "It is the filmmaker's hope that this film will help people understand that zombies are just like everybody else…if everybody else is a walking, talking, rotting corpse."
Fans of Helms can stream Zombie American on Indie Flix Shorts, which is available through Amazon Prime.