'The Office': Ellie Kemper Was Only Supposed to Stick Around for 4 Episodes
When Ellie Kemper signed up to play Kelly Erin Hannon on The Office, she had no idea she'd become a series regular cast member and end up sticking around until the series finale. Kemper's character makes her first appearance during Season 5 of The Office as a replacement receptionist for Pam, who leaves to join the Michael Scott Paper Company. But even after Pam returns to Dunder Mifflin, Erin sticks around.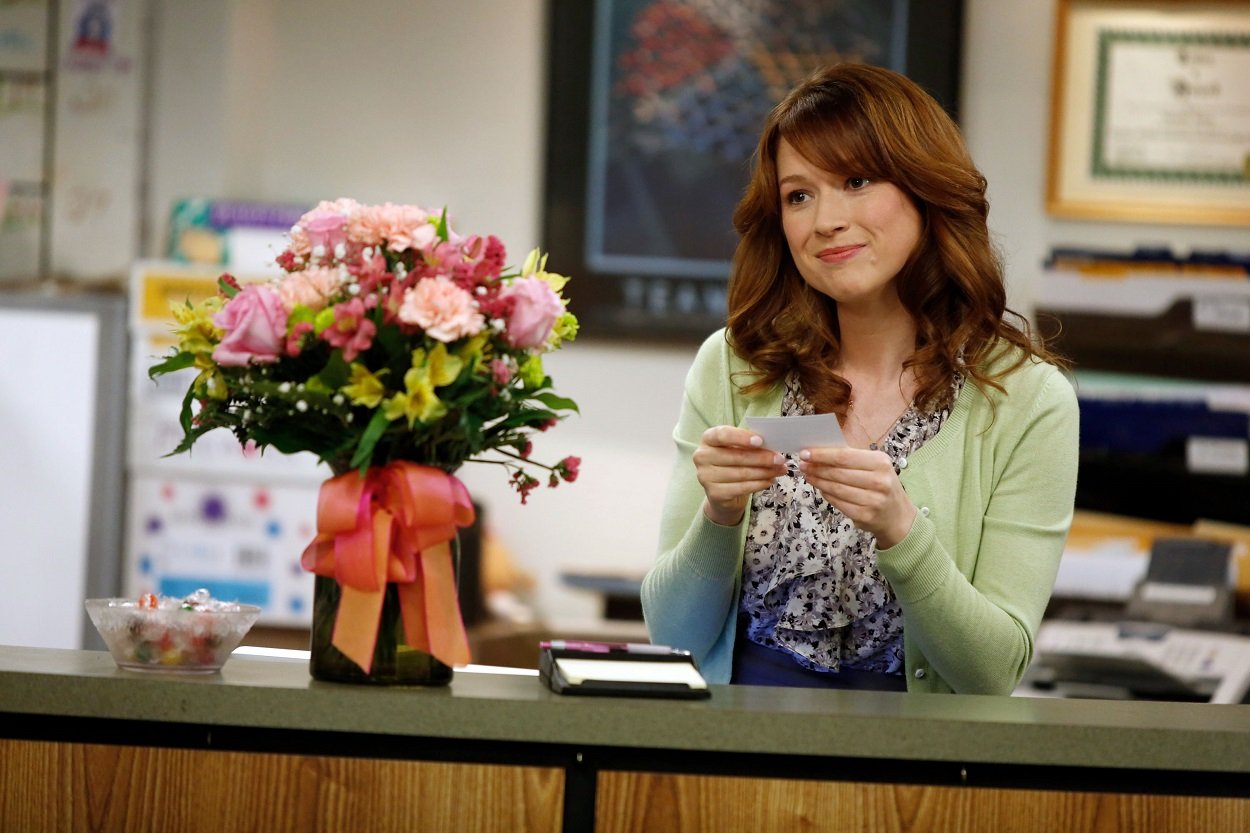 Because Pam was promoted to a paper salesperson, there was an opportunity for Erin to keep her job as the receptionist. And because Erin is so weird, it gave writers the opportunity to continue building on the character. Of course, Kemper was absolutely delighted by the prospect of staying on. In fact, in a 2010 interview with The A.V. Club, the actor shared that her initial run on The Office was only supposed to be a few episodes.
Ellie Kemper was never supposed to be a permanent member of 'The Office' cast
"Originally, the character was written for four episodes, and then they kept her around for two more," The Office alum revealed. "Then by the end, I was like, 'It seems they're hinting that this character's going to stay in the show.' So I don't really know how it happened, besides extraordinary good luck and timing. Actually, we just read the season finale, and I was just waiting for them to be like, 'And unfortunately, Erin has to go,' but there wasn't any hint of that. I guess that's the fear of any sitcom, or any show, that your character will leave."
But Kemper scoring a permanent place in The Office cast isn't the only thing that surprised her. The Unbreakable Kimmy Schmidt alum was also surprised by the trajectory of her character. According to the actor, when she auditioned for the role of Erin, the character was a lot more straight-laced than the Erin that fans of The Office came to know and love. In fact, Kemper wondered if the change in her character was something that she inadvertently influenced.
Kemper revealed her character, Erin, changed drastically
"The part I auditioned for was more along the lines of the straight man—grounded, sees through it all," Kemper explained about how her character on The Office shifted over time. "She was sarcastic. I do have this fear that they tweaked the character… Because Erin's very weird, and my fear is that they think I am that weird in real life. I've noticed that they will play on certain people's… like Creed [Bratton] is sort of weird in real life. But he's also weird on the show, so I'm like 'Hmm…' But I am so happy they decided to make her more sincerely strange than other people there. I haven't really sat in the writers' room, so I do wonder what the conversation is."
It's certainly interesting that Kemper's character did undergo such a drastic personality change. But, whether Erin is inspired by Kemper's personality or not, we're sure fans of The Office are happy that she eventually became a main member of the cast.