'The Office': Ellie Kemper Doesn't Think This Dunder Mifflin Couple Made a Good Match
The Office was a show about the American workplace, but there were plenty of romances peppered into the storytelling. Those relationships helped make the series so relatable — well, all except for one. Ellie Kemper believes this fictional couple should have never gotten together on The Office.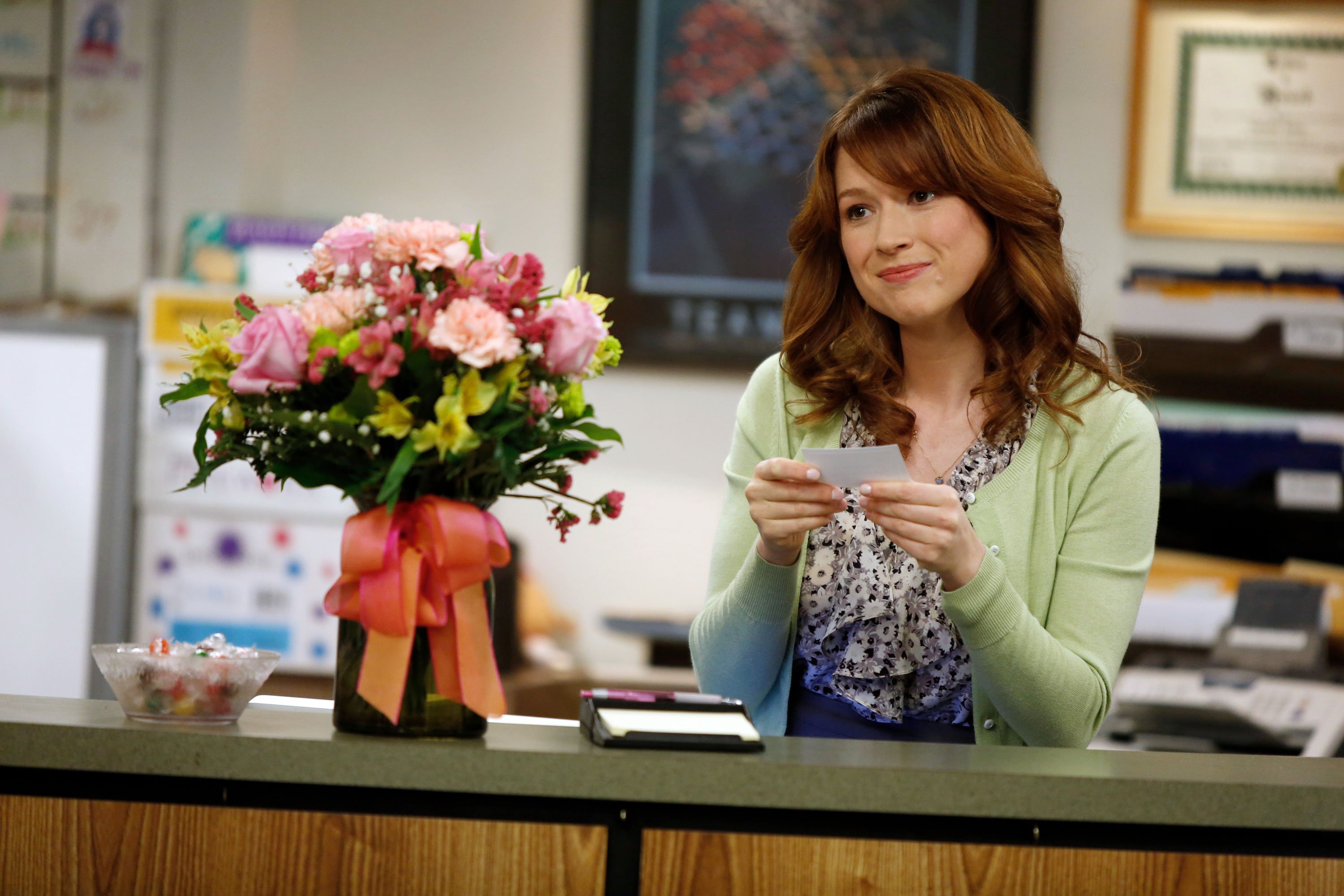 'Office' star Brian Baumgartner is reliving some of the show's best moments 
Baumgartner played the hilarious Kevin Malone on The Office. Now, he's the host of An Oral History of The Office, a podcast where he interviews the cast, producers, writers, and camera crew who worked on the show. 
In interviewing his subjects, Baumgartner is effectively reliving some of the best moments from The Office. Listeners are given a behind-the-scenes look at what it took to create the iconic series.
From who penned the episode where Jim Halpert (John Krasinski) and Pam Beesly (Jenna Fischer) first kiss to the scene that made the cast laugh the hardest, Baumgartner is leaving no stone unturned. 
In episode 8, "The Moment That My Life Changes," Baumgartner spoke with Kemper about playing Erin Hannon — including her on-again-off-again romance with Andy Bernard (Ed Helms). 
Ellie Kemper thinks Andy and Erin were a terrible match
Ironically, Erin and Andy's romantic story arc wasn't originally written into the show. 
"Erin's energy was just so funny, it felt right for Andy in a way," Helms said of the romance. "Both of them [are] kind of left-footed socially, which kind of made them perfect for each other but also gave them lots of stumbling — like a pigeon-toed person dancing with a bow-legged person." 
Though Helms felt his character and Erin were awkward together, Kemper had a different take on their relationship altogether. When Baumgartner asked if she thought Erin and Andy were a good match, Kemper said: 
I never thought so.

Is that terrible to say?

I felt like Andy was a bit too childish. I don't think he was ready to take care of Erin the way she needed to be [cared for]. I felt like Erin was ready to take care of [Andy], but it was uneven in that respect.
Fans of The Office will recall how drastically Andy changed after becoming the regional manager of the Dunder Mifflin Scranton branch. While Andy was busy trying to find himself, Erin was devoting herself to their relationship. There truly wasn't a balance in their relationship, which is why Kemper said they were a terrible match.
Brian Baumgartner wanted Kevin and Erin to get together on 'The Office' 
Kevin Malone was in two relationships on The Office. He had an ex-fiancé, Stacy, and an ex-girlfriend, Lynn. As a side character, Kevin's love life was rarely a topic of conversation, but Baumgartner still pitched a relationship that fans might have been interested to see. 
"Do you know that I pitched Kevin and Erin getting together?" Baumgartner asked Kemper. 
Surprised, Kemper gasped and said: "Brian — I think that would be a pretty reasonable relationship." 
Baumgartner told the writers how, "If Kevin could mature just a little," he could see him in a relationship with Erin.
"There was something about their energy that I thought was right," Baumgartner said. "It's almost like the static being and the hummingbird that goes around, but somehow still their energies matched in a weird way." 
Kemper couldn't agree with Baumgartner's pitch more. Sadly, the show never explored the relationship between Kevin and Erin — or, as Baumgartner called it, "Krevin." 
Andy and Erin may not have worked out, but that didn't prevent fans from enjoying The Office any less. Nor did it prevent Kemper from loving every moment of her role.