'The Office': Ellie Kemper's 'Parks and Recreation' Rejection Led to Her Being Cast as Erin
It's no secret that The Office and Parks and Recreation have a ton of crossover. Greg Daniels (who created the American version of The Office) teamed up with his fellow writer, Mike Schur (who wrote for The Office and portrayed Mose Schrute in the cast) to create the show about the bizarre town of Pawnee, Indiana. The shows are also similar in comedic style and both feature Rashida Jones. Fans of both shows will recall that Jones went on to play Ann Perkins in Parks and Recreation after her tenure playing Karen Filippelli at Dunder Mifflin.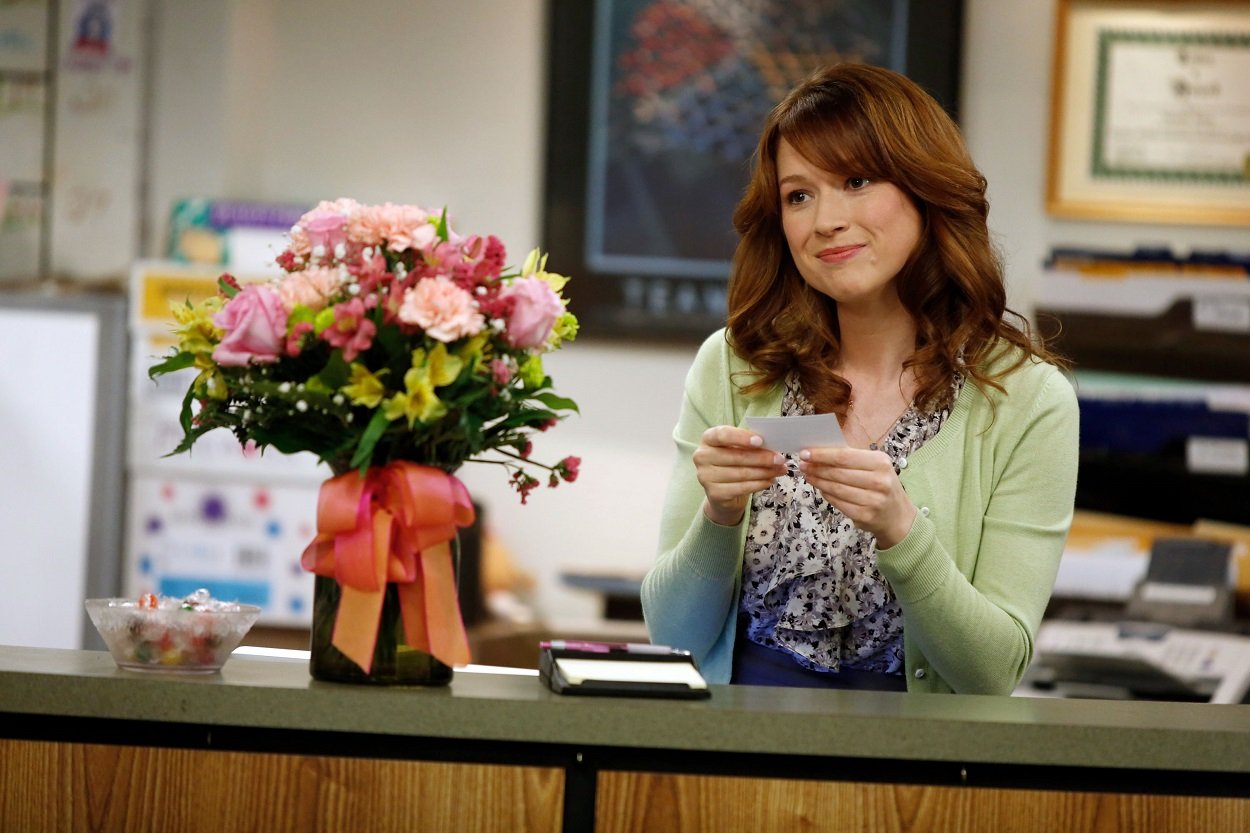 Though Jones was the only actor to have a big role in both casts, she was hardly the only person who auditioned for both shows. Both Nick Offerman and Adam Scott (who portrayed Ron Swanson and Ben Wyatt in Parks and Recreation) threw their hats in the ring to play Michael Scott in The Office. Ultimately, Steve Carell was cast to play Michael, but Scott and Offerman's auditions made them memorable enough to be called in when Daniels and Schur were creating the cast for Parks and Rec.
Ellie Kemper auditioned for a small role in 'Parks and Recreation'
But Ellie Kemper actually had the reverse experience. She initially auditioned to play Tom Haverford's wife, Wendy Haverford, on Parks and Recreation. "I had met with Greg Daniels and Mike Schur, who ran the ship at The Office, the American version of The Office, and a couple months later they called me in to read a part with the casting director Allison Jones, but then my manager called me a month later to let me know I hadn't gotten the role," Kemper shared with NPR back in 2016.
Though Kemper wasn't cast in Parks and Recreation, her audition was memorable enough to leave an impression on Jones, Schur, and Daniels. When it came time to fill the role of Erin, Jones (who was also the casting director for The Office) felt that Kemper would be a good fit for the role and called her in to audition.
Kemper was later called in to audition for 'The Office'
"Then, I think, in the following February, they called me in for this four-episode arc for a temporary receptionist who was filling in when Pam went to the Michael Scott Paper Co.," Kemper recalled, "So they called me in to audition and I read with Ed Helms [who played Any Bernard on The Office.]"
Funnily enough, Kemper was only supposed to stick around for six episodes of The Office. However, the show's writers found good use for her character, Erin, and eventually, she earned the title of a series regular. Interestingly, Kemper confessed that the character that she auditioned for was far more serious than the one she ended up playing.
Kemper eventually became a permanent member of 'The Office' cast
"[Erin] was more serious and a little bit more sarcastic, I think, at the beginning," Kemper shared about her infamous Office character. "And then I fear that as the writers got to know me, they sort of made Erin weirder, so that's sort of how she morphed into the weirdo rube that she became."
It's pretty impressive that Kemper's tenure on The Office was the direct result of being rejected from a much smaller role in Parks and Recreation. It's a prime example of an actor losing the battle but winning the war.