'The Office': Ellie Kemper Shares a Time Rainn Wilson Got Emotional When Filming
The Office finale was emotional for viewers, cast, and crew alike. It was the end of an era.
The finale largely featured Dwight and Angela's wedding, where they vowed to be together forever while standing in their graves. Michael Scott even came back to act as Dwight's best man.
The two-part ending also included a documentary cast panel where Erin met her birth mother. It was a touching moment that tied up a big part of Erin's story.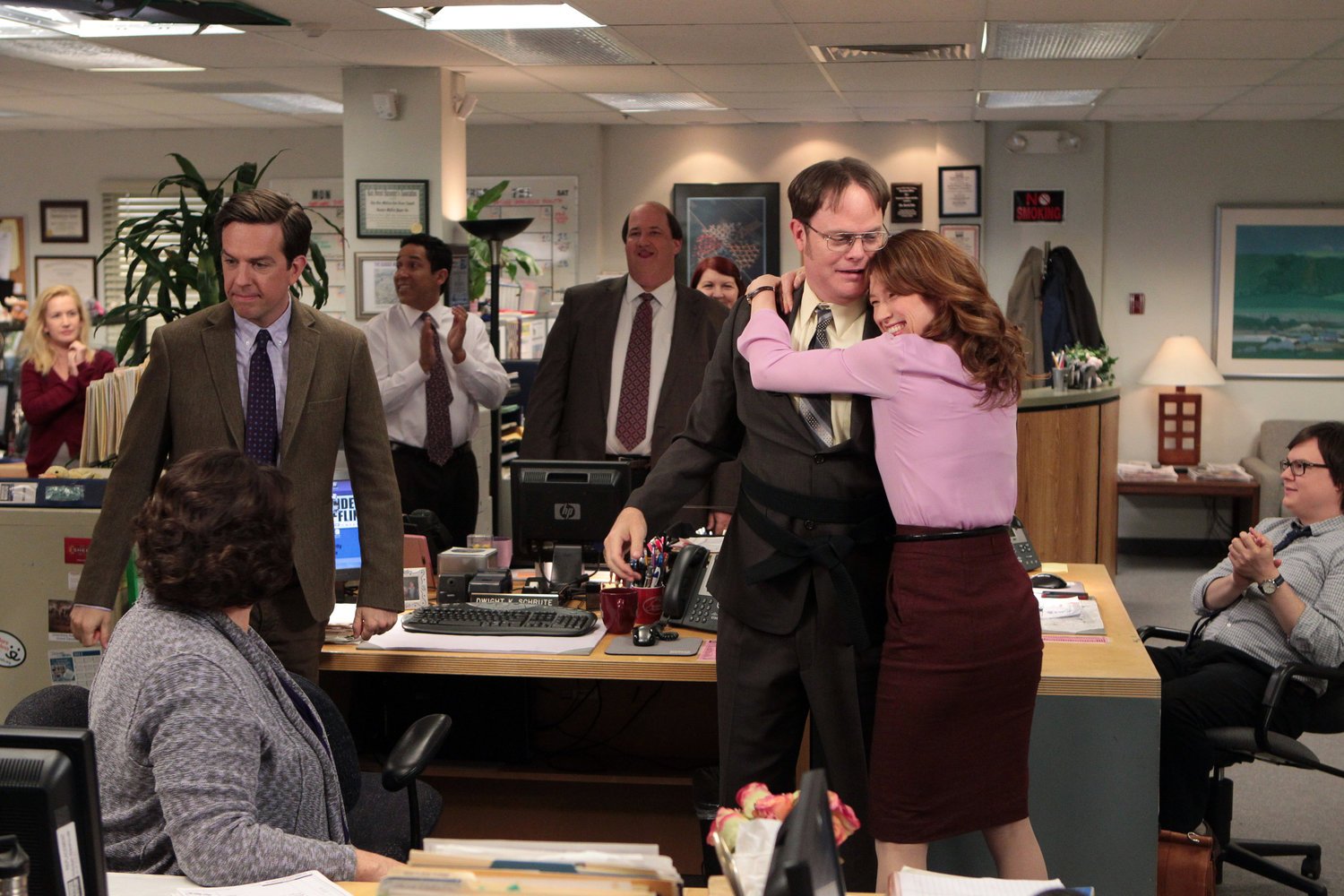 The finale ended with the cast all together in the office while Creed played a song on the guitar. Then, they exited all together, closing the door on the chapter of the documentary and the show itself.
In Erin's last documentary interview, she asked: "How did you do it? How did you capture what it was really like? How we felt and how we made each other laugh and how we got through the day? How did you do it? Also, how do cameras work?"
Rainn Wilson cried filming the final scene of 'The Office'
Ellie Kemper told Insider in 2019 that production had the cast film the scene of everyone together in the office last.
"Filming the last scene of 'The Office,' we were all together in the office and production had designed it that way so we could all be together at wrap," she said.
She said that Rainn Wilson, in particular, got emotional during the scene.
"I just remember Rainn Wilson crying," she shared. "He looked stricken and I'd never seen him like that. I was so moved. It was such a powerful experience."
Ellie Kemper's friendship with Rainn Wilson during and after 'The Office'
In May, Wilson spoke to Kemper on Instagram Live for SoulPancake and the two reminisced about their time together on The Office. Wilson revealed that, throughout filming, he messed with Kemper pretty hard.
"I ribbed you from the moment you showed up on set," he said. "I said, 'You'll never fit in with this cast, you'll never be included. You'll always feel a little bit left out because you joined late.' And I would remind you of that almost every day… All the people I'm closest to know that if I'm giving someone sh*t it's because I love them and there's great affection there."
Today, Kemper still keeps in touch with Wilson, as she does with the rest of the cast and crew.
"It's really nice to have formed that bond with all the actors on the show and the crew as well," she said. "Both 'The Office' and 'Unbreakable Kimmy Schmidt' were really nice workplaces, so I feel lucky to have been able to work with such kind people."