'The Office:' Ellie Kemper Was Turned Down For 2 Major Comedies Before Landing the Part of Erin
In Season 5 of The Office, viewers were introduced to new receptionist Erin Hannon (played by Ellie Kemper), who replaced Pam (Jenna Fischer) when she joined the Michael Scott Paper Company. Becoming a regular cast member in the sixth season, Kemper created a completely unique character who definitely made an impression on audiences.
Before the actress landed the coveted role, she had auditioned for two other shows for the same network but was rejected for both.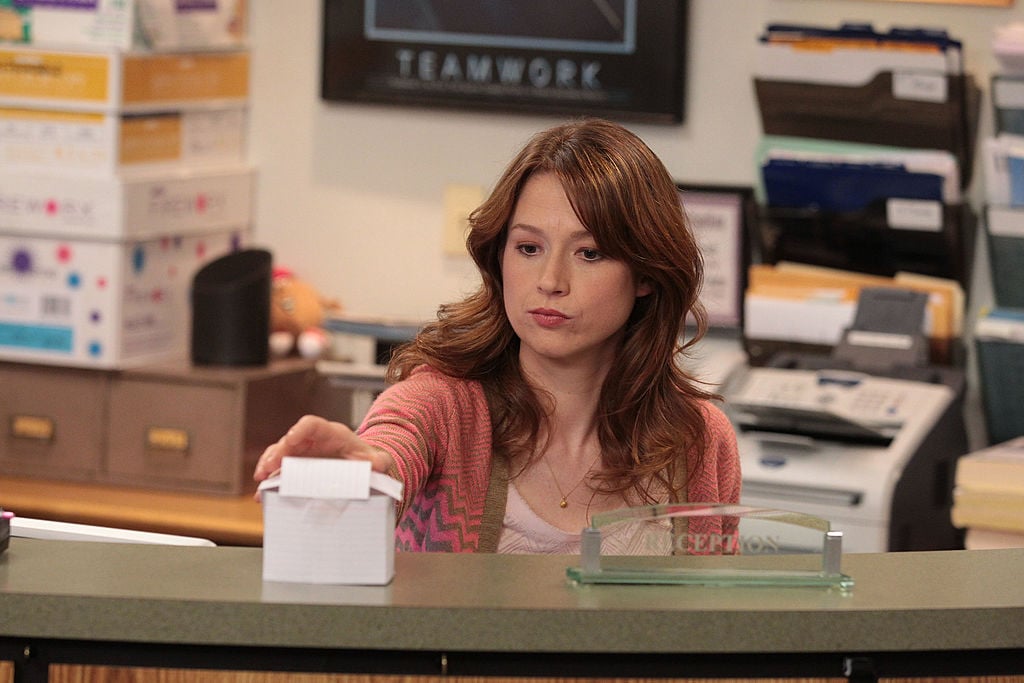 Ellie Kemper's first day at Dunder Mifflin
The actress vividly recalled starting out on the popular sitcom. "My first day literally felt like walking into a television," Kemper told Andy Greene in his book The Office: The Untold Story of the Greatest Sitcom of the 2000s. "It's a weird feeling that I can't totally describe knowing people that you feel you sort of already know because you watch that TV show."
Kemper showed up bright and early for each day of filming, where the lack of sleep made meeting Carell all the more surreal.
"I had very early calls and I had not been up that early in a long time and I was so nervous that I wasn't sleeping much," the Office alum revealed. "Then to have Steve Carell there as Michael Scott in the flesh as I'm operating on no sleep was very dreamlike."
Creating an 'Office' receptionist different from Pam
The production team of the sitcom placed a priority of making Kemper's character very different from Fischer's. With Pam being such a central focus of the show, the writers went to work on creating Erin's unique qualities.
"The concern off the bat was that she was going to be too much like Pam," writer Warren Lieberstein recalled. "What we came up with is that she's a huge people pleaser and sometimes she's just a step behind everyone else in figuring things out. Also, she's so impressed by Michael (Steve Carell) and no one else in the office is. … she just absolutely adores him."
The writers began to put in little details to illustrate Erin's deference to Michael. "When Pam comes back from her honeymoon she gives Puerto Rican candy to Erin and she's like 'Oh, coco leche!'" writer Greg Stupnitsky gave as an example. "And Erin is like, 'I need to ask Michael.' And Pam is like, 'I think it'll be okay.' Because it's literally just putting candies out but she's like, 'I'll just ask Michael.'"
Ellie Kemper became a prime time player rather than a Not-Ready-For-Prime-Time player
The Unbreakable Kimmy Schmidt star got her start in show business with parts in commercials.
"I spent about seven years in New York [after graduating from Princeton] and I got really lucky since I was able to book a string of television commercials," she told Greene. "I also did a lot of improv comedy."
According to Greene's book, Kemper auditioned for the iconic sketch show Saturday Night Live in 2008 alongside Kate McKinnon and Aubrey Plaza. Though she was rejected, Kemper later realized she wasn't cut out for the SNL format.
"I can say with confidence that I would not have been good on that show," The Office actress revealed. "Strong characters and impressions are not my forte. [SNL executive producer] Lorne Michaels made a very good decision in seeing that. The timing was very lucky because I think that auditioning for SNL [even though I didn't get on the show] got the attention of some agents."
Kemper went on to audition for Parks and Recreation, another creation by The Office showrunner Greg Daniels. Though she didn't land a part for that NBC show, Daniels was so impressed with Kemper that he called her back for the role of Erin.
"It was supposed to be, I think, just four episodes, and they extended it until the end of season five," Kemper explained. "And then Pam became a saleswoman, and so the position as receptionist became permanent. So that was lucky for me."
Kemper has gone on to several other projects since The Office aired its final episode, but will always be remembered as the lovable Erin Hannon from Dunder Mifflin.
'RELATED: The Office:' Why Jenna Fischer Got Drunk in Preparation for an Episode