'The Office' Episode 'Baby Shower' Features These Cast Member's Babies
Some of 'The Office' cast and crew members kids appear in the comedy series — find out who has a role in 'Baby Shower.'
Throughout its nine-season run, The Office featured several babies. Between the child that resulted from Angela (Angela Kinsey) and Dwight's (Rainn Wilson) love affair to Jim (John Krasinski) and Pam's (Jenna Fischer) two kids, Cece and Phillip, the comedy series often needed young actors on set. Find out which one of The Office cast member's kids played babies in the "Baby Shower" episode from season 5.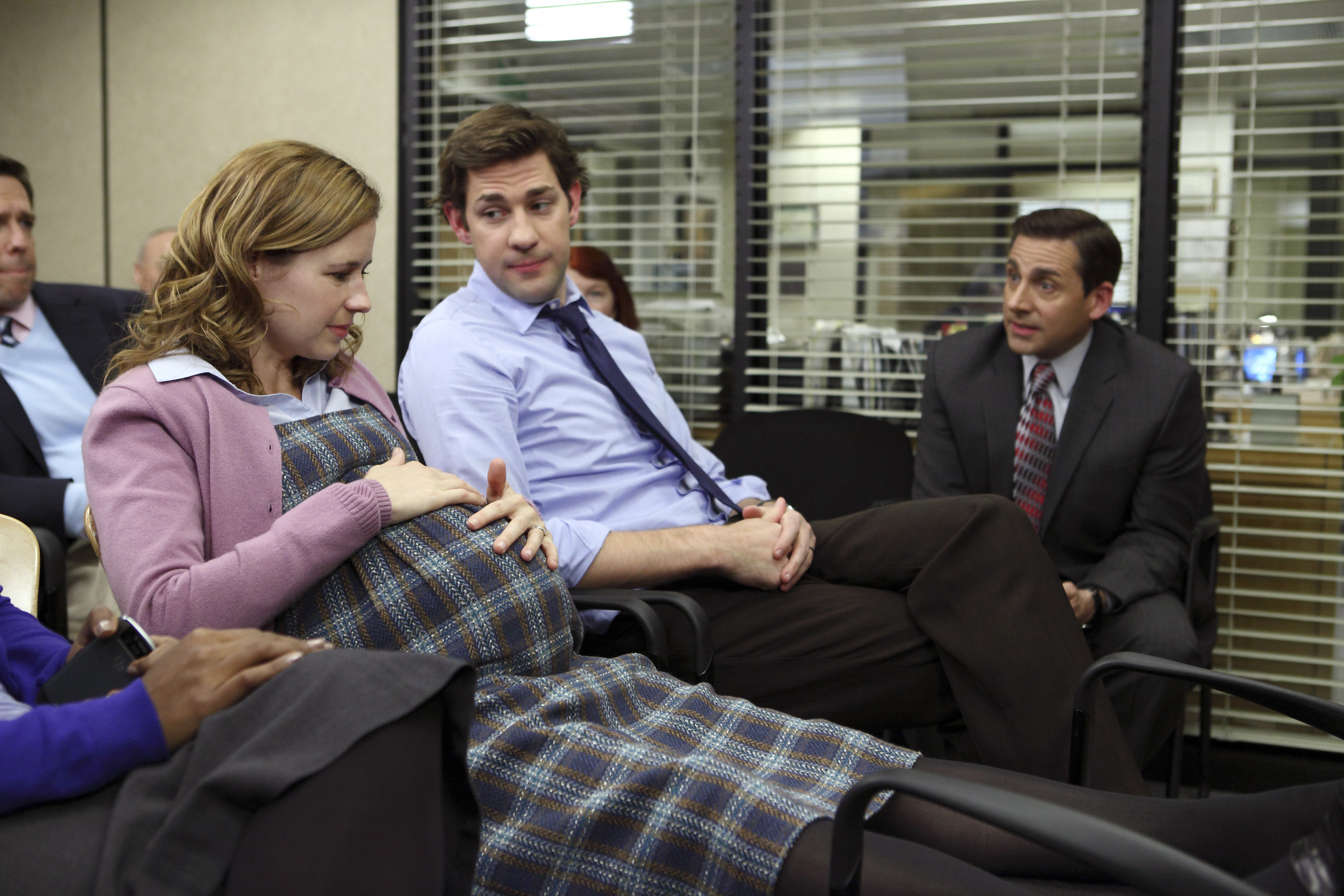 'Baby Shower' episode of 'The Office' 
In "Baby Shower," the Dunder Mifflin employees welcome Jan Levinson (Melora Hardin) into the office for her baby shower. Michael (Steve Carell) is incredibly excited, despite not being the father of Jan's child. 
Everyone is shocked when Jan arrives at her shower with a baby in hand. Michael is distraught Jan didn't call him when she was giving birth to baby Astrid. 
Things take an awkward turn when employees start badgering Jan about the father of her baby. In one of the show's most hilarious moments, we learn Kevin Malone (Brian Baumgartner) visits the same sperm bank Jan uses. 
Later, she sings "Son of a Preacher Man" to all of the women in attendance. Ironically, that was Hardin singing — the actor has previous experience in theater. 
Mike Schur and Matt Sohn's kids star in 'Baby Shower' 
Several babies were required to make "Baby Shower" happen. That includes the children of some of the cast and crew members behind the scenes of The Office. 
Mike Schur is best known for his role behind the scenes on shows like Parks and Rec and The Good Place. But he also plays Mose, Dwight Schrute's cousin in The Office. 
Schur and The Office's Director of Photography Matt Sohn's kids have a small role in the comedy series. "Both my kids were born during our time on The Office," Sohn explains to Baumgartner on The Office Deep Dive. 
"My son likes to tell people he was on an episode of The Office," Sohn continues. He remembers Greg Daniels asking him and Schur to bring their babies to set because "Steve needed to hold a couple [of] babies." 
"Our wives are in the background of the shot and Michael's holding the two babies and you see Mike Schur's wife and my wife in the background behind him," Sohn says. Today, his 11-year-old son loves telling people he was part of the iconic series. 
'The Office' cast in 'Baby Shower' worked in 20-minute bursts 
Kinsey and Fischer also talk about having Schur and Sohn's babies on set for the "Baby Shower" episode. As Fischer explains on the Office Ladies podcast, showrunners used multiple babies to make that episode possible. 
"This is because there are rules about babies working on a set," says Fischer. "They can only work for like 20 minutes." 
"Also, if you have a baby and one of them's fussy, you can swap them out for a different baby," she continues. "They're all dressed the same."
When Michael mentions how he tries to hold a baby every day, the episode cuts to a montage of the manager interacting with various babies. Among them are Sohn and Schur's sons. 
As for Jan's baby, a set of twins named Matthew and Joey Levinson play her in the show. A third baby named Harvey Green and a set of triplets named Chase, Chloe, and Juliette Parcel also play Astrid in "Baby Shower."