'The Office': David Wallace Was Supposed to Play Goldenface in 'Threat Level Midnight'
Though there are plenty of fan-favorite episodes of The Office, one of the most beloved is undoubtedly, "Threat Level Midnight." Coming in the show's seventh season, the episode is both a tribute to fans and a tribute to the character of Michael Scott. Viewers of The Office will recall that Michael had been talking about his movie, Threat Level Midnight, for several seasons. But it wasn't until the eponymous episode premiered that fans got to see the film themselves.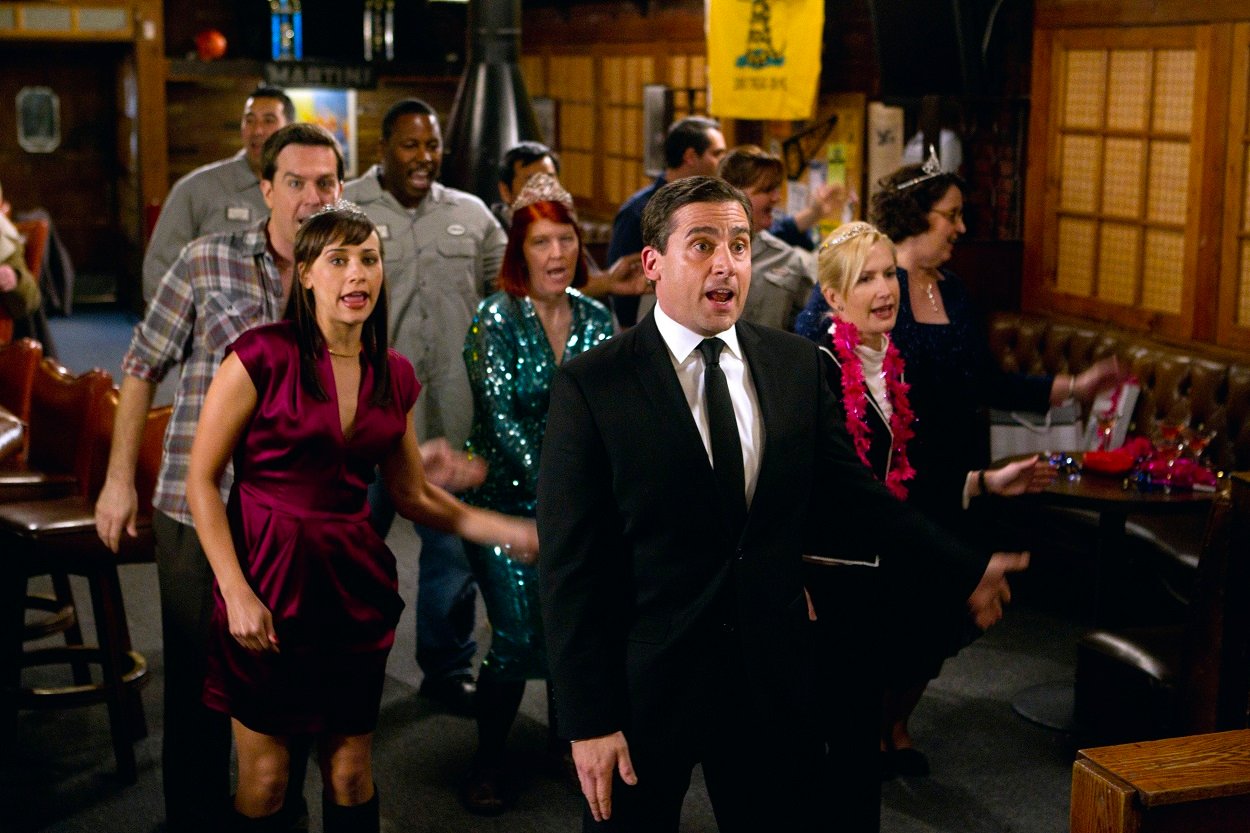 One of the best things about Michael's movie is that it featured nearly all the characters that fans of The Office had come to know and love. Jan Levinson, Todd Packer, and Karen Filippelli all make surprise appearances and serve as a real treat for fans. However, there's one beloved character who is noticeably missing from the episode. Unfortunately, David Wallace doesn't make an appearance in the episode or the film.
David Wallace was originally tapped to play Goldenface in 'Threat Level Midnight'
But doesn't David Wallace make an appearance? In a 2011 interview with Office Tally, B.J. Novak (who wrote the episode and starred in it) revealed that David Wallace was actually Michael's first choice for Michael Scarn's archenemy, Goldenface. However, the role went to Jim after Wallace turned it down due to office politics.
"In the shooting script, Michael revealed that David Wallace was Michael's original choice for Goldenface – in his mind, the James Bond model of a smooth, handsome villain – but that Wallace had to turn it down since it wouldn't look good to people at corporate," Novak shared. The Office writer continued on to reveal that they actually did shoot footage of the Dunder Mifflin CFO revealing that he had regrets about turning the role down.
B.J. Novak revealed the CFO was filmed for 'The Office' episode
"Then we had a talking head from David Wallace, which Andy Buckley performed beautifully, explaining why he actually regretted his decision," Novak added. Novak was even kind enough to provide fans of The Office with the exact dialogue of David Wallace, via a talking head from his house, expressing that he wished he could've been a part of Threat Level Midnight.
"I should have said yes," Wallace's talking head began. "We all take ourselves too seriously in the moment. We think everybody's watching and judging us. But in reality, nobody actually gives a damn what you do, they're wrapped up in their own bullsh*t. Life is short, so just do what you want to do."
The 'Threat Level Midnight' episode had to be cut down significantly
Unfortunately, Buckley's short monologue got cut out of "Threat Level Midnight" because the episode was already too long. "To my great regret, this got cut for time," The Office writer shared. "The episode really had to be cut to the bone, in order to tell the story of Michael showing the movie as well as tell the story of the movie itself. It was one of those episodes that seemed to come in too long to be a half-hour, but not long enough to be an hour-long. Since it wasn't part of the movie, it isn't in the complete Threat Level Midnight movie either."
We can understand why David Wallace's talking head got cut out, but it would've been great to see his portrayal of Goldenface. Still, we're sure that fans of The Office also appreciate Jim's rendition of the glittery villain.