'The Office' Fans Can Read Angela Kinsey's MySpace Posts She Wrote on Set
The Office is a show about a fictional paper company. But ironically, the cast of The Office were really using their computers on set! Find out what the cast of The Office was doing at their desks while filming, plus where to find what Angela Kinsey wrote on her MySpace when she didn't have speaking lines.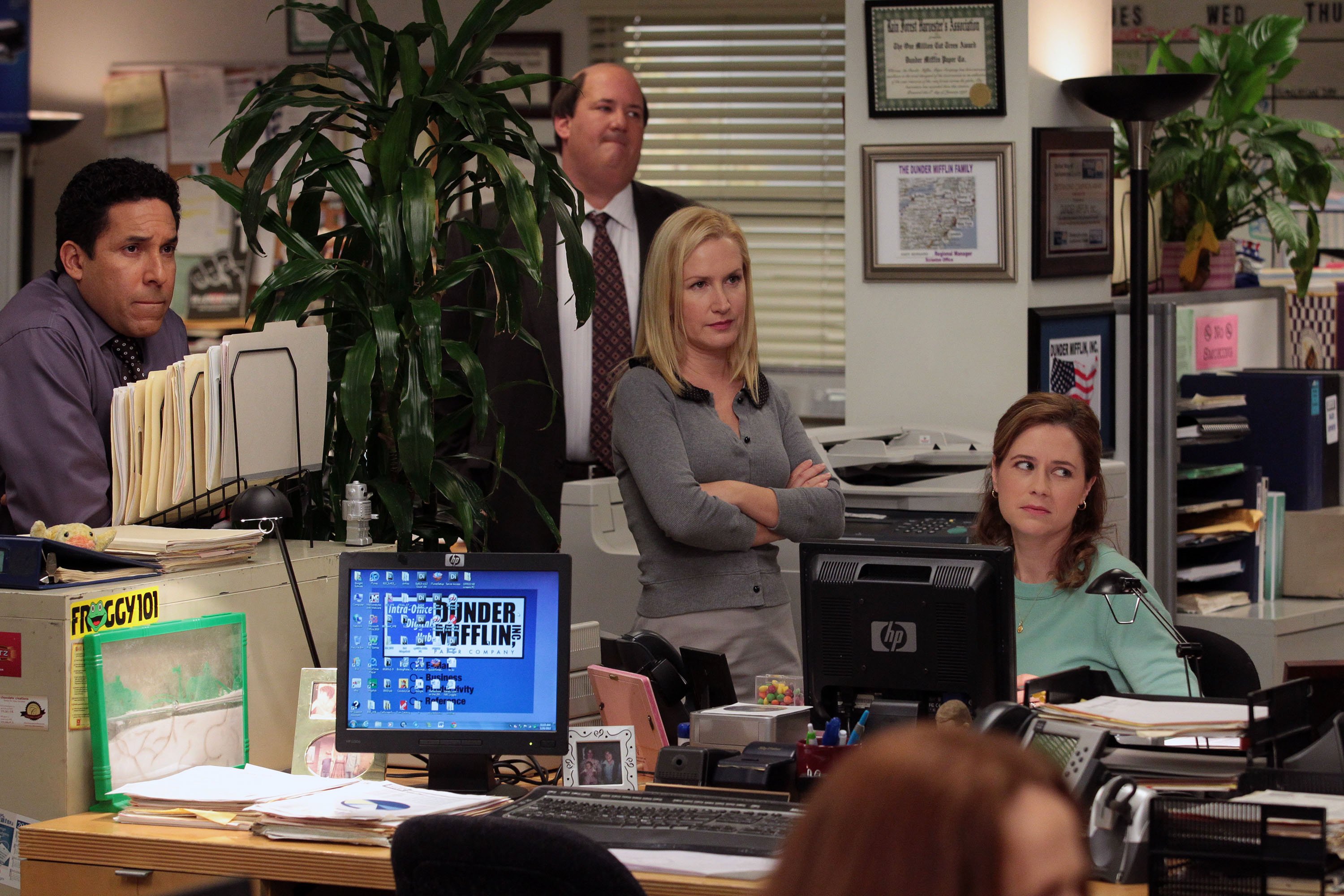 Cast of 'The Office' had working computers at their desks 
Brian Baumgartner, who played Kevin Malone in The Office, interviews his fellow cast and crew on two Office podcasts: An Oral History of The Office and The Office Deep Dive. During his conversation with Jenna Fischer on The Office Deep Dive, they talked about the working computers they had on set. 
Director Ken Kwapis asked the cast of The Office to show up at the same time each filming day and "work" for half an hour. This gave camera operators time to capture scenes to fill in gaps or use in the title sequence. 
"We would 'work' for 30 minutes," Fischer explains. "Ken would walk around with a camera operator and a boom and record us at our desks." Baumgartner mentions how he used his computer to pay his bills and interact with fans. His co-star Kinsey was doing something else entirely. 
'The Office' cast member Angela Kinsey's MySpace is still online
"Myspace was the social media du jour," Baumgartner says during the "Sweet 16" episode of the podcast. Most of the time, Kinsey was logged on to the social media platform when she didn't have lines in an episode. 
Both Baumgartner and Kinsey would share behind-the-scenes stories from the set of The Office on their MySpace pages. They would also interact with fans through messaging and comments. 
Kinsey was an avid writer on MySpace when she was filming The Office. She's still writing today — she and Fischer are working on an Office-themed book. Until the book comes out, fans can access Kinsey's MySpace posts through the archive site OfficeTally. 
In one of Kinsey's hilarious posts, she addresses her castmate as "Sleepy Head Fischer." That day, Kinsey seems to have been on set hours before Fischer.
"You're probably home sleeping," she writes. "It's freezing on set today, so I turned your heater on at your desk so it would be warm and cozy when you sat down." 
Pam from 'The Office' was leaving breadcrumbs for fans on MySpace 
Fischer was also active on her MySpace while filming The Office. As the social media platform gained traction, many Office fans knew where to find the cast and interact with them. 
On Baumgartner's podcast, Fischer remembers instant messaging viewers about specific parts of the show. "Look out for 'such and such' in this scene and you'll know I was typing to you," Fischer remembers writing to one fan. 
'The Office' character Kevin Malone was Brian Baumgartner's alter ego on MySpace  
When he wasn't paying his bills, Baumgartner was also on social media while filming The Office. But he used his profile a bit differently. 
"I got on Myspace as my character Kevin Malone," he said. "I had a blog, and I never veered from actor to character."
When fans would write to him, "Kevin" had "no idea cameras were watching." Eventually, fans started asking for signed photos.
"I thought, 'I can't do that because I'm just Kevin Malone — an accountant [from Dunder Mifflin] who doesn't know he's on television,'" Baumgartner explains. "So I said, 'I don't know why you want a picture of me, but if you send me a signed picture of you, then I will send you back a signed picture of me.'" He ended up with thousands of fan photos. 
When The Office first debuted, it didn't have the massive following it has today. But Fischer, Kinsey, and Baumgartner's interactions with fans helped develop the community of fans the show has now.