'The Office' Fans Continue To Roast Peacock, Say NBC 'F**ked Up'
When The Office left Netflix, it was the end of an era. Now, many Netflix subscribers are refusing to make the switch to NBC's streaming platform, Peacock. Despite the new home of The Office, many fans would rather poke fun at NBC's platform on Reddit than give in and subscribe.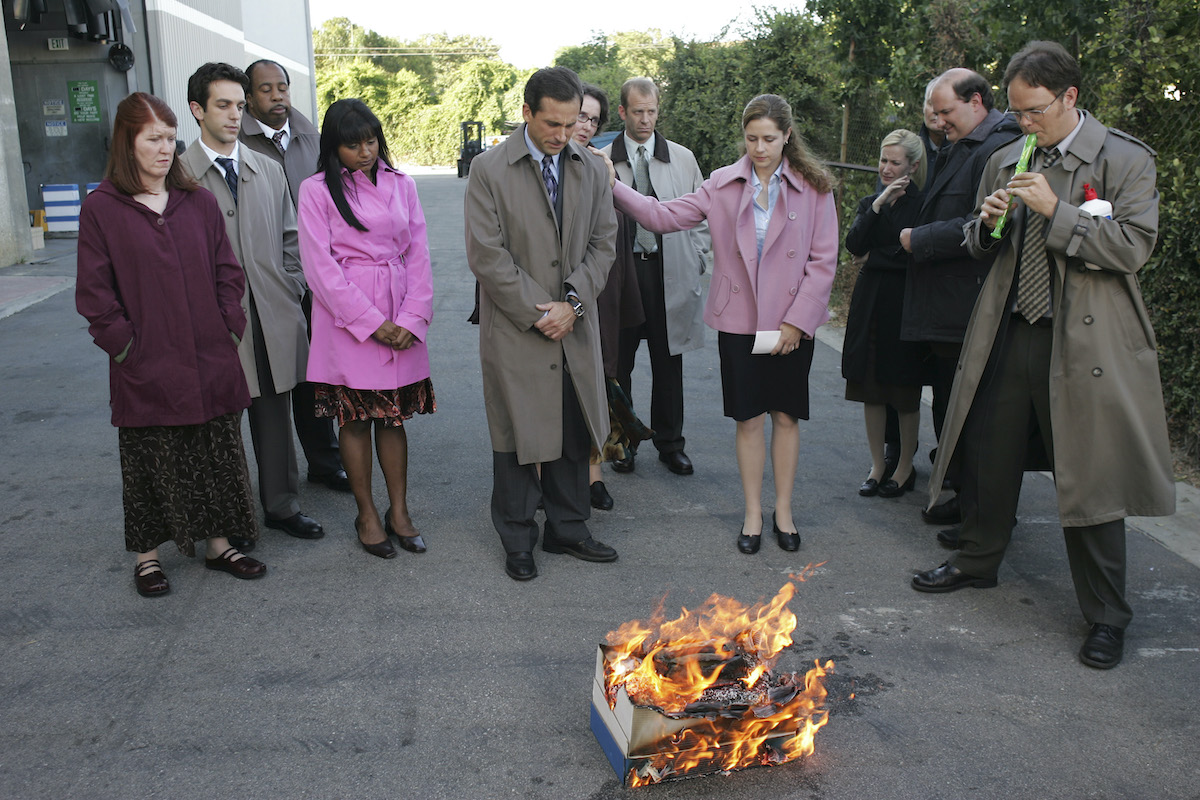 Fans have to stream 'The Office' on Peacock
On Jan. 1, 2021, The Office left Netflix and moved to Peacock. Fans were made aware of this move in June 2019. 
"We're sad that NBC has decided to take The Office back for its own streaming platform," Netflix tweeted at the time. "But members can binge watch the show to their hearts' content ad-free on Netflix until January 2021."
Unless they own physical copies or want to watch re-runs with commercials on basic cable channels, Office fans will have to invest in the NBC streaming platform to watch the show.
Many 'Office' fans are annoyed with Peacock's tiered offering
The NBC platform offers subscribers three tiers: Peacock, Peacock Premium, and Peacock Premium Plus. Since The Office is Peacock's main selling point, only the first two seasons are included with the free subscription.
Fans looking for access to every episode of The Office need to subscribe to Peacock Premium ($4.99/month), but have to sit through ads. Peacock Plus ($9.99/month) gives fans the same access but an ad-free watching experience. 
Annoyed by the pricing structure, fans are speaking out about Peacock on Reddit.
"Peacock isn't real," a fan said on Reddit.
"Honestly, if your primary motivation for signing up for yet another $10/month streaming subscription (if you want the ad-free) is to be able to watch The Office whenever you want, just purchase the seasons," another fan pointed out.
Others are making jokes about the lifespan of the streaming platform.
"Next year when no one subscribes to Peacock," a fan shared. They included Creed Bratton's (Creed Bratton) line: "We had a funeral for a bird," referencing the potential end of Peacock and the season 3 episode "The Return."
'The Office' fans continue to 'roast' Peacock on Reddit
The anonymous forum has turned into a "Peacock Roast" for many fans of The Office.
"Continuing the Peacock Roast," another Reddit user shared with a meme mocking the season 5 episodes "Stress Relief," wherein Dunder Mifflin hosts the roast of Michael Scott (Steve Carell).
In the episode, Kelly Kapoor (Mindy Kaling) says: "I have made a list of people that I would make out with before I made out with Michael Scott."
RELATED: 'The Office' Fans Are Obsessed With This Kelly Kapoor Joke
The fan-made meme reads: "I have made a list of streaming services I would use before Peacock." It then lists said services, which include Netflix, Hulu, anything illegal, Prime, YouTube TV. "Anyway, f*ck off NBC," the fan added.
"BOOM roasted!" a fellow fan and anti-Peacocker commented.
"When you rather risk computer viruses then use Peacock, you know it's bad," added another user. "You F'ed up NBC!"
"I did the free trial, watched all the super fan episodes and then canceled before [the] trial ended," said another fan whose Peacock subscription didn't last long.
The love fans feel for The Office burns strong, but for some, it's not strong enough to want to subscribe to Peacock.