'The Office': Fans Have An Interesting Theory About Robert California
The enigmatic Robert California (James Spader) breezed onto the set of The Office for a one-season character arc. Although his presence didn't detract from Michael Scott's (Steve Carell) absence, he did leave a few unanswered questions. Fans have a theory as to what happened to the overly-confident fill-in.
Robert California's stint on 'The Office' shook things up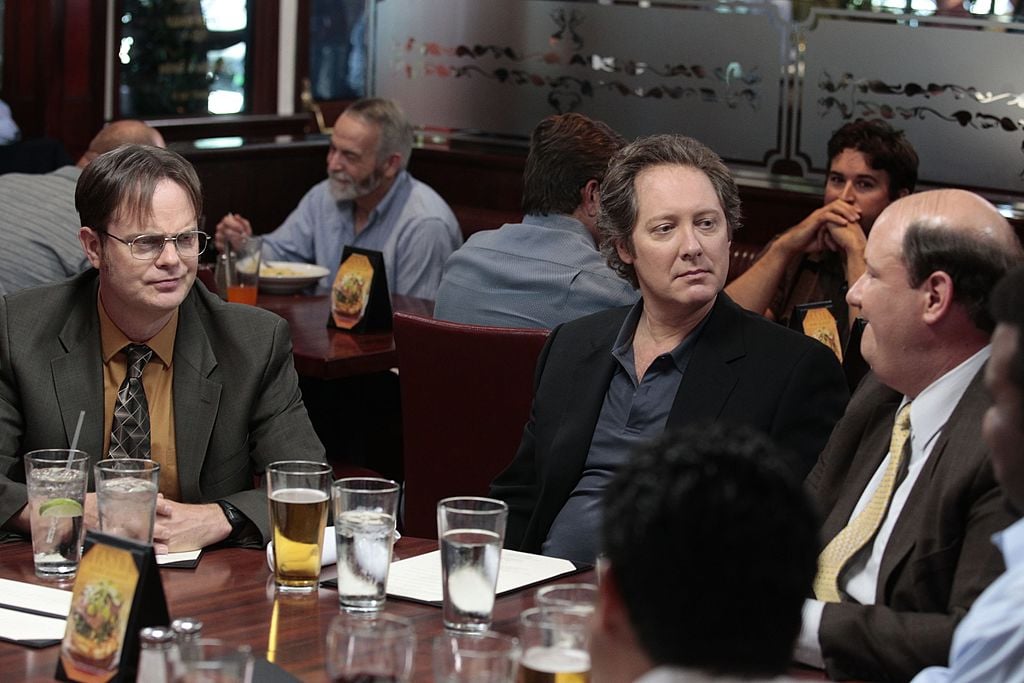 In season 8 of The Office, James Spader burst onto the scene with a fresh take on management through his alter-ego, Robert California. To kick things off, Robert passed up the branch job in exchange for Sabre CEO Jo Bennett's (Kathy Bates) position.
Once Robert put Andy Bernard (Ed Holmes) in charge of the Scranton, Pennsylvania branch, Robert utilized his time organizing the employees into a "winners" and "losers" list. This is the epitome of Robert's pervasive ways which terrified and intrigued some, compared to that of previously aloof Michael Scott (Carell).
Throughout 25 episodes, Spader's performances cemented themselves into The Office history. Showrunners said in multiple interviews that Spader's placement was only meant to be a one-off.
"I never really considered whether I would do more [episodes]," Spader told Digital Spy. "Then, suddenly [the producers] called me back again and said, 'We'd really like your character to come back in some capacity.'"
Robert California left his position after CEO, David Wallace (Andy Buckley), announced Robert would transition into a new role, working with a charity that helped college-aged gymnasts in developing countries on their paths to college. The venture would take three years, which marked Spader's completion as a "guest star" on the sitcom.
Here's what fans say about Robert California's true identity
Some fans of The Office think Robert California is actually an alias of Raymond "Red" Reddington" on NBC's The Blacklist. Before brushing it off, there are a few points that might validate the theory.
Robert California used multiple names such as "Bob Kazamakis" and "The Lizard King." That lends itself to the theory based on the fact that Red — an FBI Most Wanted criminal — poses as different people as needed.
Multiple Reddit threads point to Robert as the beginning of Red, and the sentiment continues on Twitter.
"I just imagine that Reddington is actually Robert California after he leaves Dunder Mifflin as "Bob Kazamakis"… This makes The Blacklist 100x better," one fan tweeted.
"OK but Robert California left Dunder Mifflin and become Raymond Reddington in Blacklist and that's the truth," another added.
"Robert California was the best alias Raymond Reddington had," this viewer said.
And finally, another fan gave a thorough explanation of the connection.
"A regular reminder regarding a peculiar time at the DM Scranton branch: Robert California was absolutely a cover for Raymond Reddington while he was building a sector of his international crime empire within the lucrative and corrupt paper distribution industry to protect Liz," the fan tweeted.
How likely is the theory?
If that's not enough evidence connecting the two roles of Spader, there's more. Spader's first appearence in The Office is titled "The List," much like how he keeps track of dubious criminals via The Blacklist.
Another point, as made by a super fan, connects the two worlds with a backstory and all.
He's a criminal who has been travelling around the world stealing, killing, kidnapping and all other criminal activities. Until one day, he walks into the FBI building and gives himself over. He has a blacklist with names of other criminals he wants to get rid of. With the help of the FBI he's able to prevent those criminals from committing more crimes.

But why did he walk in the FBI building? Why did he give himself over? Was it because his company got bought out by a dude name David Wallace? Is it because his wife divorced him?

Maybe Robert California used his Sabre and Dunder Mifflin adventure to cover up his criminal history and launder his money. But when everything failed and he didn't have a job anymore, he changes his name to Bob Kazamakis and says that he's going to do charity work in Brazil.

Via Amino Apps
There's no concrete evidence that this is true. Considering The Office and The Blacklist are both NBC shows and both welcomed Spader. It's not beyond the realm of possibility. In Red's world, anything is possible.