'The Office': Fans Might Have Missed One of Dwight Schrute's Accomplishments
Dwight Schrute had one goal — become the regional manager of Dunder Mifflin Scranton. But there's something else he managed to accomplish on 'The Office.'
The Office was a comedy series about a paper company, but it was also a show about the human spirit. One of the most dedicated and driven characters on the show was Dwight Schrute (Rainn Wilson). Dwight wanted to accomplish many things during The Office's nine seasons, but there's one achievement fans might not have noticed.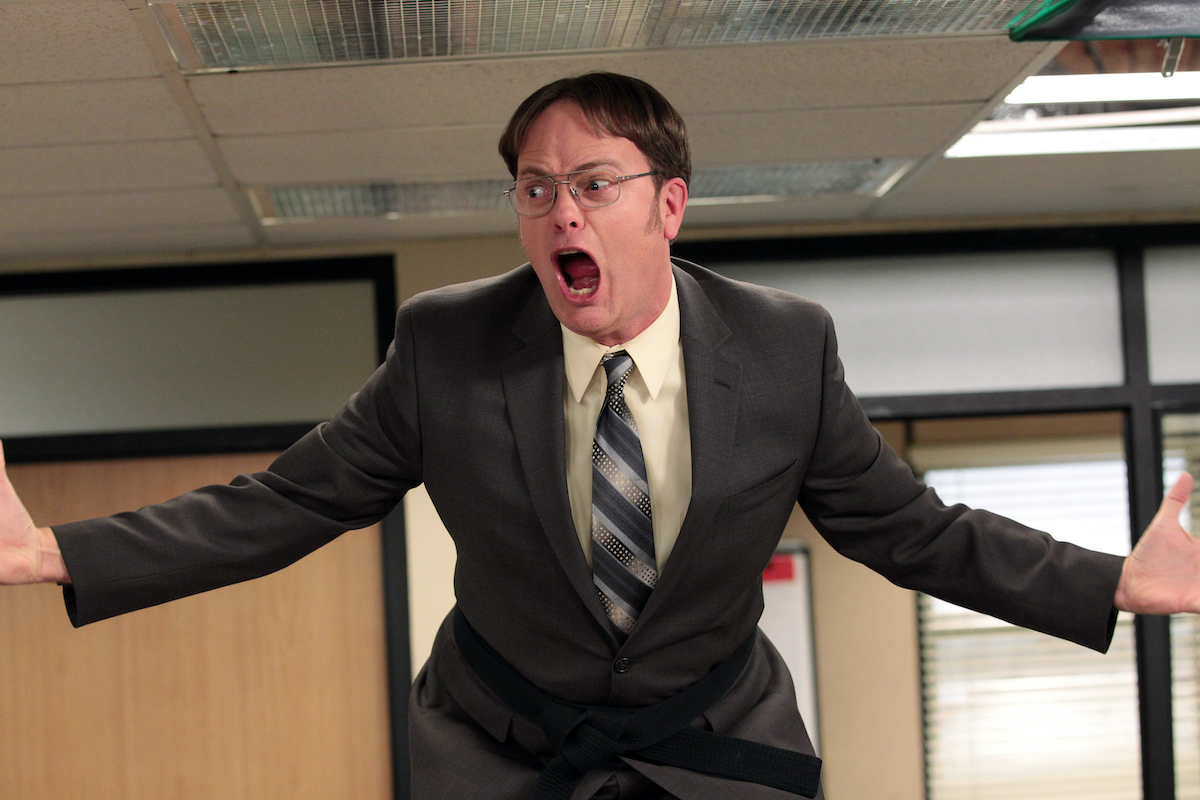 Dwight Schrute's main goal was to become the regional manager of Dunder Mifflin's Scranton branch 
Throughout The Office's run, Dwight was after one thing — the title of Regional Manager. When we first met Dwight, he considered himself as the "Assistant Regional Manager." His actual title was "Assistant to the Regional Manager."
It was clear how much Dwight coveted Michael Scott's (Steve Carell) position, and would stop at nothing until the "assistant" was stripped from his title.
For nine seasons, fans watched as Dwight worked tirelessly to earn the title of Regional Manager. In season 7, episode 24, Dwight finally got a taste of what it was like to run the Scranton branch — that is, until he fired a weapon in the office. 
Eventually, after several unfitting replacements, Dwight was once again named the Regional Manager of Dunder Mifflin Scranton in The Office's final season. 
Dwight Schrute had several other things he wanted to accomplish on 'The Office' 
Dwight's character valued positions of power and the respect and friendship of Michael Scott tenfold, but those weren't the only things his character valued.
Dwight also wanted to find love and have children of his own to continue the Schrute lineage. His on-again-off-again relationship with Angela Martin (Angela Kinsey) helped humanize Dwight.
Though they spent much of their time covering up their relationship, Dwight finally admitted he loved Angela in season 9. He wanted to be with her, regardless of who Phillip's father was — something that demonstrated growth for the character and allowed him to achieve yet another one of his goals. But, as it turned out, Angela had been lying all along — Dwight was Phillip's father.
Marrying Angela in the final season, Dwight checked two more boxes off his proverbial life to-do list. 
Dwight Schrute literally got everything he wanted by the end of 'The Office' 
At times, Dwight was a complicated character to root for. Once you realized he was determined and would stop at nothing to achieve his goals, it was easier to understand Dwight.
One fan on Reddit pointed out yet another win Dwight Schrute managed to accomplish on The Office. 
In season 3, Michael and Dwight went to David Wallace's (Andy Buckley) house for a cocktail party. Michael announced his relationship with Jan (Melora Hardin) publicly while Dwight was busy checking David's home's integrity. 
Dwight uncovered a rocking chair in David's son's bedroom throughout his inspection. He commented on wanting a similar chair — which he managed to do somehow. By season 9 of The Office, that same chair was on Dwight's porch.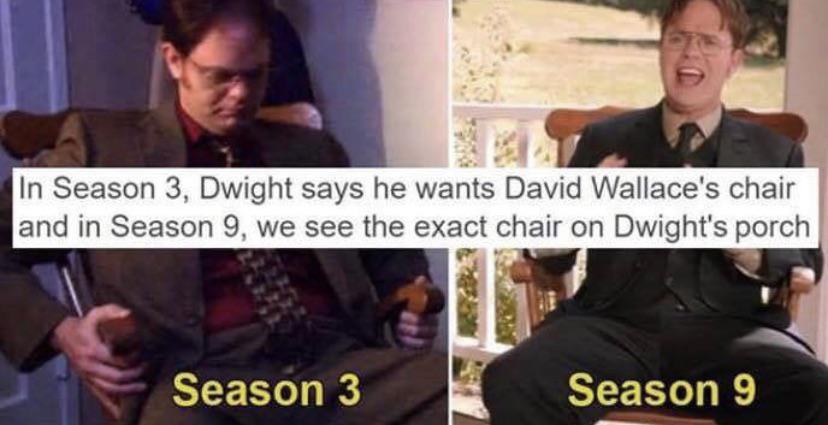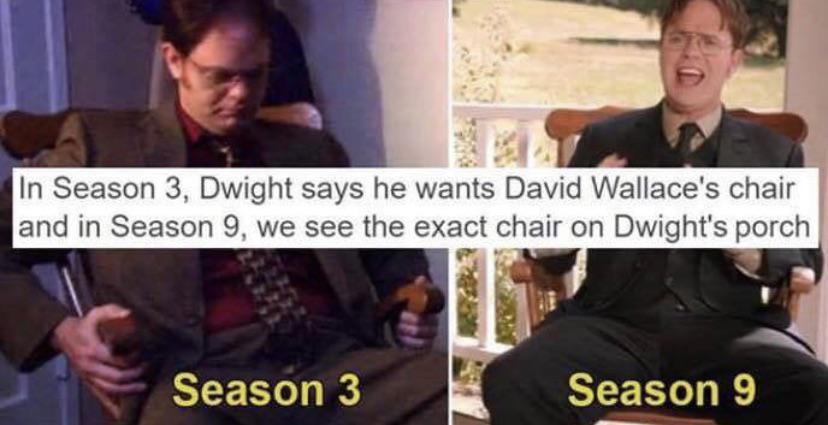 It's unclear whether the chair is the same one from David Wallace's home or a replica. It's also unclear whether showrunners meant to use the same prop intentionally or by accident. Regardless, Office fans enjoyed spotting this hidden Dwight Schrute accomplishment.