'The Office' Fans Weigh in on the Best Michael Scott, David Wallace Interactions
Michael Scott (Steve Carell) had unique relationships with each and every character on The Office. One of his more interesting relationships, though, occurred with his boss, David Wallace (Andy Buckley), who was the CFO and then CEO of Dunder Mifflin Paper Company.
Over the years, Michael and David had some pretty great interactions. The official Office Instagram page recently asked its followers to weigh in with their favorite Michael and David moments. Here's what they had to say.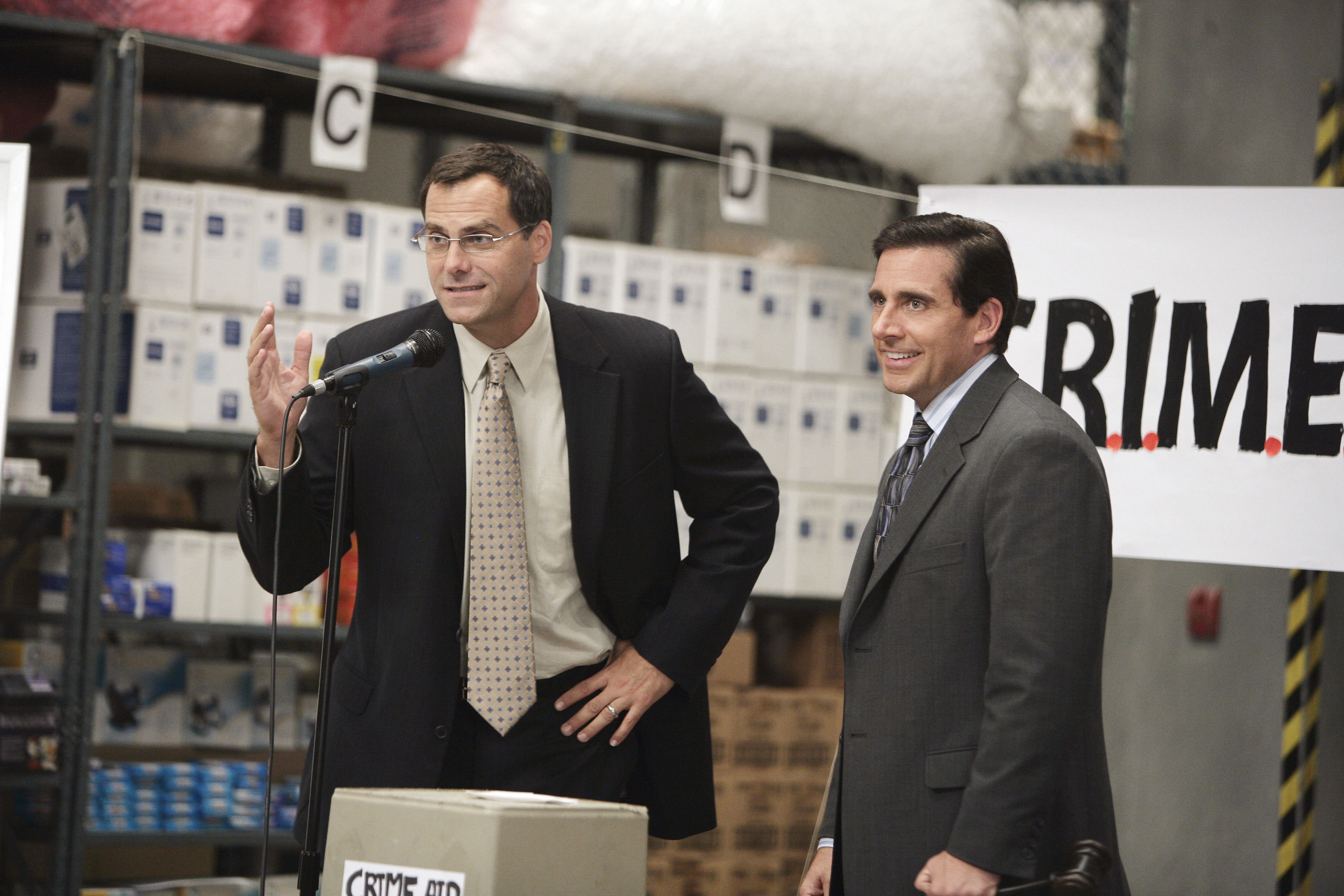 "Don't ever, for any reason…"
The twelfth episode of the fifth season, "The Duel," mostly surrounds Andy's discovery that Angela has been cheating on him with Dwight. Andy challenges Dwight to a duel in the parking lot (winner gets Angela). But another plot involves Michael getting called into corporate to have a meeting with David. Michael is intially nervous about the meeting, as he doesn't know what it's about. But he learns that David just wants to congratulate him on a job well done. Michael has made the Scranton branch the most successful branch in the company, and David wants to know how he did it.
"David here it is, my philosophy is basically this, and this is something that I live by, and I always have, and I always will: Don't ever, for any reason, do anything, to anyone, for any reason, ever, no matter what, no matter where, or who, or who you are with, or where you are going, or where you've been, ever, for any reason whatsoever," Michael tells David.
The Office fans agree that the quote is painfully, uncomfortably good.
"You have no idea how high I can fly"
In the twentieth episode of Season 5, Michael tells David that he quits.
All day, he attempts to get a hold of David because he doesn't like the way Charles is micro-managing him. When he never hears back from him, Michael drives to New York to confront David in person. He tells him, after 15 years, he should be able to pick up the phone and speak to his boss. David apologizes and tells him that he's right. But Michael realizes David is only placating him and quits on the spot.
"You have no idea how high I can fly," Michael tells David, and walks out.
"I cried a little bit when Michael said that," wrote one Instagram user.
"I think you're a nice guy, too"
In Season four's "The Deposition," Jan attempts to sue the company for wrongful termination. At one point, David's assessment of Michael is quoted.
Counsel: Was he in the top five of contenders?
David Wallace: What do you want me to say? Come on. He's a nice guy. I considered many people.
Counsel: Was he being seriously considered for the corporate job?
David Wallace: No.
In the end, Michael sides with the company and David apologizes to Michael for his assessment.
Michael tells David, genuinely, "I think you're a nice guy, too."
The Office fans agree it's "such a genuine exchange."