'The Office': Fans Were So Conflicted About This Jim Storyline
It took a while for the stars to align for Jim and Pam on The Office and, along the way, they had relationships with other people. In season 3, Jim left the Scranton office to pursue a job opportunity in the Stamford branch, taking him away from Pam, and giving him a new potential love interest in his co-worker Karen. Fans were divided about Jim and Karen at first.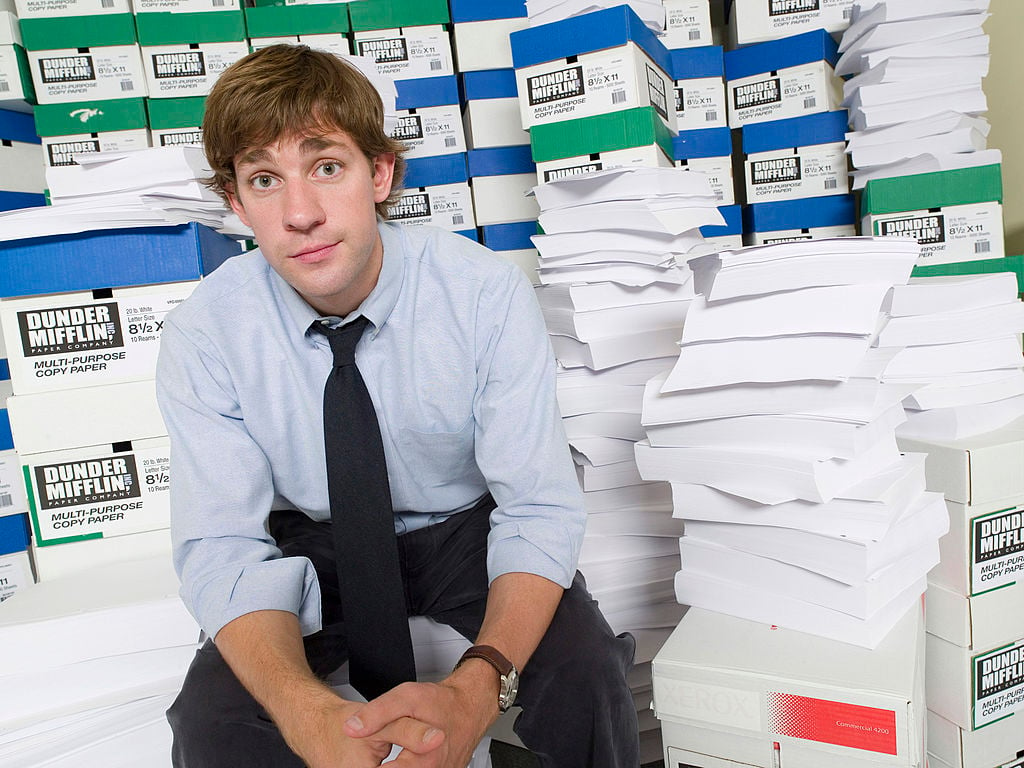 Jim got flirty with Karen in Stamford
After he was rejected by Pam after telling her he loved her at the end of season 2 of The Office, Jim decided to take a job at the Stamford office because he didn't see a future in Scranton.
For part of season 3, Jim and Pam were apart and he and Karen shared some flirty moments, with their plotline in episode 4 revolving around Jim trying to track down Karen's favorite kind of potato chips. He invested a lot of time and energy in trying to find the chips and eventually delivered her the snack, telling the camera that he was able to track the chips down and locate them in the machine in the building next door.
Fans were conflicted about Jim and Karen
Since fans had been hoping that Jim and Pam's will-they-won't-they give and take would end with them finally getting together, not everyone was on board with Jim and Karen having a romantic relationship.
During the June 17 Office Ladies podcast, co-hosts Jenna Fischer and Angela Kinsey discussed the episode in depth and Fischer shared some of the fan reaction to Jim and Karen at the time.
"These scenes drove people crazy," Fischer noted, adding, "I went back and looked at some of the comments from when this aired. Here is what they said…"
"I feel kind of weird about Jim and Karen," one fan remarked, with another sharing, "Uh, the Karen thing? Why oh why am I liking it? But I am!"
Kinsey added, "I remember people freaking out about it."
Another fan shared, "Jim and Karen have great chemistry" and another said, "I'm sorry, I can't believe there are actually people out there who are OK with Jim hooking up with Karen."
"That's what I remember," Kinsey confirmed.
Fischer shared another fan perspective: "Hmm. Jim likes to buy chips for all his ladies" and Fischer said she agreed. Kinsey noted, "That's his game."
RELATED: 'The Office': Jenna Fischer Reveals the Heartbreaking Pam and Jim Moments That Made Her Cry
It wasn't always clear that Jim and Pam would be soulmates
It might have seemed inevitable that Jim and Pam would end up together but, according to Fischer, the writers weren't sure if they would be soulmates or not.
"There was talk in the writer's room that maybe Roy could win Pam back," Fischer explained. "I can tell you guys, nothing was decided at this point about what would happen with Jim and Pam, what would happen with Pam and Roy. They were feeling it out, week to week."
"I also remember it was constantly said that maybe in the series of The Office, Jim and Pam would not end up together in the end, but would instead lead one another to their actual true loves."
She added, "It had not been decided right now that Jim and Pam were one another's true loves… I think maybe that's why the writing of their characters felt so authentic — because the writers were figuring out their relationship at the same time that Jim and Pam were."