'The Office': The Father of Jan Levinson's Baby Is Finally Revealed — and He's Famous
When Michael Scott found out Jan Levinson was pregnant in The Office Season 4 episode "Goodbye, Toby," she told him that she went to a sperm bank while they were dating. The identity of the father of Jan's baby has finally been revealed and, it turns out, he's famous.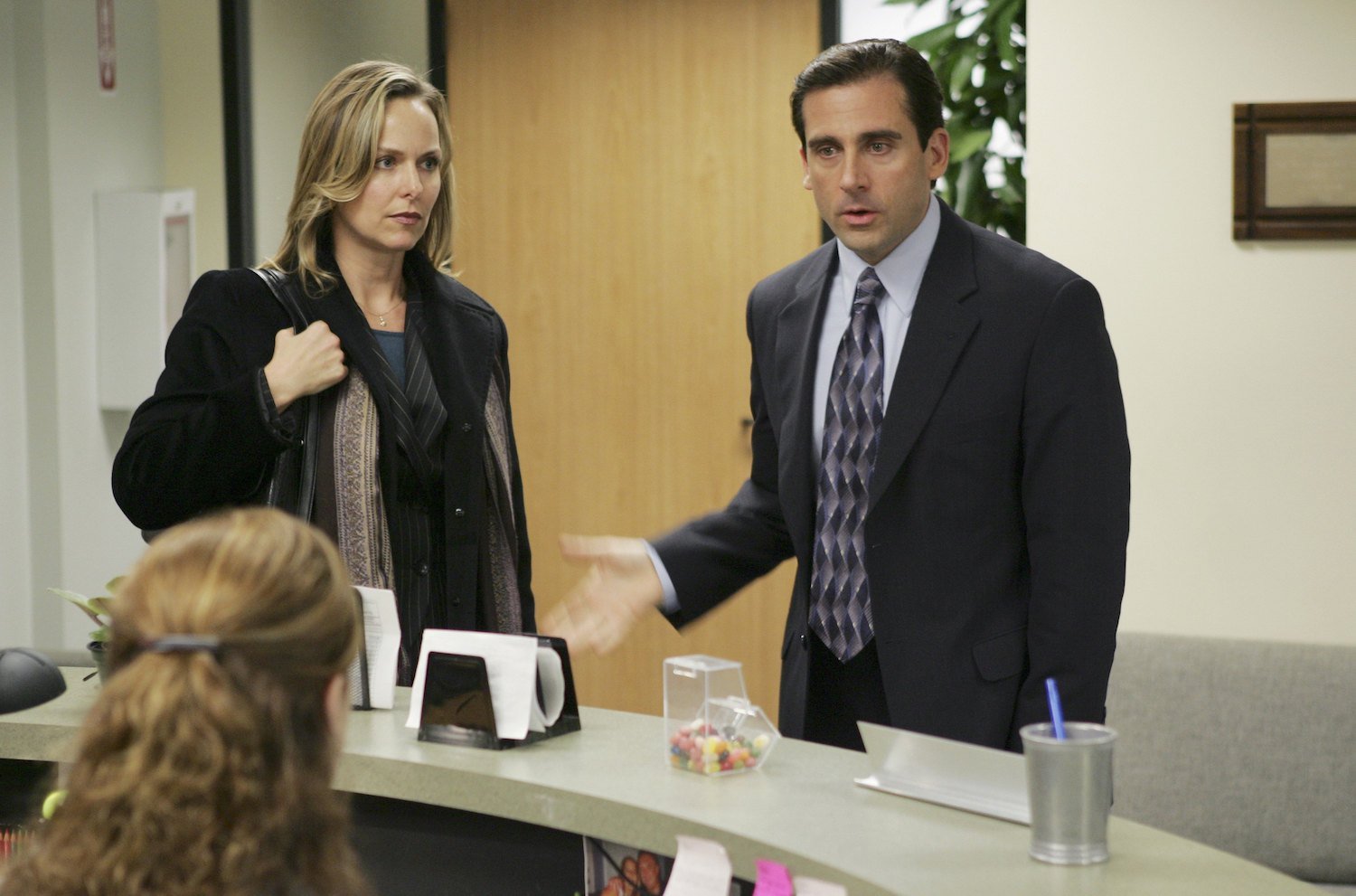 Michael Scott discovers Jan is pregnant but it's not his baby
When Kevin makes a trip to the grocery store during Toby's goodbye party, he calls Michael and tells him he needs to come to the store. When he gets there, Michael discovers Kevin talking to Jan and sees that she's pregnant.
When he gets excited that it's his baby, Jan tells him he's not the dad, explaining that she went to a sperm bank while they were dating.
In a talking head interview, Jan reveals why she made this choice. "If I was 22 and I had lots of time to have lots of children, then sure let's let Michael have a shot at one of them but honestly I need to make this one count," she explained.
The father of Jan's baby was finally revealed
During the May 5 Office Ladies podcast, hosts Jenna Fischer and Angela Kinsey discussed The Office "Goodbye, Toby" episode and an interesting unknown piece of information was revealed. Fans finally found out who the father of Jan's baby is.
Kinsey shared that the answer was in a draft script but there's no deleted scene of Jan's big reveal.
"Jenna in the script — and it didn't make it to the deleted scenes — Jan reveals whose sperm she bought," Kinsey explained.
She continued, "Jan says, 'You have to pay top dollar, but it's worth it. Now, here's the best part. I got Andy Roddick's sperm.'"
"And Jan looks to Michael like she's expecting him to be very impressed," Kinsey noted. "And Michael says, 'The tennis player?' And Jan says, 'Well, it's a little more than that. He's the sixth-ranked player in the world and he's won four grand slams.'"
"And Michael says, 'That's a lot of grand slams, I guess.' And Jan says, 'And he's a humanitarian, something with orphans,'" she added. "And Michael is quiet and Jan goes, 'Michael?' And Michael says, 'Can I just sit here for a minute without more things coming into my head?'" 
Why 'The Office' writers went with Andy Roddick as the baby daddy
The Office Ladies hosts believe that the choice for Roddick to be the father was deliberate because the tennis player was friends with Rainn Wilson and visited their set.
Fischer explained, "Andy Roddick was friends with Rainn Wilson and he was a big fan of The Office and he came by the set. I have to imagine that the reason they wrote it as being Andy Roddick's sperm was a little bit of a nod to Andy, who has an amazing sense of humor."
The actor added that she and her husband had gone to Roddick's tennis matches and would sit with his wife Brooklyn. "I am so sad for his sake that this did not stay in the episode," she noted.
Kinsey said she wanted to send Roddick's wife the funny dialogue from the scene.
"So Andy Roddick is the father of Jan's baby," Kinsey said. "That's in the shooting draft. It didn't make it to the screen or the deleted scenes, but I thought that was hilarious and I had to share."