'The Office': From Idris Elba to Amy Adams, 15 Guest Stars You Forgot Were on the Series
'The Office' featured numerous celebrity cameos in its nine seasons. From Idris Elba to Amy Adams, here are 15 guest stars you forgot were on 'The Office.'
For series regulars like Steve Carell, Mindy Kaling, and John Krasinksi, The Office was just an early stepping stone in their highly successful careers. But the NBC show also featured a number of guest actors who are huge Hollywood stars themselves. From Idris Elba to Amy Adams, here are 15 guest stars you forgot were on the comedy series.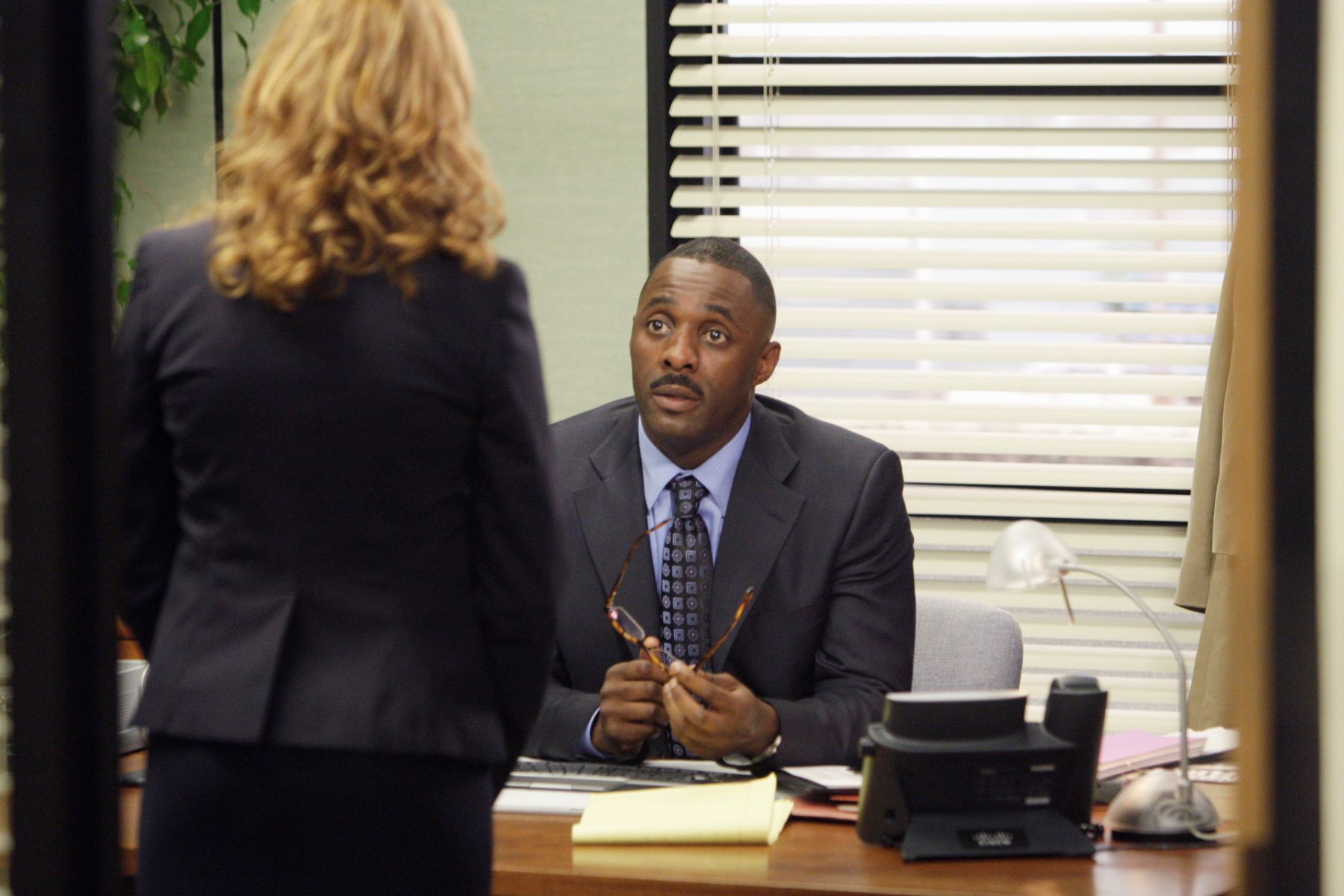 1. Idris Elba had a recurring role on 'The Office' Season 5
Idris Elba appeared on a handful of episodes in Season 5 of The Office. He joined the cast as Charles Miner, Jan's (Melora Hardin) replacement, and Michael's (Steve Carell) new boss at Dunder Mifflin. His arrival at the Scranton branch is what causes Michael to quit and start his own new paper company. 
 2. Amy Adams
In Season 1, Amy Adams made a few cameos as Katy, an ex-cheerleader who visits Dunder Mifflin to sell handbags. Because Pam (Jenna Fischer) is still engaged to Roy (David Denman), Jim (John Krasinski) asks Katy out. The two begin dating, but on the company booze cruise, when Roy and Pam set their wedding date, Jim dumps Katy.  
3. Ray Romano
Comedian and actor Ray Romano appears in the "Search Committee" episode in Season 7 of The Office. His character, Merv Bronte, is a self-loathing and gullible candidate who gets interviewed by Jim for the regional manager job. 
4. Jim Carrey appeared in a Season 7 episode of 'The Office'
By the time Jim Carrey made his cameo as Finger Lakes Guy on Season 7 of The Office, he was already a huge Hollywood star. But his hilarious appearance just made the star-studded "Search Committee" episode that much more memorable.  
5. Kathy Bates 
Academy Award-winning actor Kathy Bates had a small recurring role as Sabre CEO Jo Bennett. She is first seen in a promotional video for the company and then appears at the Scranton branch with her two Great Danes. 
6. Will Ferrell
Carell's Anchorman: The Legend of Ron Burgandy co-star Will Ferrell joined the cast as  Deangelo Jeremitrius Vickers in Season 7. He comes into replace Michael as the new regional manager of Dunder Mifflin but appears for only four episodes. 
7. Melissa Rauch made a small cameo in Season 6 of 'The Office'
Big Bang Theory star Melissa Rauch is featured on "The Delivery" episode of Season 6. She plays Cathy, a new mom who is sharing the hospital room with Pam just after Cecilia is born. In one scene, while Cathy is sleeping, Pam accidentally feeds her baby, thinking its Cecilia. Then when Cathy wakes up, she can't figure out why her baby isn't hungry.
8. Ken Jeong
Community and The Hangover star Ken Jeong appears on the "Email Surveillance" episode in Season 2. As part of Michael's improv group, he isn't thrilled with the way Michael selfishly steals scenes from him and the rest of the team members. 
9. Yvette Nicole Brown
Community star Yvette Nicole Brown was featured in Season 3 of The Office. She plays Dwight's Staples coworker Paris, who is more than happy to see him leave when he quits to resume his job at Dunder Mifflin.  
10. Evan Peters played Michael's nephew in 'The Office'
American Horror Story star Evan Peter appears in the Season 7 episode, "Nepotism." He portrays Michael's nephew, Luke Cooper, an unprofessional young man who gets spanked at the office by Michael for his behavior. 
11. Will Arnett
In the "Search Committee" episode of Season 7, Will Arnett appears as Fred Henry. As a regional manager applicant, he reveals he has a three-step plan for the company but insists he must keep it a secret.
12/13. Jessica Alba and Jack Black
Jack Black and Jessica Alba make cameos in the "Stress Relief" episode of Season 5. They appear in a bootleg movie that Andy (Ed Helms) downloads on his computer to watch at the office. 
14. Christian Slater
In Season 6, Christian Slater is seen in an orientation video for Dunder Mifflin's new owner, Sabre. He is accompanied by CEO Jo Bennett, played by Kathy Bates, who appears in later episodes. 
15. Warren Buffet
American business tycoon Warren Buffett makes a cameo in "Search Committee" as a penny-pinching candidate who interviews for Michael's position.