'The Office': Giant Pam Continuity Error Potentially Explained by This Fan Theory
Over the course of nine seasons of The Office, there have been a few continuity errors but one, in particular, has bothered fans. During an episode of the Office Ladies podcast, the hosts shared a fan theory that potentially explained one glaring issue about Pam.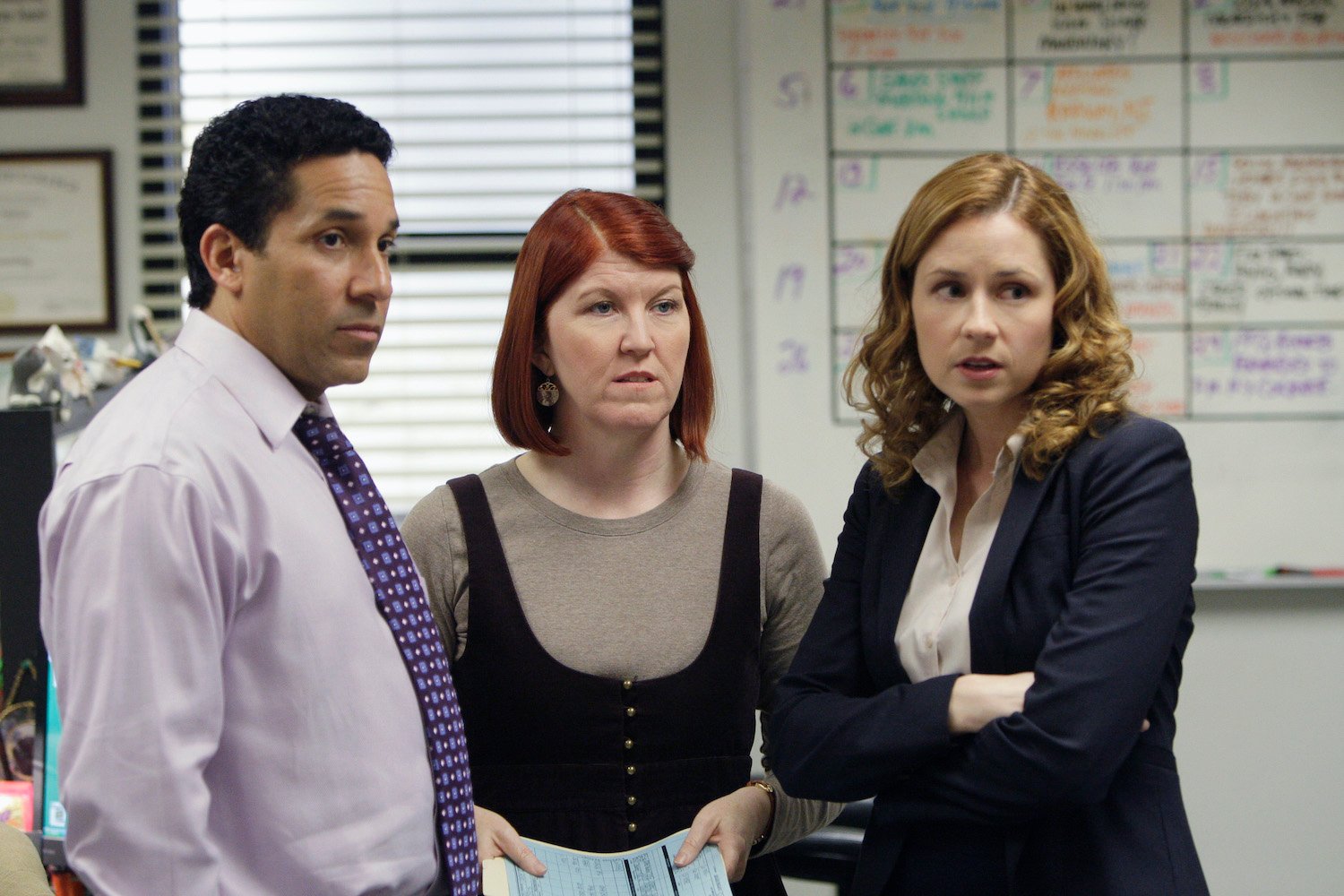 Pam visits her old high school in this 'The Office' episode
During the April 21 episode of Office Ladies, Jenna Fischer and Angela Kinsey discussed the season 4 episode "Job Fair," which involves Pam returning to her high school when Dunder Mifflin participates in the job fair.
"Pam has to walk down memory lane of her high school and you learn a lot about her," Kinsey explained.
Pam's dialogue in the scene paints her as ditching gym on numerous occasions. "So many memories in this old gym. Pretending I have PMS so I didn't have to play volleyball. Pretending to have PMS so I didn't have to play basketball. Those were the days," Pam says.
Kinsey noted, "in particular volleyball. But yet in 'Company Picnic' she's like a volleyball pro. So what's happening?"
Does this fan theory explain the Pam continuity error?
Fans have pointed out this continuity error in the past, since Pam seems to allude to missing volleyball and other gym activities in high school, but brags about being good at volleyball in the "Company Picnic" episode.
Many fans wrote in to the podcast about the error. "Thank you for everyone that wrote in. As soon as Pam said that, I was like, what the heck?" Kinsey said.
Fischer shared one fan's theory about the Pam volleyball debate. "Chelsea B. wrote in this theory on why it still tracks that she would have pretended to have PMS while also being a volleyball champion. And I loved it," Fischer explained.
Fischer shared the fan's theory: "People always point out the continuity error that Pam says she faked cramps so she wouldn't have to play volleyball in gym class. However, maybe Pam faked cramps because she didn't want to have to play volleyball with her classmates who weren't very good at it. As a former athlete myself, I can tell you I wouldn't have had much fun playing my sport with people who sucked at it. So in my opinion, it's not surprising that she tried to get out of it."
She added, "I love that Chelsea is like, 'Pam is such a badass volleyball player that she cannot handle a gym class volleyball game.'"
When Kinsey debated whether the theory could be true, Fischer said she believed it's a possibility. "No, this was gym class. This was just like everybody get exercise in gym class," Fischer explained. "We're going to play volleyball today. So Pam was probably on the varsity team, but she just didn't want to have to play in gym class. It was a waste of her time and talent."
RELATED: 'The Office': This 'Big Moment' Between Jim and Pam Was Challenging to 'Get Just Right'
In 'The Office' 'Company Picnic' episode, Pam is a volleyball pro
In the season 5 episode "Company Picnic," there's a volleyball tournament that pits the different Dunder Mifflin branches against each other
Pam proves to be very gifted at volleyball and gets her team to the final round. "Maybe I played a little in junior high. And in high school. Maybe a little in college. And went to volleyball camp most summers," Pam reveals.
Pam ends up with an ankle injury and Jim takes her to the hospital while Dwight stalls in the hope they can bring Pam back into the game. Jim and Pam find out that Pam is pregnant at the hospital and Jim calls Dwight to tell him to send in the substitute players.