'The Office': Here's How Much Pam Beesly's Wedding Dress Cost
Jim Halpert (John Krasinski) and Pam Beesly's (Jenna Fischer) wedding was a big deal for fans of The Office. After the episode aired, Pam's wedding dress was highly sought after by many fans. Find out how much the dress Pam wore during her wedding actually cost.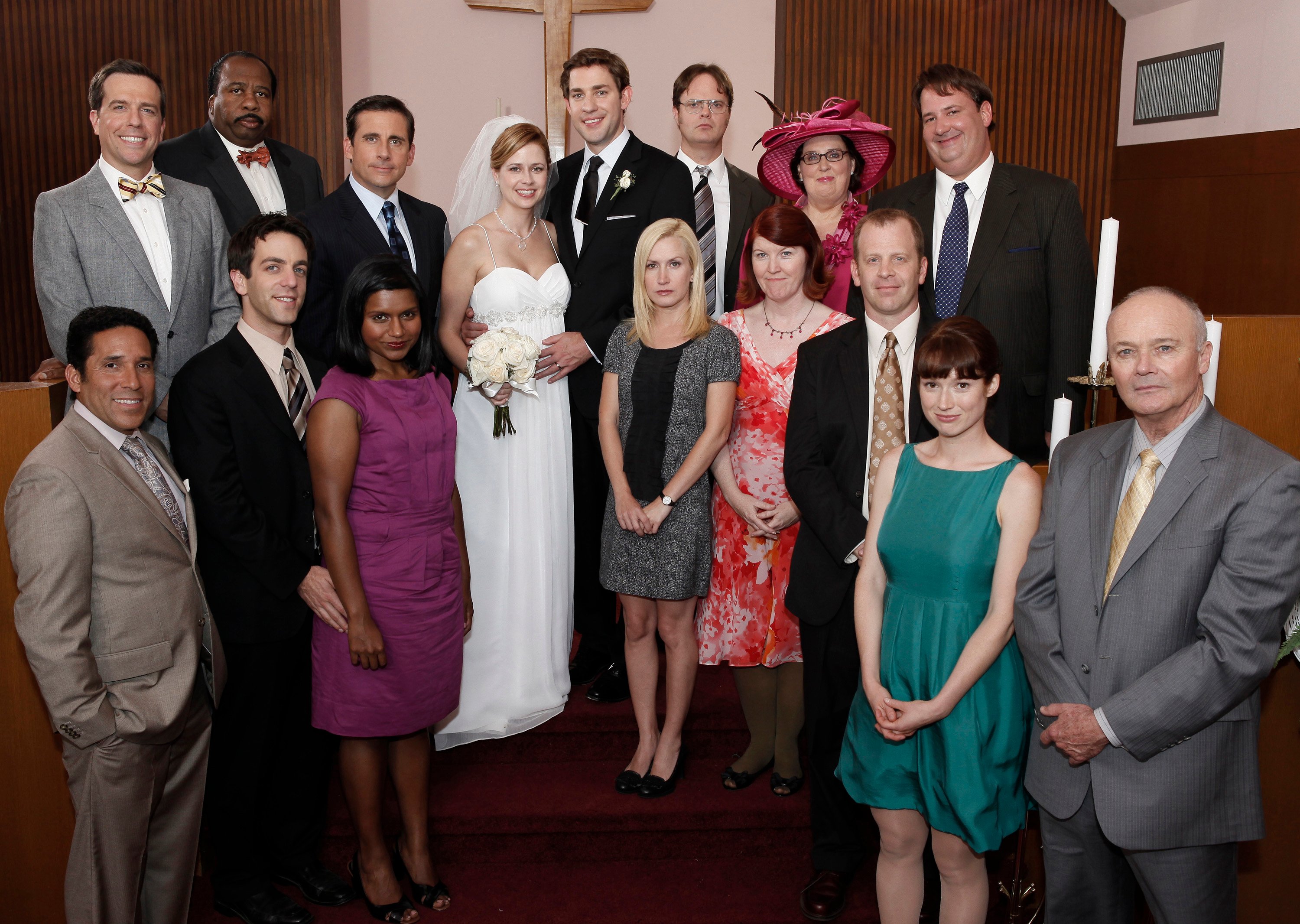 Fans couldn't wait for Jim Halpert and Pam Beesly's wedding
From the very beginning, fans were eager for Jim and Pam to get together on The Office. Initially, Pam was engaged to Roy Anderson (David Denman) with an unknown wedding date. But in the pilot episode, it was clear Pam had feelings for Jim. What was even more clear was the chemistry between them.
The tension between Jim and Pam finally came to a head during the season 2 episode "Casino Night" when they shared their first kiss. But, their relationship wouldn't become official until season 4 of the The Office. Fans were there through all of the pivotal "Jim and Pam" moments, including in season 6 with the two-part wedding episode, "Niagara." 
Jim and Pam's wedding was a big deal for John Krasinski and Jenna Fischer, too 
During the episode, Jim and Pam actually had two wedding ceremonies — one in the church, with their Dunder Mifflin coworkers, and a more intimate ceremony on the bow of the Maid of the Mist. 
In "The Moment That My Life Changes" episode of Office star Brian Baumgartner's podcast, An Oral History of the Office, editor Clare Scanlon talked about how Krasinski and Fischer cried when they saw the final edit of the episode. 
"There's the last scene of 'Niagara' where Jim and Pam are on the bow of the boat and he puts his arm around her and he looks right into the camera and he just like… it's not even like cocky… it's just sweet, like 'I got her,'" Scanlon explained, continuing: 
John and Jenna came into my bay to see it. They were like, 'We need to see the show, we need to sign off on this big one.' And after that, I like turned around and they're bawling.

That's all you want to do, is make people cry. For the poignant moments, all you want is to make people cry.
Pam Beesly wore a dress from David's Bridal 
Pam wore a wedding dress from David's Bridal for her big day. The A-line gown from the Galina Collection was floor length and featured an empire waist. The style was T9552, according to the Daily News.
Unfortunately for fans, the dress is no longer offered by David's Bridal. However, fans who want to emulate Pam's wedding day look can find the same style in second-hand stores. 
Pam's bridesmaids were also wearing dresses from David's Bridal. Their styles were long, sleeveless chiffon dresses featuring a charmeuse rounded neckline and a sash at the waist. 
Pam Beesly's wedding dress cost less than $400 
While the price of Pam's wedding dress was never discussed during the episode, behind the scenes details reveal the cost of the dress was under $400. 
Pam Beesly's wedding gown from David's Bridal cost $399 (per Daily News). Meanwhile, her bridesmaids dresses were a reasonable $145.