'The Office' Gave This Hint That Michael Scott Would Eventually Date Pam's Mom
The Office fans know that Michael Scott's romantic history included dating Pam's mother, Helene. Some fans have wondered if an earlier mention of setting Michael up with Helene was foreshadowing what was to come. Jenna Fischer, who played Pam, weighed in with her thoughts.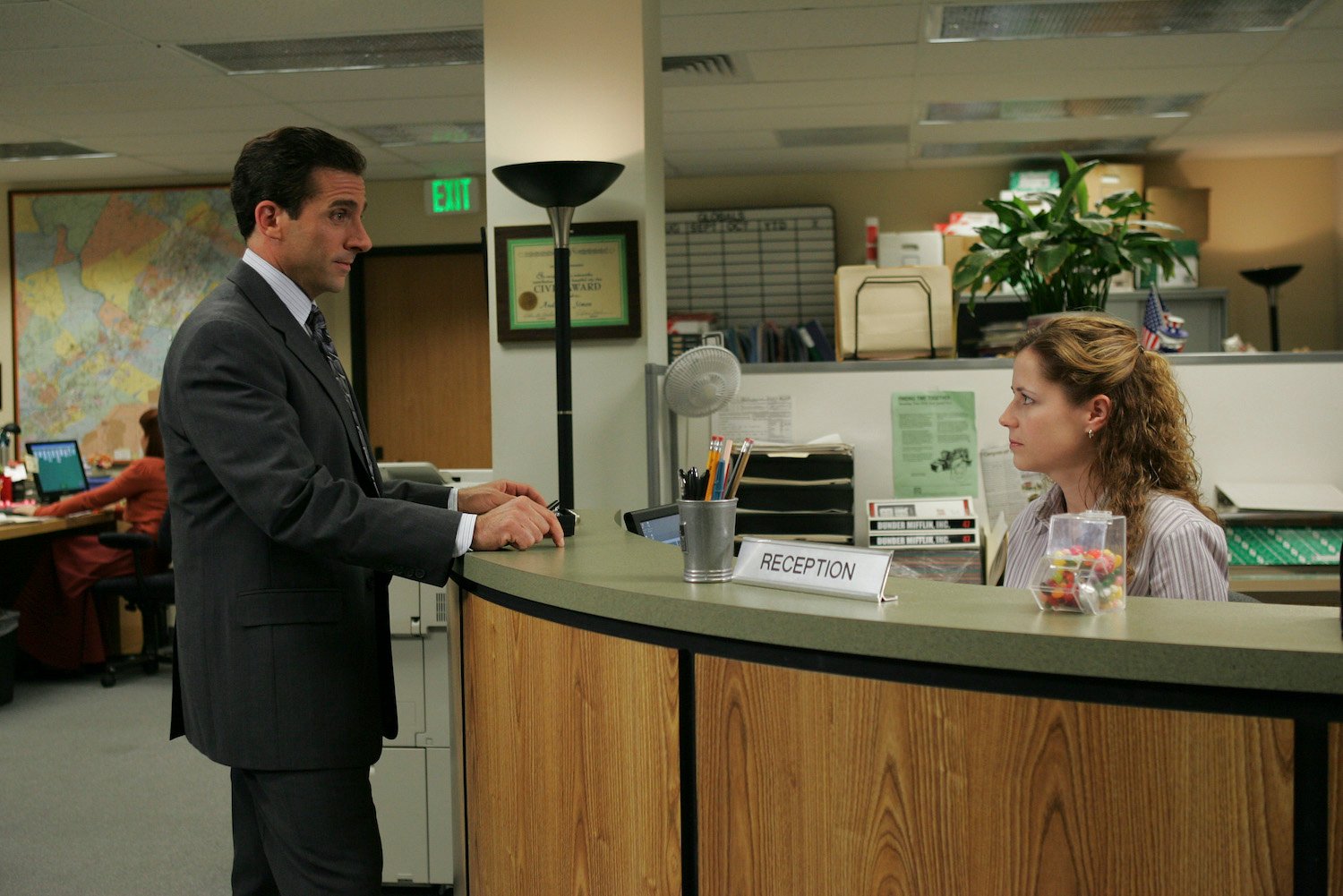 Michael Scott asked his employees to set him up on a date
During the March 31 episode of the Office Ladies podcast, Fischer and her co-host Angela Kinsey explored the season 4 episode "Chair Model," which involves Michael Scott falling for the model in an office supply catalog after breaking up with Jan.
Michael seeks the help of his co-workers to find a new girlfriend. Everyone is hesitant to do so, with Kevin giving him a number of 'Wendy' — turns out it was just a Wendy's fast-food restaurant.
Jim writes down a name for Michael and when Pam asks him who, Jim tells her, "Oh, you don't know her." When Pam asks again, Jim jokes, "Your mom?" and Pam laughs, as she grabs the paper away from him.
Pam feels sorry for Michael and sets him up on a blind date with her landlady, which doesn't go well.
Did 'The Office' episode predict that Michael Scott would date Pam's mom?
Fischer and Kinsey said they got some fan questions about Jim joking about trying to set up Michael and Pam's mom, with some wondering if it was a prediction for a future episode.
In season 6, Michael and Pam's mom start dating after hooking up at Jim and Pam's wedding. Since this mention of Jim writing Helene's number for Michael is in season 4, it's conceivable that the writers had this romance in mind. Helene and Pam's father separate in season 5.
'The Office' definitely 'planted a seed' about Michael's future romance
During the Office Ladies podcast, Fischer set up the moment that Jim says he wrote Pam's mom's name. "Meanwhile, in the break room … everyone is sitting trying to come up with a name to put on their card for Michael," she explained.
A fan wrote in to the podcast, wondering, "When giving Michael names of single women he should ask out, Jim writes down Pam's mom. Was this an intentional foreshadowing or just a coincidence?"
Fischer said she had her own theory about this but wasn't entirely sure if it was yet planned at that point that Michael would date Helene.
"Well, guys, spoiler alert: in future seasons, Michael is going to date Pam's mom," Fischer said. "It was a very controversial storyline. We'll get to it."
"I think this was the first time the writers had ever even thought of this idea," she continued. "And it was just a funny joke in the moment. But I have to believe that it stayed in their brains."
"It planted a seed," Kinsey added.
Fischer clarified, "I guess I'll say the writers at this time didn't know yet that they were going to write that storyline. But I think this was the beginning of something."