'The Office': How Rashida Jones' Character, Karen Got Her Italian Last Name
Karen Filippelli (Rashida Jones) had a short run on the sitcom. The Office showed her dating Jim (John Kraskinski) after meeting him in the Stamford office. Find out how her character got an Italian last name and more.
Karen of 'The Office' was changed after her first episode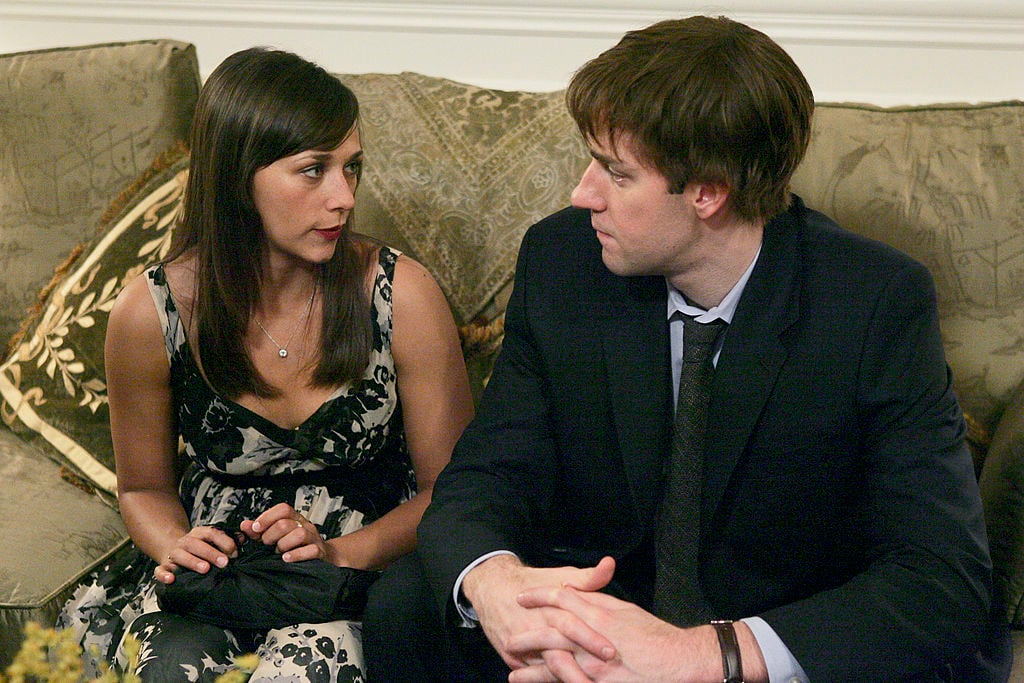 Jones first appeared on the show in the episode "Gay Witch Hunt." Angela Kinsey and Jenna Fischer talked about it on Office Ladies. Kinsey said she texted Jones about her debut.
"She said 'I was so damn nervous.' She told me she was convinced she was gonna get fired," Kinsey revealed. Jones also claimed that her character was supposed to be "sour and mean" in the beginning. Her bangs were stuck to her forehead and she wore less makeup in the episode.
"They just thought that Karen was gonna be a little bit more gruff and kind of a meanie," Kinsey explained. "And then she said Greg [Daniels] decided to soften her and so in the next episode she's a little softer. She's not quite so sour."
She admitted to always feeling like a guest star
Jones was on The Office regularly in season 3 and at the beginning of 4. She has admitted that she never felt comfortable being on the show.
"I always felt like a guest star on The Office," she said on The Off Camera Show. "Everybody was so nice to me, but I always felt like a guest star. I never felt, like, comfortable. I knew because I was like the small point of a love triangle that I would eventually just have to be sacrificed."
Karen was there to get between Jim and Pam. One thing that stood out to some fans about her character is that she's Italian.
The last name is after a NBC exec
Jones is biracial in real life. She's the daughter of record producer Quincy Jones and Peggy Lipton. However, her character on the comedy show was Italian.
It's unclear why the show made that decision. But there was an explanation for Karen's last name.
"Karen's name, Karen Filippelli was based off an NBC exec named Rachel Filippelli," Kinsey said on Office Ladies. "And this is just a classic Greg Daniels move that he loved to use people's names that he actually knew. I feel like all of our writers would probably pitch names of people they already knew. But Rachel Filippelli was an exec and Rashida said she actually met her."
Kinsey later claimed that Jones would spill things on set so other cast members gave her the nickname "Spillapelli." It sounds like Jones' character was one of many who were named after a real person.