'The Office': How Idris Elba's Character on 'The Wire' Landed Him at Dunder Mifflin
Idris Elba revealed that his role on The Wire actually led to him joining the cast of The Office for seven episodes.
Though Idris Elba was only on The Office for a total of seven episodes, his character, Charles Miner, truly made an impact on fans. Charles was more of a straight-laced character in the world of Dunder Mifflin, but still, he had enough quirks and quotes to be quite humorous. Furthermore, the way the women in the office reacted to him was truly hilarious. But just how did Elba end up on the hit comedy to begin with?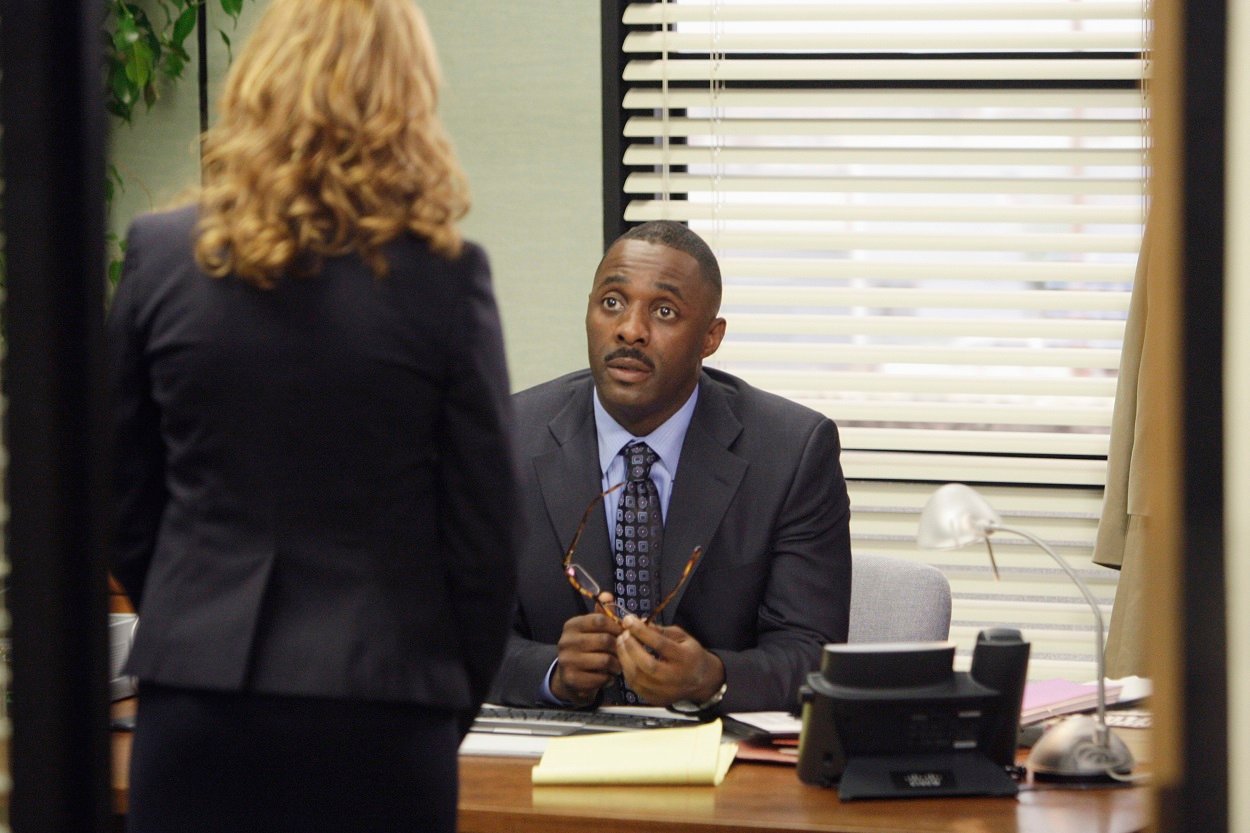 Elba is well-known for his acting abilities, but unlike other cast members of The Office, he didn't have a background in comedy. Instead, the actor had made a name for himself by playing intense dramatic roles. At the time, Elba was gaining recognition by playing gangster, Stringer Bell, on The Wire. The Office writers were actually enamored with The Wire, which is how Elba ended up trying his hand at comedy.
'The Office' writers loved Idris Elba on 'The Wire'
Fans of The Office may have realized that the writers were huge fans of The Wire because there's more than one reference to the show throughout the series. In fact, Michael Scott even has a moment where he admits that the show goes over his head. "Been watching The Wire recently…I don't understand a word of it," Michael declared. The writers were such big fans that they actually got in contact with Elba and asked if he'd be willing to portray Charles.
"The [Office] creators of the show called me, said they wanted to put me in as this new character, that I'd be perfect for it, and I was honored, so I said yeah. I'm a fan of the show," Elba shared with Vulture back in 2009. "I play Michael Scott's new boss that comes in from corporate, and a lot of changes happen around the office because of my character. I'm still playing the straight guy, but he's kind of got a bit of a quirk to him."
Elba says his character, Charles Miner, is the corporate version of Stringer Bell
In an interview with NPR, Elba went into greater detail about his character. The Obsessed star shared that Charles basically came in from corporate to help clean up shop. He also drew parallels between his character on The Office and his character of The Wire which fans may or may not have noticed.
"You know, he's kind of Michael Scott's superior," Elba stated about his character on The Office. "And, you know, he's very rigid, he's a very rigid guy, doesn't have much of a sense of humor with his employees, and he basically comes in and takes over. The character was written – I guess they wanted to have me sort of play a sort of corporate version of Stringer Bell, if you like."
It's pretty cool that Elba's work on The Wire led to his first well-known comedic role on The Office. We're sure fans of both shows will be seeing if they can spot the similarities between Charles Miner and Stringer Bell from here on out.