'The Office': Idris Elba Pranked the Cast and Crew When He First Joined the Show
Though The Office featured an exceptionally strong ensemble cast, the show was also enhanced with some pretty incredible guest star talent also. Big names like Idris Elba, Kathy Bates, Amy Ryan, Amy Adams, Dakota Johnson, Ricky Gervais, and Will Ferrell all graced the show at one point or another. As The Office set was known for being welcoming and collaborative, guest stars have shared that being on the show was a lot of fun. However, Elba managed to heighten his fun by pranking his fellow castmates and the crew.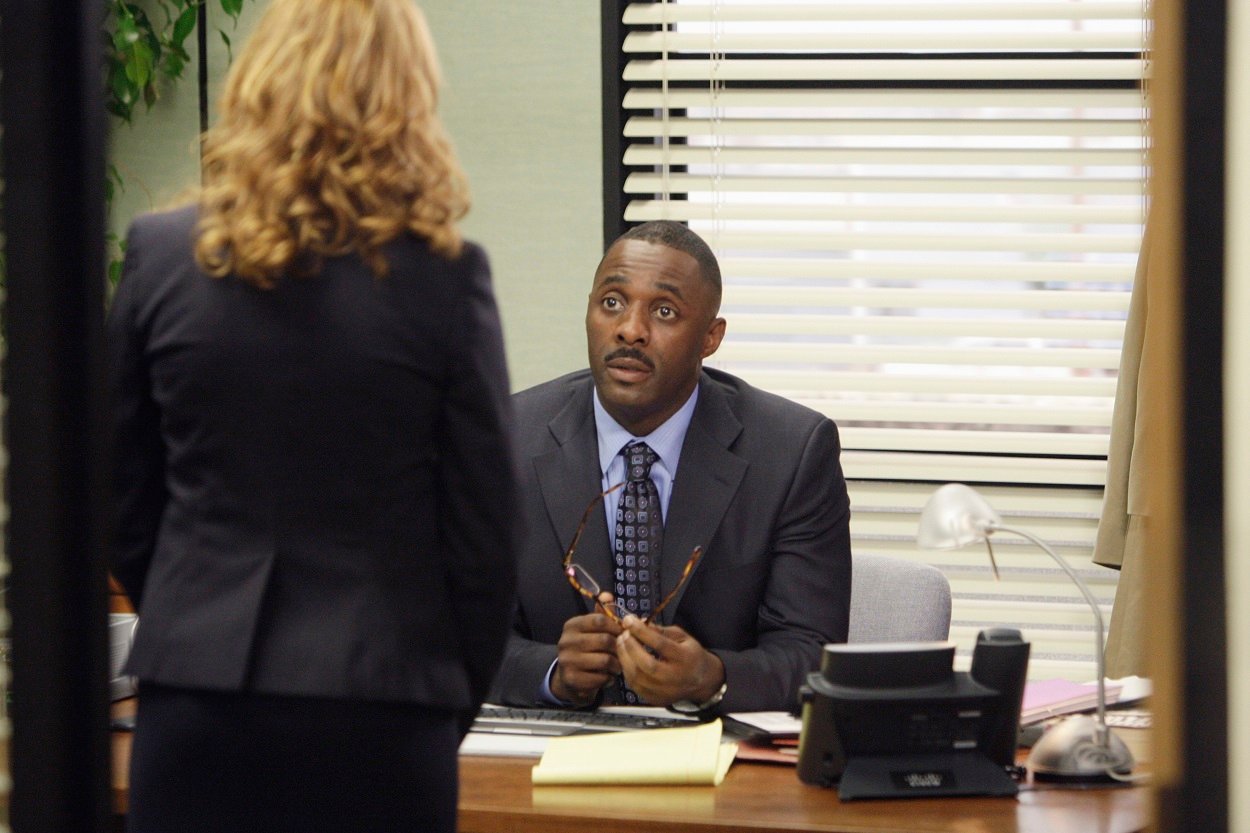 Fans of The Office will recall that Elba was cast in the role of Charles Miner. Charles, who was introduced in Season 5, was the no-nonsense new boss that had no tolerance for Michael's shenanigans. In fact, it was Charles who led Michael to quit his job as the Regional Manager of Dunder Mifflin Scranton in order to start his own company, the Michael Scott Paper Company, which Pam and Ryan joined also.
Idris Elba played a very straight-laced character on 'The Office'
Michael wasn't the only one who butt heads with Charles. After making a terrible first impression, Jim had a challenging time getting the very strict Charles to take him seriously. Charles' attitude certainly didn't endear him to The Office viewers. In fact, Charles is a fairly hated character in the series. But even though Elba played a very straight-laced character in the hit comedy, he has much more of a fun personality in real life.
In fact, Elba even decided to play a hilarious prank on The Office cast and crew when he first joined the show. In a 2009 interview with Office Tally, Aaron Schure, who wrote for the show, revealed that Elba pretended to be very intense about making sure everyone pronounced his name correctly. But he also gave him the incorrect pronunciation to truly throw the cast and crew off.
Elba played a hilarious prank on the cast and crew
"Idris has been just amazing," Schure revealed about having Elba join the cast of The Office for Season 5. "But he did prank the staff by putting out the word before he arrived that he's very particular about the pronunciation of his name. For a couple of days, we thought we were supposed to call him 'Eye-dress. Eel-bah.' I still don't know how to say it correctly."
Schure continued on to recount how different Elba was from the character he was cast to play. The Office writer shared that because of the roles Elba was known for e.g. his role on The Wire people often thought that he was much more intense and uptight than he actually is. However, Elba's true persona is much more playful.
Elba is much more relaxed than his 'Office' character, Charles Miner
"He's much more fun-loving and approachable than you would expect from his tough-guy roles, and I think we tried to incorporate a little more of that in subsequent episodes," Schure revealed. It's certainly interesting to see how actors are able to transform into characters who are so different from themselves. However, we love that Elba was able to bring more of his true self to set by pranking the cast and crew of The Office.