'The Office': Inside the Jim and Pam Moment That Ends So Awkwardly 'It Breaks Your Heart'
The touching phone call scene between Jim and Pam on The Office was everything, Jenna Fischer said. There was a lot that went into the scene.
There were a lot of touching moments between Jim and Pam on The Office, but one season 3 phone call between the characters touched fans' hearts. They had a lot of catching up to do since they kissed and Jim left for the Stamford branch — but pulling off the scene, it turned out, was no easy task.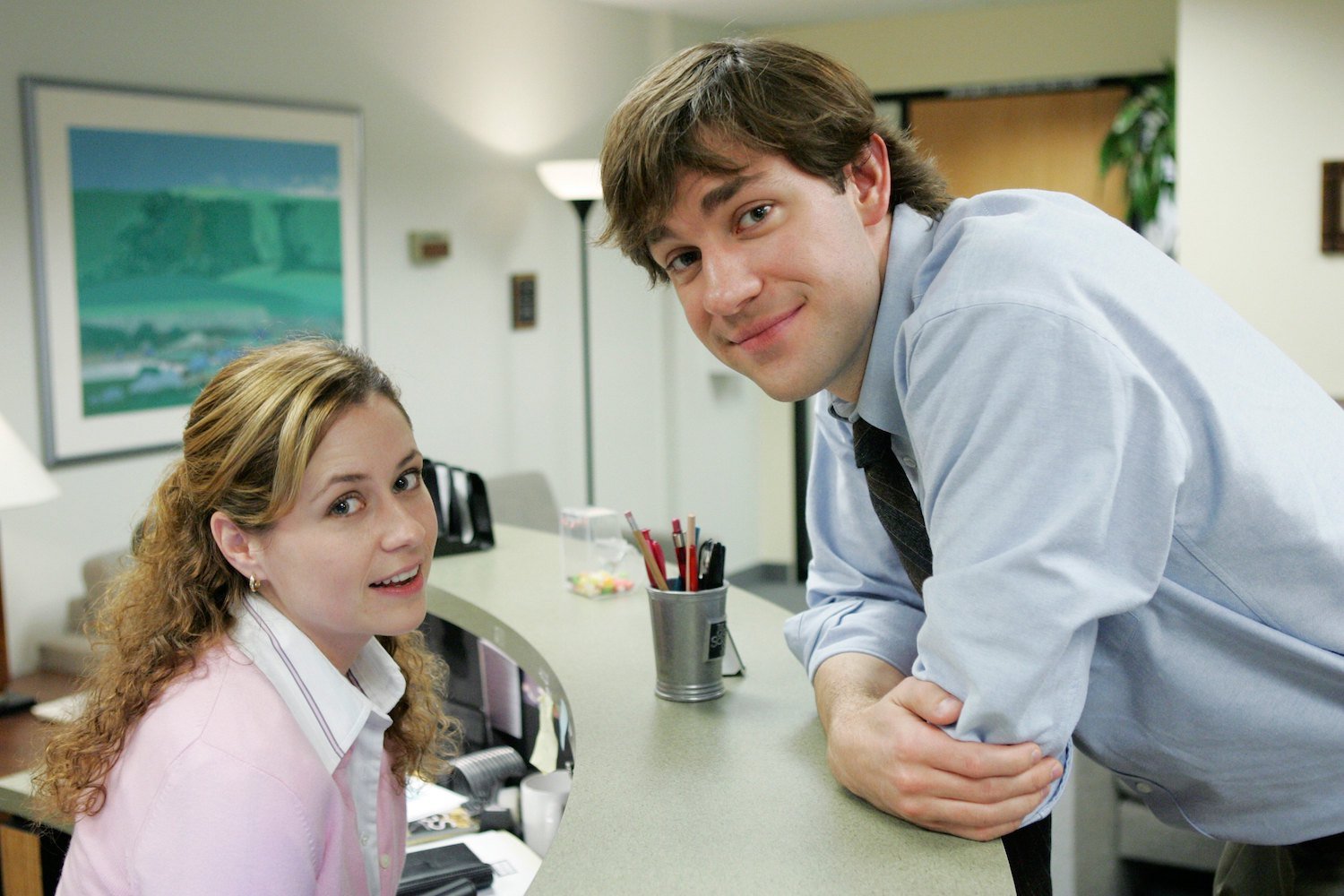 The actors were really talking on the phone
During the June 24 Office Ladies podcast, co-hosts Jenna Fischer and Angela Kinsey discussed season 3 episode 5 "Initiation" and, in addition to the other storylines in the episode, they zeroed in on this big moment between Jim and Pam.
In an earlier podcast episode, they had talked about how people on phone calls on the show typically weren't having a real-time back and forth exchange, but in this case, the actors were really talking on the phone.
It was logistically challenging to pull together, they revealed, but the episode's director, Randall Einhorn, thought it was important to film it this way. Given that the Stamford set and the Scranton set were in two different buildings with a parking lot between them, phone lines had to be hooked up between the buildings and cables were run from the cameras to the monitors.
"It made all the difference for John and I to be able to hear one another and to be able to really talk" and have those reactions in real time, Fischer shared. She noted that it was rare that phone calls were filmed that way, but Einhorn wanted to have the actors hear each other and "shoot both sides of the conversation at the same time."
How long did the Jim and Pam phone call go on?
Since viewers only saw a piece of the call, it's unknown how long it would have gone on in reality, but Fischer shared that there was stage direction in the script about how to change their body language to convey a sense of the passage of time.
In the scene, Pam is getting her coat on to leave for the day and the phone rings — it's Jim, who can't remember Kevin's extension so he called the main line. The two launch into a conversation that really jumps around because they haven't talked in so long, as they each share what they've been doing.
"You and John as actors are so fricking good in this scene… this scene wrecked me," Kinsey said. "Your expression on your face when you realize it's his voice and the same with John. It's so beautiful. Your conversation is so organic and earnest and, oh my god, it gave me all the feels."
The Jim and Pam phone call scene was "mostly scripted," but Fischer shared "there was also a lot of improvisation."
In real life, Fischer noted, "This is the first time that John and I had done a scene together… in months" and she said she had a "sense memory" watching the scene and remembered what it was like to shoot it, which took hours.
She thinks that, in reality, the call would have been 40 minutes, but B.J. Novak, who wrote the episode, thinks it went on for three hours and he wanted it to be threaded through one episode.
Novak addressed how proud he was of the "What time zone are you in…" line:
Pam: What time is it there?
Jim: What time is it here? Um, we're in the same time zone.
Pam: Oh, yeah. Right.
Jim: How far away did you think we were?
Pam: I don't know. It felt far.
Jim: Yeah.
The way it ends 'breaks your heart'
The two friends/former co-workers who kissed had an ease and a give and take during the call and the scene perfectly conveys how much they miss each other.
The co-hosts noted the way the call ends so abruptly and awkwardly when Pam says goodbye to Ryan and Jim thinks she's signaling him to wrap up their call. "And it breaks your heart," Fischer said.
"They're not out of the woods here," Kinsey said. "They just got to hear each other's voice and it felt like home for a little bit."
"But it was everything. It was everything," Fischer said.
Later in the podcast, Fischer said she held her breath during the scene and wanted Pam to "stay on the phone" and "say you miss him."
Rainn Wilson, who played Dwight, weighed in on the sweet moment and how he realized while watching the episode "why this show has stood the test of time."
"You have scenes that are outrageously over-the-top and then all of a sudden it's two people in love that hardly know they're in love, having an almost unedited five-minute conversation… it's almost like it's in real-time. You have this moment of real heart underneath it that grounds that whole experience," he explained.