'The Office': Jenna Fischer Addresses a Long-Running Fan Debate About Pam Beesly
There are still some questions fans of The Office have years after the show ended. Luckily, Jenna Fischer is answering them on her podcast. She addressed a long-running debate about Pam Beesley.
Karen kept Jim and Pam separated in 'The Office'
RELATED: Jenna Fischer Improvised a Line in 'The Office' to Pay Homage to 'When Harry Met Sally…'
Season 2 ended with Jim (John Krasinski) telling Pam how he feels about her. She turns him down so the characters are separated in season 3.
Jim gets a promotion and transfers to the Stamford office. He meets Karen (Rashida Jones) there and they eventually start dating.
"I remember it was super weird that we didn't have him with us for like six or eight weeks," Fischer said on Office Ladies. She talked about how she used her feelings of missing Krasinski to play Pam.
"Oh Angela, I completely used all of my feelings with John being over on that other set to the character of Pam," she said. "Because you really became closest with the people you had the most scenes with because you had to spend so much down time with them and for those whole two first years of the show I was paired with John so often."
Fischer settles the debate over Pam's hair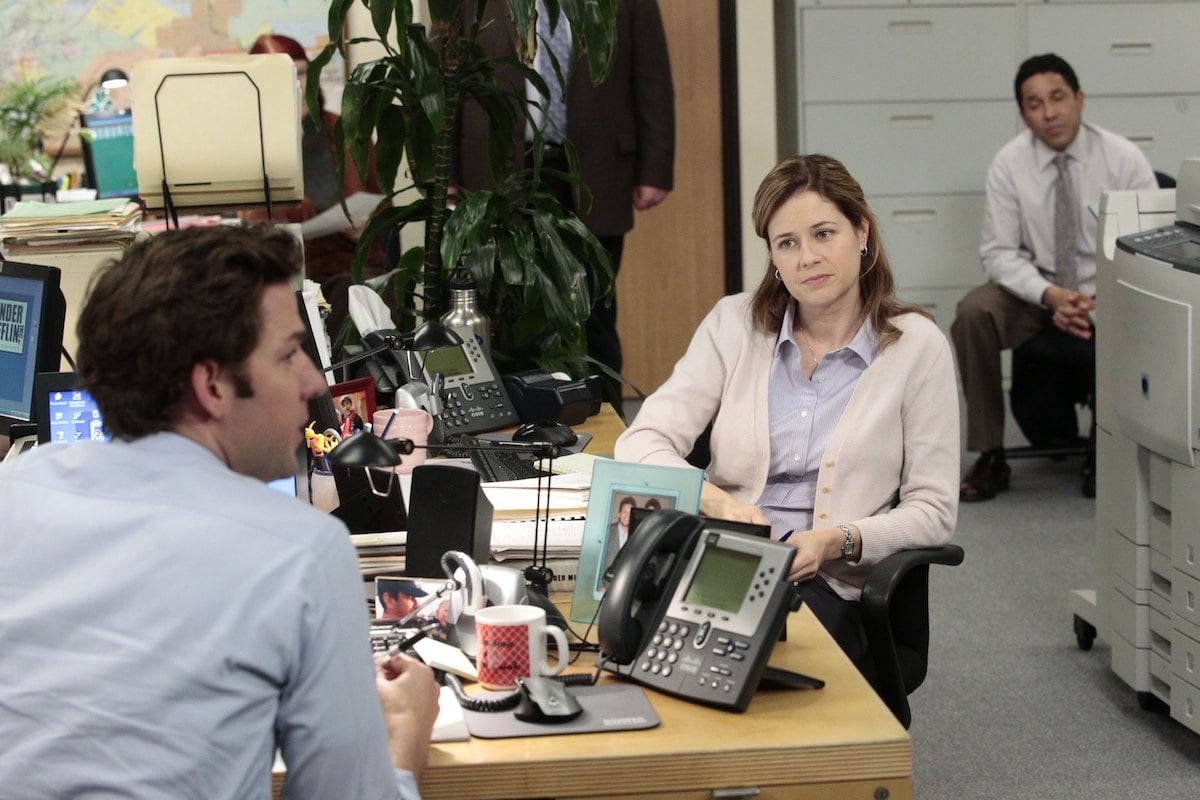 RELATED: 'The Office': Jenna Fischer Admits That She Couldn't Get Through 'Kevin Scenes'
In the episode, "Ben Franklin," a stripper is hired for Bob Vance (Robert R. Shafer)'s bachelor party. There is a conversation of what kind of woman should be hired.
Dwight (Rainn Wilson) takes on the task of hiring the stripper. He asks Jim if they should hire a redhead or a brunette. Jim then answers blond, which makes Dwight happy.
At this point, Jim is dating Karen, who is brunette. But we know about his feelings for Pam. Fans guessed Jim's answer might be some indication of who he's more into but there's a debate on what's Pam's hair color. Is she a redhead or a blonde?
"I have seen this question on fan sites before. What color is Pam's hair? Is she a brunette? Is she a redhead? One person wrote 'My family is very divided on this issue,'" Fischer said on the Office Ladies podcast.
"Yeah, it's like a reddish brown, you guys. I think everyone's right. But it did have these reddish tones," answered Fischer. She believed her hair isn't as red in this episode as it was earlier in the show because she changed it for a movie.
"So when they wrote this line, I think they were expecting that it to be more obvious they were talking about me because I did have these reddish hues to my hair. But I think it got changed a little bit because I was shooting something and they took a little of the red out," Fischer explained.
Angela Kinsey believed Jim's answer was to play it safe by not picking Pam or Karen's hair color. Obviously, fans know Jim loved Pam but Kinsey's theory might be the best way to read this scene.