'The Office:' Jenna Fischer Bonded With This Co-Star More Than John Krasinski When the Show Began
'The Office' co-stars John Krasinski and Jenna Fischer had legendary chemistry on the sitcom, yet apparently the actress first bonded with another actor.
Fans of The Office still hold the idyllic relationship of Jim and Pam close to their hearts. Portrayed by John Krasinski and Jenna Fischer, the two characters went from flirtation to marriage and children throughout the show's nine seasons.
While Krasinski and Fischer have both talked about their instant chemistry in the audition process, The Office actress apparently gravitated toward a different co-star to hang out with when the show first launched.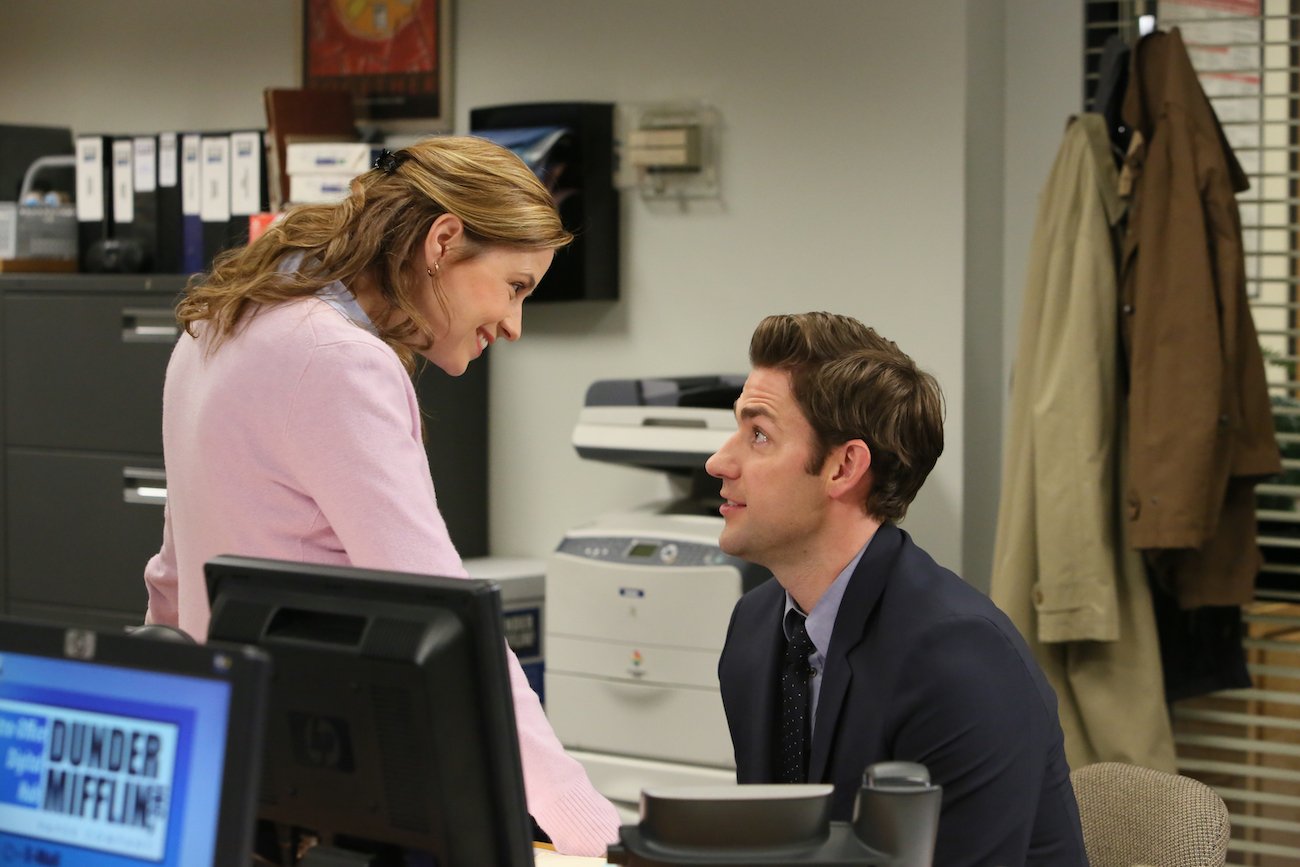 Immediate Jim-and-Pam chemistry
When Fischer auditioned for the role of Pam Beesly, she had to read with different actors trying out for the part of Jim to see who would make the best match. Fischer knew right away who her onscreen soul mate should be.
"I've been in situations of what you'd call the chemistry read with another actor," she told the Hollywood Reporter in 2017. "They sort of boil a role down to a few choices. … When I met John and I was reading with John, everything was easy. It was effortless. I just felt the most like Pam in the easiest way. All of our work together felt so honest."
Having Krasinski playing her counterpart helped Fischer naturally portray the role of Pam.
"Chemistry between actors, it's a very elusive thing. To me what it means is it's easy and effortless to access your character with that other actor," Fischer said. "I did feel that immediately with Jim. I mean with John! I was relieved that they cast John because it made my job so much easier."
Pam and Roy's long engagement
David Denman played warehouse worker and Pam's fiancé Roy Anderson for the first three seasons of The Office. The Brightburn actor felt that Pam and Roy's failed engagement was probably due to their taking each other for granted.
"They don't know anything different," Denman said of their characters in a 2006 interview. "Roy has gotten really complacent and just not really at all paying attention to nurturing that relationship. … And Pam, she's just always been there so he's never had to try. He's never had to put forth the effort, because she's always been somewhat happy about what's been going on, so he has kind of taken advantage of that situation. Not that he's trying to, but come on, he's a bit of a knucklehead."
The Office alum admitted that even he was routing for Pam to wind up with Jim rather than the more aloof Roy.
"You're not supposed to like Roy," Denman said with a laugh. "You can't possibly watch the show and think 'gee, I think Roy and Pam should really be together.' It doesn't make any sense on any planet. There is no way in the world you could not want her to be with Jim."
Jenna Fischer's pal on set
Despite the instant "couple" label that Fischer and Krasinski were given onscreen and off, Denman revealed that he was the one who spent the most time with the actress when the The Office started.
"Jenna and I, we got along really well. I think we may have even got along better than her and John did at the beginning of the show," Denman said in 2019, according to the Hollywood Reporter. "We would hang out together, we would work out together sometimes. Our lives intersected quite a bit."
While Denman sang Fischer's praises, he clearly was a fan of all his cast mates on the NBC sitcom.
"You know, it's one of those things where it's such a pleasure to go to work everyday and work with these people," Denman commented in 2006. "It's so much fun to be on a show that people are talking about. It's really the best of both worlds."