'The Office': Jenna Fischer Called 1 'Bonkers' Scene 'Grueling' to Shoot
Jenna Fischer shared how one scene on The Office was grueling to shoot because so much discussion went into getting it just right. Fischer spoke with the episode's director Stephen Merchant, who co-created the British version, about how hard it was to get the Pam and Alex the art school guy scene just right.
There were some scenes on The Office that required discussion about how to approach them in just the right way and they usually involved Jim and Pam. Jenna Fischer shared the details of one scene on The Office that she said was "grueling" to get just right because they had to strike the right balance.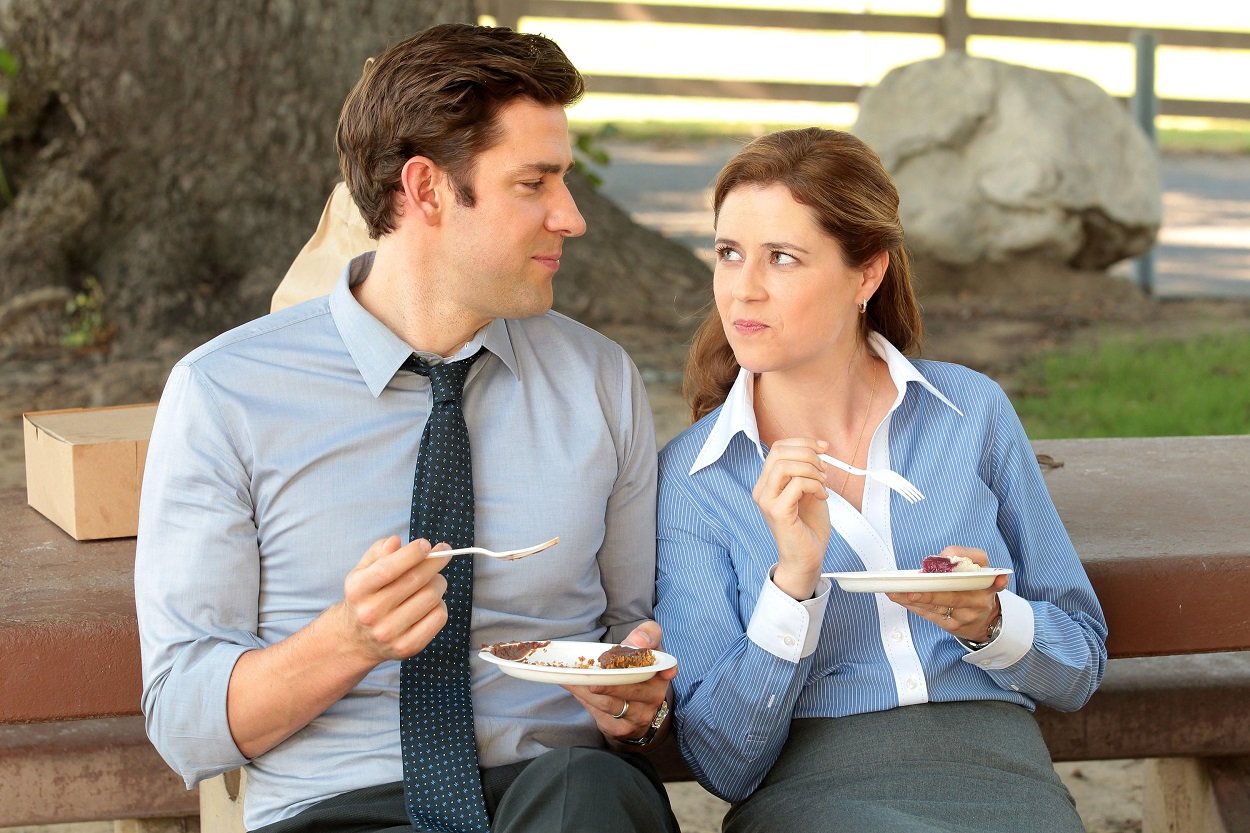 Jenna Fischer shared there was an extensive discussion about filming 1 scene on 'The Office'
During the July 7 Office Ladies podcast, Fischer and Angela Kinsey discussed The Office Season 5 episode "Customer Survey," directed by Stephen Merchant. Part of the episode involved Jim and Pam communicating on tiny Bluetooth earpieces that no one could see.
During the podcast, Fischer and Kinsey spoke with Merchant about the episode and they shed some light on what went into one scene to get it right. "I was so grateful that you directed this episode, Stephen because it ends with this big Jim, Pam, Alex art school guy scene," Fischer said.
"When Alex comes in to Pam at corporate and Jim can hear him giving her this pitch that she should not leave New York — we spent hours on that," she shared. "I mean, it felt like a whole day we spent on that and the script had like seven alternates to that scene. It was bonkers."
Kinsey pointed out how they tried a variety of angles with Alex, including one where he said he wanted to be in a relationship with Pam.
Fischer confirmed there was a range of options. "He actually had a line where he said, 'It's always been you, Pam.' I mean, that's heavy," she shared. "And then there was this whole other version where he had no feelings for me, he was just really invested in my artistic life." 
Merchant recalled having a discussion about which direction to take the scene, explaining, "It seemed odd to me that kind of big declaration of love. I, for some reason, I was uncomfortable with that," he explained.
"That kind of threat to the relationship just makes me sad," he continued. "And so the idea I don't know, I was worried that it was a sort of artificial jeopardy, like it didn't really count because there was no way that you were going to leave Jim. And so therefore, we were sort of creating a phony drama."
Jenna Fischer called the scene 'grueling' to shoot
Fischer recalled that "the version where he professes his love was in the script" but that she and John Krasinski weren't on board with the scene playing out that way. "We thought, 'Where is this coming from? We don't need this obstacle,'" she recalled.
Fischer praised Merchant for seeing it the way she and Krasinski did. "And so when we got to set, we were so excited that you were on our side and we could be like, 'Guys, Stephen Merchant, creator of the whole thing, thinks we're right.'"
"But it was still like this discussion," she continued. "And I feel like for a while we tried to do this Frankenstein version where there was a little bit of his feelings and a little bit of art school."
Since there were so many alternates in the script and so much discussion when they filmed it, Fischer said it was quite the ordeal. "And I swear, we shot so many, so many versions of it," Fischer explained. "And I remember doing these scenes with Rich [Sommer]. It was so grueling and we really bonded."
"Like Rich and I are great friends today, I think because we went through this moment together," she added.
The moment might have made more sense if the show hadn't cut other art school scenes
Merchant shared that it was still "a little odd" that Pam's classmate would be so invested in her career aspirations but Fischer said it might have made more sense if other scenes hadn't been cut.
"Well, it's also slightly out of the blue because we ended up cutting so much of my art school, which at the time when we filmed this, we didn't know that scenes with Alex and, you know, he had given me a couple of art pep talks already, but they never made it," she explained.
"So it is a little jarring, but it sets up a really nice story for Pam and Jim, which is that, you know, what does the art really mean to her? What did this New York experience mean to her? And, you know, and this is going to kind of haunt her for a while. And that part I like about the scene."
Merchant agreed, saying, "I think, yes, it's the idea of do you pursue a particular dream or do you be with the person you love? And the two things pulling at each other is an interesting idea."