'The Office': Jenna Fischer Called This Dwight Talking Head 'the Greatest of All Time'
Dwight Schrute had a lot of hilarious moments on The Office and Jenna Fischer called one of his talking head interviews "the greatest of all time." It definitely became a fan favorite — and Rainn Wilson didn't improvise a bit of it.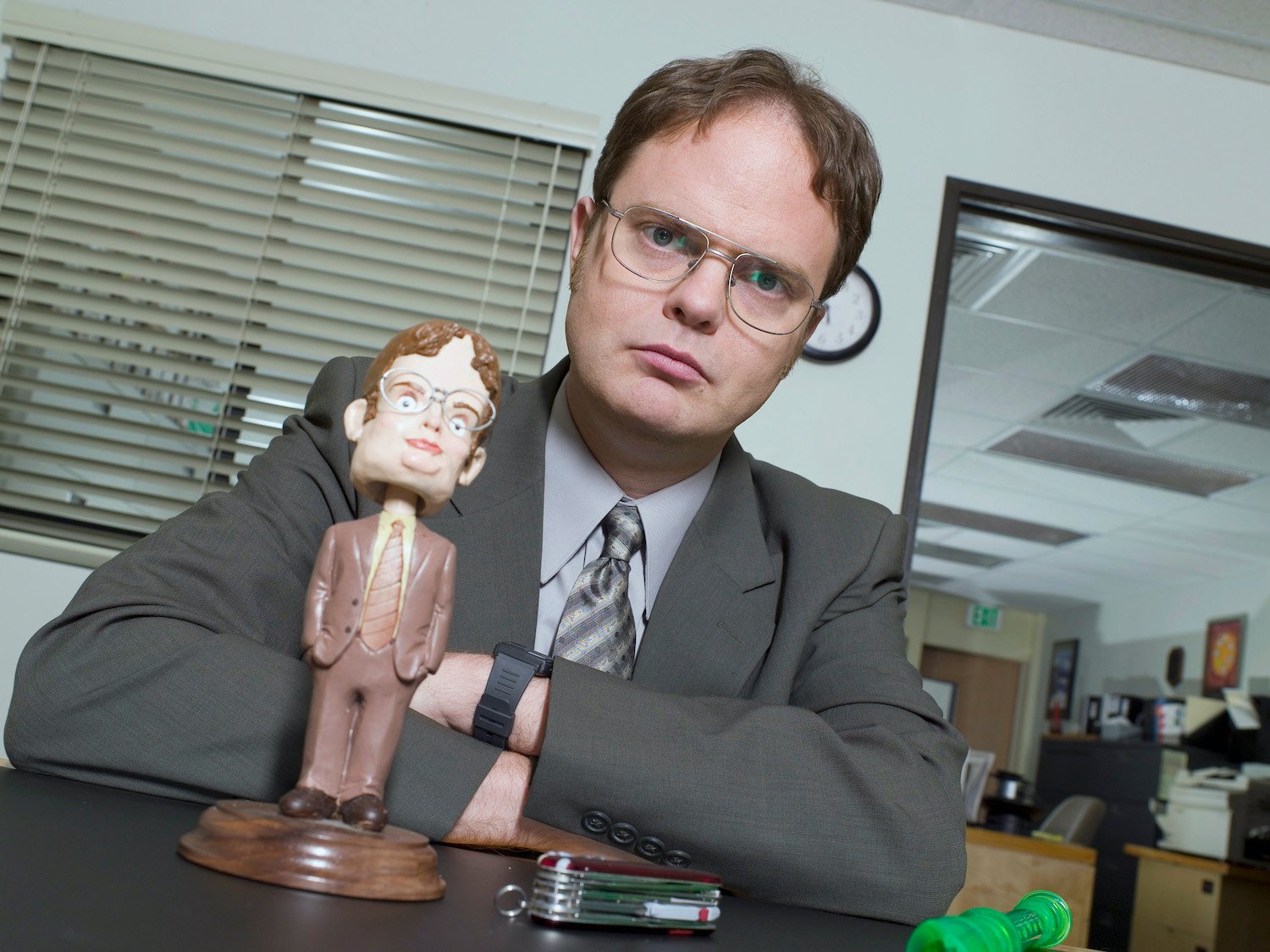 Dwight Schrute lays out the 'perfect crime' on 'The Office'
During the July 21 Office Ladies podcast, Fischer and Angela Kinsey discussed the episode "Frame Toby," which ends with Dwight sharing his elaborate story about the "perfect crime."
Fischer called it "the greatest Dwight talking head of all time," which is high praise considering there are so many funny Dwight moments.
Kinsey agreed, explaining, "That's saying a lot because there are some amazing Dwight talking heads. But this one really is like top five."
The Office Ladies hosts played the clip of Dwight describing his perfect crime:
"What is my perfect crime? I break into Tiffany's at midnight. Do I go for the vault? No, I go for the chandelier. It's priceless. As I'm taking it down, a woman catches me. She tells me to stop. It's her father's business. She's Tiffany. I say, no. We make love all night. In the morning, the cops come and I escape in one of their uniforms. I tell her to meet me in Mexico, but I go to Canada. I don't trust her. Besides, I like the cold. Thirty years later, I get a postcard. I have a son and he's the chief of police. This is where the story gets interesting. I tell Tiffany to meet me in Paris by the Trocadero. She's been waiting for me all these years. She's never taken another lover. I don't care. I don't show up. I go to Berlin. That's where I stashed the chandelier."
The hilarious Dwight talking head was totally scripted
Kinsey marveled at the way Wilson nailed the moment perfectly. "I do not know how Rainn got through saying, 'This is where the story gets interesting,'" she pointed out.
"Every time I watched this episode I laughed at that line and I watched it like three times," she added.
Fischer explained that Wilson didn't improvise a bit of Dwight's story. "This entire talking head was scripted and it was delivered as scripted," she shared. "I think this is one of the most brilliantly written pieces ever. It's just so good."
Kinsey agreed that "it was just perfect."
This Jim and Dwight moment has 1 of the most quoted lines in the series
Dwight's perfect crime speech is one that fans know and love but there's another Jim and Dwight moment that features one of the most quoted lines of the series.
In the cold open scene, Jim arrives to work dressed as Dwight and explains in a talking head that he put his whole 'Dwight' look together for $11 after spotting a pair of glasses in a drug store.
Jim sits down at his desk, puts on the glasses, and asks Dwight, "Question. What kind of bear is best?"
Dwight starts to answer, "That's a ridiculous question," and Jim counters with, "False. Black bear."
His co-worker starts to argue, "Well that's debatable. There are basically two schools of thought …"
Jim cuts him off, saying, "Fact. Bears eat beets. Bears. Beets. Battlestar Galactica."
Dwight gets agitated, responding, "Bears do not — What is going on — What are you doing?!"
"You know what? Imitation is the most sincere form of flattery, so I thank you," Dwight adds.
Jim then takes out a bobblehead figure much like his co-worker's and Dwight snaps. "Identity theft is not a joke, Jim! Millions of families suffer every year!," he yells.