'The Office': Jenna Fischer Calls This Mysterious Background Detail in a Michael Scott Talking Head Scene 'Creepy'
What's in the background of this The Office Michael Scott talking head scene? Jenna Fischer thinks it's creepy.
Is there a ghost in the background of one talking head scene on The Office? During an episode of the Office Ladies podcast, hosts Jenna Fischer and Angela Kinsey discussed an unidentifiable person behind Michael Scott in one scene, with Fischer calling the figure "creepy."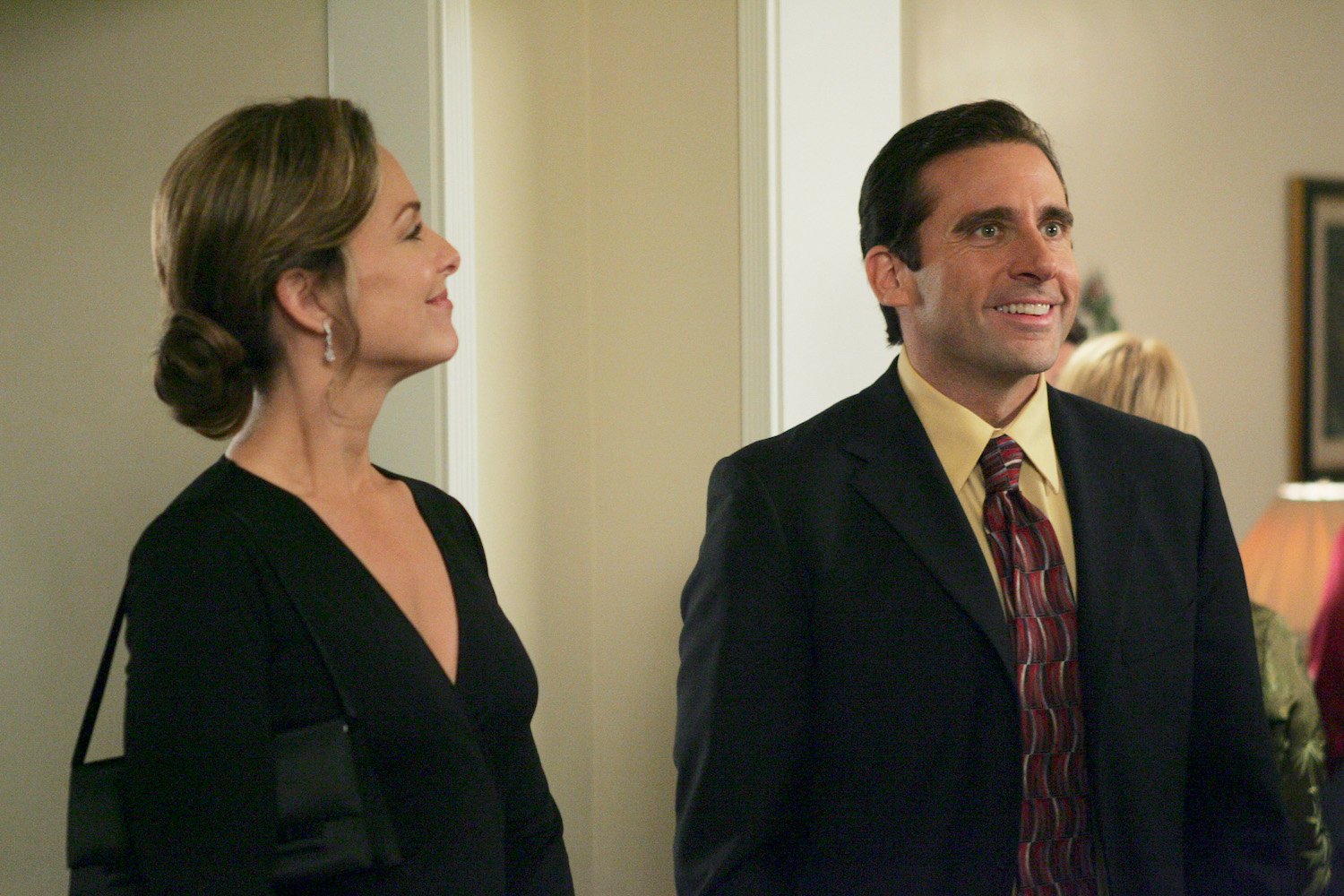 'Office Ladies' dive into 'Cocktails' episode
During the Sept. 30 episode of Office Ladies, Fischer and Kinsey chatted about the season 3 episode titled "Cocktails," in which Michael, Jan, Dwight, Karen, and Jim attend a cocktail party at CFO David Wallace's house.
Michael and Jan go public with their relationship at the party but Jan thinks that making their status as "lovers" known was a mistake.
"I am taking a calculated risk," Jan says in a talking head. "What's the upside? I overcome my nausea, fall deeply in love, babies, normalcy, no more self-loathing. Downside? I, uh, date Michael Scott publicly and collapse in on myself like a dying star."
Michael's talking head has a 'creepy' background figure
During the podcast, Fischer and Kinsey discussed Michael Scott's talking head in which he chats about potato salad but slips in a moment of worry about Jan.
"Rachel thinks that I brought homemade potato salad and I just picked it up at the supermarket. It's funny," Michael says. "I wish I could make potato salad that good. It's just potatoes and mayonnaise… There's something wrong with Jan."
While the two co-hosts agreed the talking head interview was hilarious, Fischer was distracted by something going on in the background that she couldn't figure out.
"Let me tell you, I was completely distracted during this talking head… behind Steve's shoulder… sitting at what looks like a vanity, did you see, it looks like it is a woman with really, really, really long blonde hair or something," Fischer said.
She continued, "It looks like something out of like The Ring. Remember that horror movie, The Ring? But with like blonde hair coming over her face. Or it's the back of her head… Is that a person? Is it a wig on a stand? What is the hairy object over his shoulder and I could never figure it out."
Later in the podcast, the Office Ladies circled back to discuss what was over Michael's shoulder during the talking head. It seemed they still didn't get the answers they were hoping for.
"It literally looks like a person with a yellow blanket over them," Fischer explained their producer Codi Fischer said. "It's super creepy creep," the actor added, calling the figure a "creeper."
"David Wallace's house is haunted," Kinsey added.
Did fans solve the mystery?
The Office fans were on the case, investigating the mysterious background person. Most believed that it is a kitchen in the background and it's a blonde woman at the sink.
Many analyzed the scene closely to identify what looked like a woman with long hair washing dishes or doing some other work in the kitchen, as evidenced by her arm moving at one point.