'The Office:' Jenna Fischer Calls This Scene With Steve Carell the 'Greatest Interview of the Entire Series'
Fans of The Office are still holding out hope for a reboot of the iconic sitcom. Launching several cast members into stardom including John Krasinski, Mindy Kaling, and Jenna Fischer, the NBC comedy maintains a massive following thanks to streaming services.
Steve Carell, who brilliantly portrayed the socially incompetent Michael Scott, created one of the most famous characters in television history. His cast members recalled one particular episode where he truly excelled in the ridiculousness of his "talking head" scene.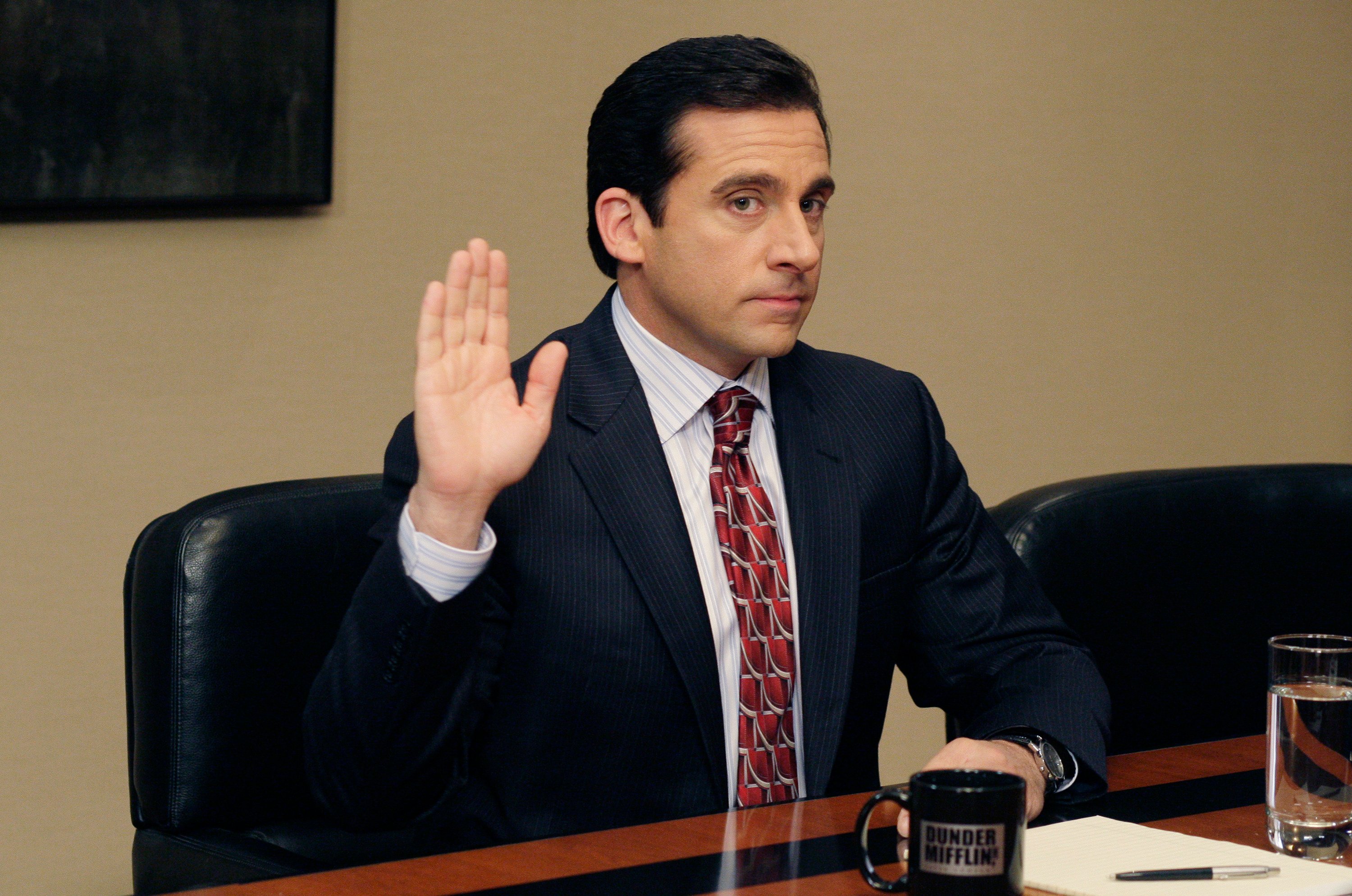 Choosing an actor to play Michael Scott
With the character of Michael being the central figure of the show, producers knew they had to pick an actor who was both accessible and comically skilled.
"We wanted somebody with the kind of generic Americana appeal that most TV stars of the time had," producer Ben Silverman told Andy Greene, author of The Office: The Untold Story of the Greatest Sitcom of the 2000s. "Tim Allen, Seinfeld, all of these people were not the most extraordinary looking. They were Americana, and that I think was something we knew we needed in our lead as well."
Some top film stars including Paul Giamatti and Philip Seymour Hoffman turned down the role. Bob Odenkirk, now of Better Call Saul, became a frontrunner until a recommendation from Universal Pictures and Fox Movies chairperson Stacey Snyder moved the ball to the court of Carell.
"I was aware of Steve Carell because I had just seen him in Bruce Almighty," Silverman explained. "[Stacey] knew I was making The Office… She said to me, 'I'm telling you. Carell is the guy… You should grab him.'"
'The Injury'
Pulling double duty as a writer for The Office and a cast member as Kelly Kapoor, Kaling recalled an episode she created where Michael burns his foot on a George Forman grill. The actress revealed that the original plot was a bit different from what evolved.
"'The Injury' is probably the favorite episode that I've written," she told Greene. "I think the original idea was that Michal had fallen asleep in the sun and had sunblock all over him except for his foot … actually the name of the episode was 'My Grilled Foot' for the longest time until we thought that might be too weird."
Kaling's colleagues praised her work on that particular storyline. "Mindy Kaling is a genius and that episode was so well-written," writer Jen Celotta said. "That speech about how he burned his foot was one of the funniest things I've ever read."
Steve Carell's trademark delivery
Shot in a mockumentary format, The Office was legendary for its side interviews of its characters. For "The Injury," Carell delivered a particularly hilarious explanation on how Michael burned his foot.
"I enjoy having breakfast in bed," Michael tells the camera. "I like waking up to the smell of bacon, sue me. And since I don't have a butler, I have to do it myself. So, most nights before I go to bed, I will lay six strips of bacon out on my George Forman grill. Then I go to sleep. When I wake up, I plug in the grill, I go back to sleep again. Then I wake up to the smell of crackling bacon."
Michael goes on to reveal that he accidentally ended up stepping on the grill, thus burning his foot. His colleagues still consider the one-man dialogue by Carell as one of his best performances.
"Steve Carell's bit at the top of the episode, where Michael explains how he burned his foot, is the greatest interview of the entire series," Fischer raved. "I think his performance is brilliant. Seriously, brilliant."
Kaling revealed that Carell kept asking for more ludicrous details to be added to the speech.
"That's my favorite talking head he's ever done," Kaling gushed. "'Steve, I remember, when he read it, he's such a genius, because there's about seven crazy things… And he just railed through it, and at the next meeting it was, 'Give me something else.' He's such a genius he could take something so crazy and make it something I love thinking about."
"The Injury" goes down as one of many fan favorite episodes!