'The Office': Jenna Fischer Said Steve Carell's Emotional Performance in 1 Iconic Scene Still Makes Her 'Tear Up'
When Steve Carell made a moving acting choice in an iconic The Office Season 2 episode, the cast, who were unaware he'd play it emotionally, found themselves moved to tears. Jenna Fischer and Angela Kinsey explained the moment during an episode of the Office Ladies podcast and the two said they still get choked up when they see Carell in action.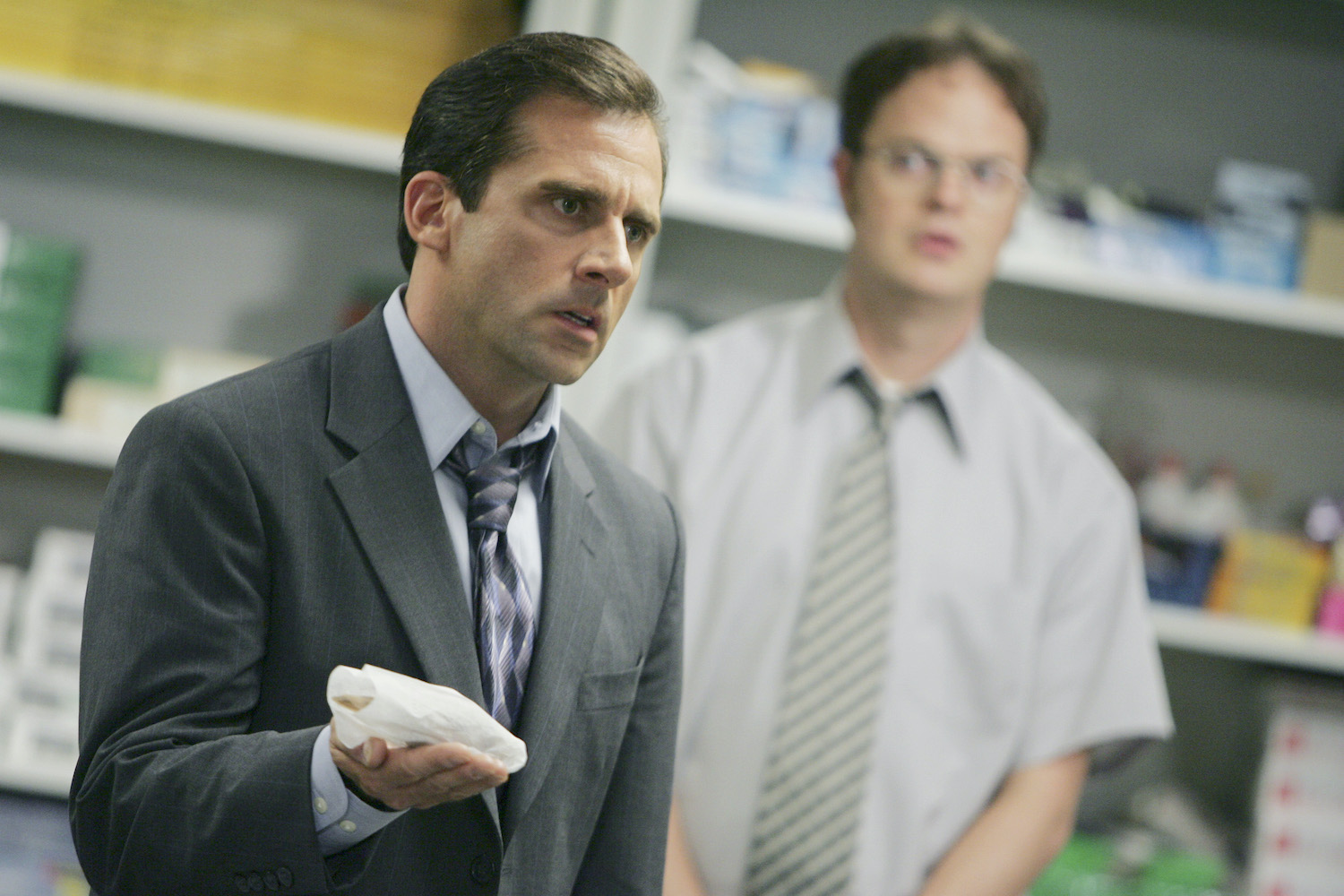 Steve Carell decided to cry during this scene on 'The Office'
During a December 2019 episode of Office Ladies, Fischer and Angela Kinsey discussed the season 2 episode "Office Olympics," that had Michael Scott (Carell) away from work to buy a condo. While the boss was away, the employees would play … a series of office-centric Olympic-style events. The competition was cut short, however, when Michael and Dwight returned to Dunder Mifflin.
Jim decided to carry out the closing ceremonies, however, giving Michael a medal for closing on his condo. He is moved by the touching gesture and cries as the ceremony concludes.
The actors, however, had no idea the Carell would go to such an emotional place for the moment and found themselves moved to tears by the actor's sweet reaction.
"Steve did such an amazing performance, where as Michael, he tears up," Kinsey explained. "He's made this huge life choice to buy a condo. He's feeling this love and support from his office family … the office family is his family, and he's absolutely emotional."
"And when we filmed it, we did not know that Steve was going to make that choice to get emotional," she noted. "And so we're all looking at him. And he started to tear up and I started — as myself — started to tear up."
Kinsey called the moment "moving," adding, that it was "just sort of his honest portrayal of this person. And Steve is just amazing."
Steve Carell's acting choice stayed in 'The Office' episode
The Office Ladies co-hosts spoke with the episode's director Paul Feig about Carell's moment. Fischer explained, "When that happened in the first take that that happened in, Paul then said to us, this is the direction of this scene."
"This is how we're gonna do it," Fischer recalled the director telling them. "So everyone just be proud of Michael. Just play it real."
Fischer said Carell's emotional take still gets to her today. "I teared up when we shot this. I tear up every time I watch it," she admitted.
It was a pivotal change for the Michael Scott character
Feig explained what it was like to witness Michael Scott become "slightly more sympathetic" as compared to season 1.
"That was the episode that kind of started to turn everything, because that's where, you know, Steve's character started to become slightly more sympathetic and … that kind of got found on the set," he explained. "Remember, we were doing the whole thing where you guys are presenting Michael with the medal. And Steve just made this decision to kind of start crying."
"You know, getting all choked up," Feig continued. "And I'm just going like 'Oh my God, Steve that is so great. Like, keep going with that.' And that was I think that was kind of the turning point where his character took that left turn from Ricky Gervais' character and became more sort of the lovable misfit who's trying too hard for everybody to like him."
Fischer recalled that they were directed to "be genuine" as they clapped for Michael. "We're not mocking him. It was this collective moment with everyone in the office enjoying, supporting one another," she explained. "It was really sweet. It makes me tear up every time I watch it."