'The Office': Jenna Fischer Couldn't Stop Laughing, so She Ate a Lot in a Deleted Scene
The stars of The Office sometimes struggled with not laughing while filming. Jenna Fischer, who played Pam Beesly, talked about one time she couldn't keep it together. She ate a lot of food, and the scene was deleted anyway.
'The Office' showed Jim and Pam trapped at a dinner party
Michael Scott (Steve Carell) and Jan Levinson (Melora Hardin) host a dinner party, and Michael's employees were their guests. Jim (John Krasinski) and Pam are tricked into going, and they try to find ways out of it.
Jim almost escapes by pretending to get a phone call from his landlord. He says his basement is flooded, so he has to go, and Pam tries to join him. But Michael asks if they both have to go, and Jim is about to leave her behind.
Of course, Pam didn't let him go, so he stayed. The night only gets more awkward, and it ends with Jan and Michael fighting, and the cops are called. 
Jenna Fischer ate a lot in a deleted scene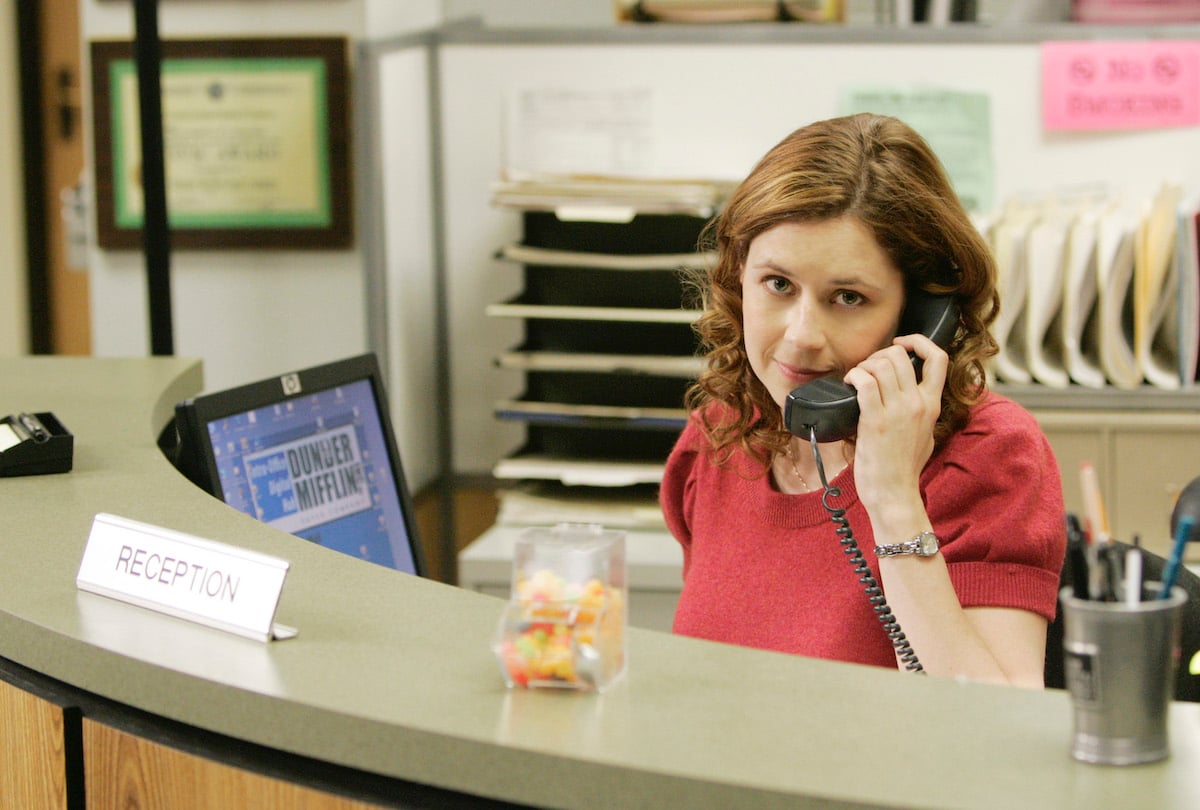 There is a scene where Pam and Jim go into a small bathroom to talk about how uncomfortable they are. "It's funny to me because I feel like this could have been something where you just put up little fake walls around us. But no, we were in a real bathroom. It was so tiny in there," Fischer said on the Office Ladies podcast.
A deleted scene showed Pam eating a granola bar she found in her purse because she was so hungry. Jan then finds them and calls Pam out for eating before their dinner. "We could not get through it, and by the way, we ate so much granola bar," Fischer said. This is because the actors had to do multiple takes to try to get it right. 
She later said, "I was so full of granola bar, and we kept breaking. Being confronted by Melora with her intense eyes, it did me in. I couldn't do it." The scene never made it into the episode.
The cast had a hard time getting through the episode
The bloopers for season 4 of The Office include many clips from "Dinner Party." Some of the bloopers were from actors not being ready or something happening by accident. But others were just because the actors couldn't stop laughing.
For example, Michael's scene where he shows off his small TV was hard for the actors to get through. "This is terrible. We're never finishing this episode," Carell said after they kept laughing through the scene. Luckily he was wrong, and "Dinner Party" is now considered one of The Office's best episodes.