'The Office': Jenna Fischer Once Described Her Relationship With John Krasinski as 'Very Intimate'
There are plenty of reasons why The Office remains one of the most popular shows in modern times. Naturally, the cast's immaculate comedic skills continuously capture new audiences. However, another reason that The Office is so well-loved is its strong emotional heartbeat. And one of the biggest contributors to that is the relationship between Jim Halpert and Pam Beesly.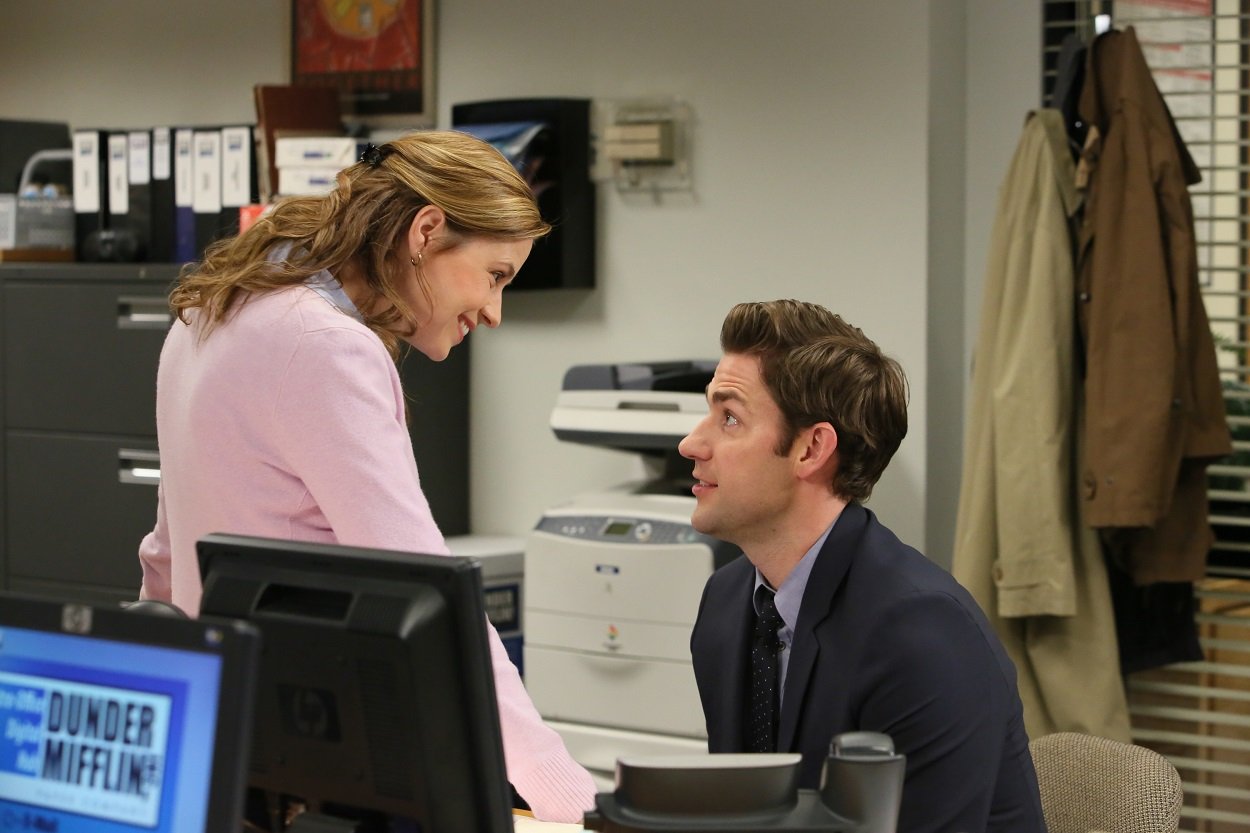 From the very first episode of The Office, it's clear that there is something special between Pam (the receptionist) and Jim (a paper salesman). Though Pam is otherwise engaged, the chemistry between the pair of them is undeniable. The chemistry only grows throughout the show's nine seasons and, eventually, Jim and Pam earned the title of one of the best TV couples of all time.
Jim and Pam's chemistry started before 'The Office' went into production
Of course, Jim and Pam's relationship wouldn't have been so endearing if John Krasinski and Jenna Fischer (the cast members who portrayed the beloved characters) didn't have natural chemistry of their own. However, the pair hit it off from the very first moment they met. In fact, when they were auditioning for their roles, they both had a gut feeling that the other would eventually get cast in The Office.
It turns out that Krasinski and Fischer's instincts about the other were completely spot on as they were both offered series regular roles in The Office. Funnily enough, when the both were notified that they got their respective parts, they both inquired about if the other had gotten the role also.
Jenna Fischer asked about John Krasinski immediately after she was cast
"When they called and told me that I got the job I said, please tell me that John Krasinski is playing Jim," Fischer told NPR back in 2013 about finding out she had been cast in The Office. "And they said, he is and we're so glad to hear you say that because we thought you two had amazing chemistry. And we're glad you think so, too."
The innate chemistry Krasinski and Fischer had definitely served their on-screen relationship. In fact, the actors portrayed Jim and Pam's love so believably that many fans of The Office wondered whether they had a romantic relationship off-screen as well. But while the actors were (and still are) very good friends, they are happily married to other people. However, Fischer did admit there is a type of unique intimacy that she shares with Krasinski.
Fischer gets candid about her relationship with her 'Office' co-star
"It is the strangest thing to have a long-term fictional love interest," Fischer shared about her fellow alum of The Office. "It's a type of relationship that is very intimate, and it's very powerful, but it's fictional. I mean, there is a part of me that is Pam, and there's a part of him that is Jim, and that part of me is in love with that part of him. But in real life, we are just friends."