'The Office': Jenna Fischer Shared Why 'It Was Very Easy to Get Emotional' in 1 Scene With Steve Carell
Jenna Fischer said she could tap into one emotional scene on 'The Office' because she shared it with Steve Carell. Just the way he called her 'kiddo' during a Michael and Pam moment seemed to do the trick and she said it was 'easy.'
Jenna Fischer shared a number of emotional moments on screen with Steve Carell on The Office. Fischer reflected on how it was easy to tap into her character's emotion for one scene in particular because of what Carell brought to the moment.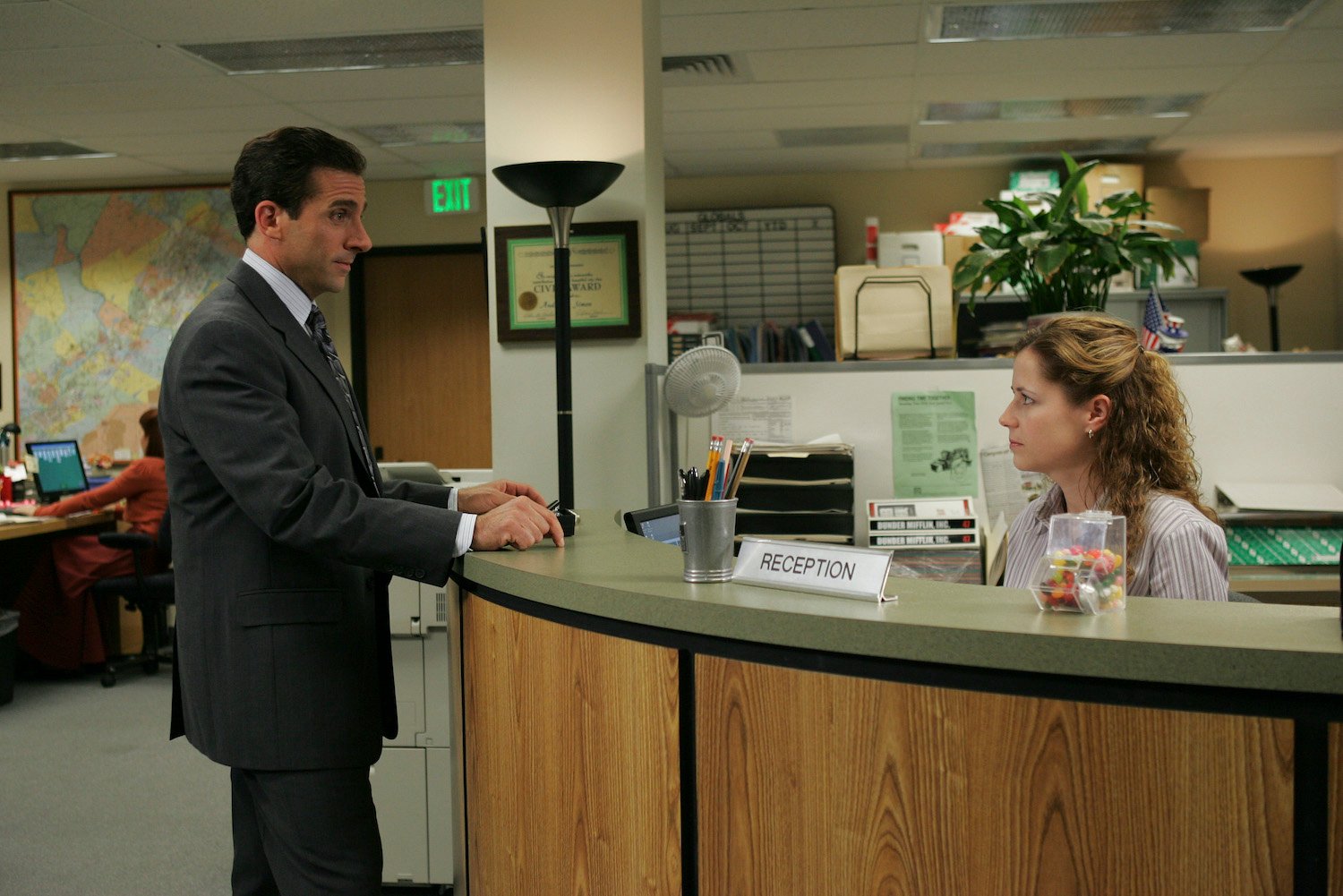 Michael Scott assembled his 'dream team' on 'The Office'
During the Nov. 3 episode of the Office Ladies podcast, Fischer and her co-host Angela Kinsey discussed The Office Season 5 episode "Dream Team." Michael left Dunder Mifflin to start his own paper company and Pam decided to quit her job and join him. He assembles a dream team to fill out his small company and they meet with a potential investor, who Pam discovers is Michael's grandmother.
One member of the team, Vikram, decides to leave the company and when Michael, Pam, and Ryan return to Michael's condo, Pam starts to spiral over quitting her Dunder Mifflin job.
Jenna Fischer shared that it was 'easy' to get emotional in the scene
Fischer shared how the scene played out. "Pam's upset… she can't get out of the car. Now Pam's going to spiral," she explained. Kinsey pointed out that in the script, Pam wasn't in the car and one of The Office's showrunners, Jen Celotta, "fought for it to have Pam stay in the car during the scene."
Fischer explained how the scene required her to be emotional but with Carell as her scene partner, it wasn't that hard to access those feelings. "I had to bring a lot of emotion to the scene," the actor explained. "You had to see Pam be convinced by Michael and this is one of those moments when Michael becomes really good at being a boss."
Kinsey added that "he's so serious" in the moment, adding, "He's like, 'Listen, kiddo, you quit. I quit. So that's the truth.'"
Fischer said that the way Carell delivered his pep talk made it easy for her in the scene. "It was very easy to get emotional because to have Steve Carell say, 'Listen, kiddo.' I mean, I know he wasn't much older than us, but he did always have sort of like a wise, fatherly…"
She continued, "And so to have your mentor coach you, it felt real, you know, and it made me emotional. And we just really connected there in a real way. And it was really sweet. I just love those Pam/Michael moments. It reminds me of when he came to her art show and he shows up for her. And it was great."
Pam goes through a 'full gamut of emotions' in the episode
In The Office DVD commentary for "Dream Team," the episode's writers and director of photography discussed the Pam and Michael scene, noting that Pam had to tap into a "full gamut of emotions."
"Jenna was so great with that moment and so sold it," one of the writers noted.
B.J. Novak explained that Fischer "did a lot of different colors and different takes –— some of them she was angry, some she was very down."
When one writer pointed out, "It goes to the full gamut of emotions with her for this whole episode," Novak reflected on Pam's role in the episode. "It's very much her story because she's the character who is doing the thing you least expected in this arc," he explained.
As for Michael's pep talk to Pam, Novak noted, "He has it in him to be a great salesman."