'The Office': Jenna Fischer Explains How Pam Beesly Really Feels About Dwight Schrute
Jenna Fischer eloquently explains how her character on 'The Office,' Pam Beesly truly felt about her coworker, Dwight Schrute.
Jenna Fischer played receptionist Pam Beesly on The Office. Though Pam spent a fair amount of time plotting the best way to prank Dwight Schrute (Rainn Wilson) alongside Jim Halpert (John Krasinski), she and Dwight were actually good friends. Find out how Fischer perceived her character's relationship with Dwight on The Office.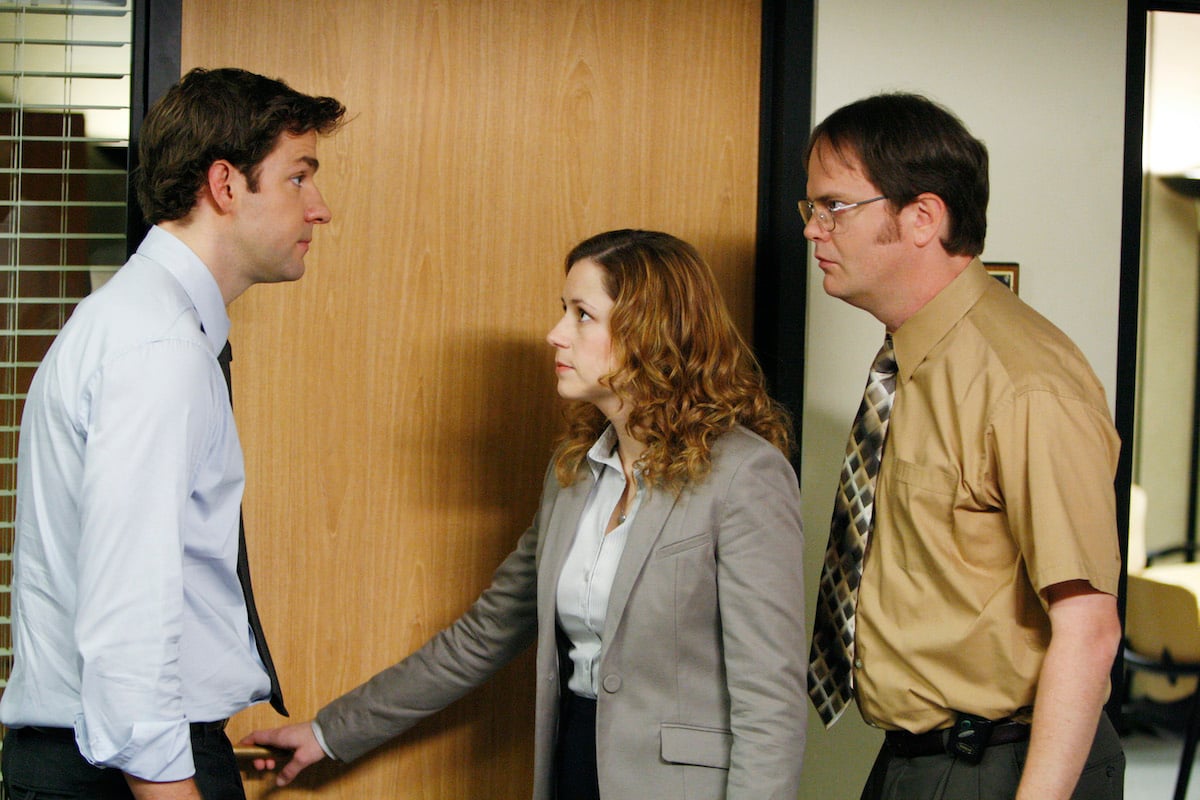 Dwight Schrute and Pam Beesly were never enemies on 'The Office' 
Despite Dwight's undying dislike of Jim, he never harbored ill will for Pam. Dwight didn't let the way Pam felt about Jim motivate how he treated her. 
Yes, Dwight did plenty of things to make Pam's life more difficult throughout the show's nine-season run. But on more than one occasion, Dwight demonstrated how much he valued Pam's friendship. 
And when Dwight went a bit too off the rails, Pam always had a way of getting him back — all in good fun, of course. Ultimately, Pam and Dwight had the kind of relationship where they could harmlessly torture one another the way only true friends could. 
One particular moment that captured Dwight and Pam's friendship was when she found out Dwight and Angela (Angela Kinsey) were having an affair. Pam demonstrated how much she valued Dwight's feelings by keeping the secret quiet. 
Dwight may not have expressed it much — it took a concussion for him to be outwardly kind to Pam — but he did consider her a dear friend. By the end of the series, Dwight came to terms regarding his feelings about Pam, expressing how much she meant to him. 
"Office manager Pamela Beesley Halpert is my best friend," Dwight said tearfully in the show's final episode. "Yes, I'd say I have gotten along with my subordinates." 
'The Office' held a wrap party in Scranton, Pennsylvania 
When The Office ended in 2013, the showrunners, cast, and crew couldn't think of a better place to host the wrap party than where the story all began — in Scranton, Pennsylvania. 
All of the original cast, including Steve Carell, was in attendance. "The moment that Steve walked out on that baseball field, oh my gosh… the crowd just erupted," Fischer remembered on her co-star Brian Baumgartner's podcast, An Oral History of The Office. "It was amazing."
After a parade through the town, the cast hosted a panel at PNC Field similar to the one depicted in the finale. During the Q&A portion of the day, Fischer discussed how her character truly felt about Dwight Schrute on the show. 
Jenna Fischer believes Pam Beesly 'secretly loves Dwight' 
"What are your thoughts about your husband, Jim's nemesis, Dwight?" moderator Andy Buckley asked Fischer during The Office wrap party. 
"Well, Pam loves Dwight secretly," Fischer began. When Wilson reached over to jokingly kiss her cheek, Fischer stopped him and continued:
Not in that way! I think that ultimately Dwight would be a great person to have at your office because he would be entertaining, committed, [and] enthusiastic — all of those quirks that might irritate you at first would eventually be beloved.
For Fischer, that was the journey Pam took with Dwight on the show.