'The Office': Jenna Fischer Revealed Why She Hated Jim's Big Romantic Gesture for Pam
The Office's Jim and Pam were the sweetest couple but Jenna Fischer found fault with one of Jim's romantic gestures for her character. Jim decided to go really big for his future wife but Fischer thinks he really missed the mark.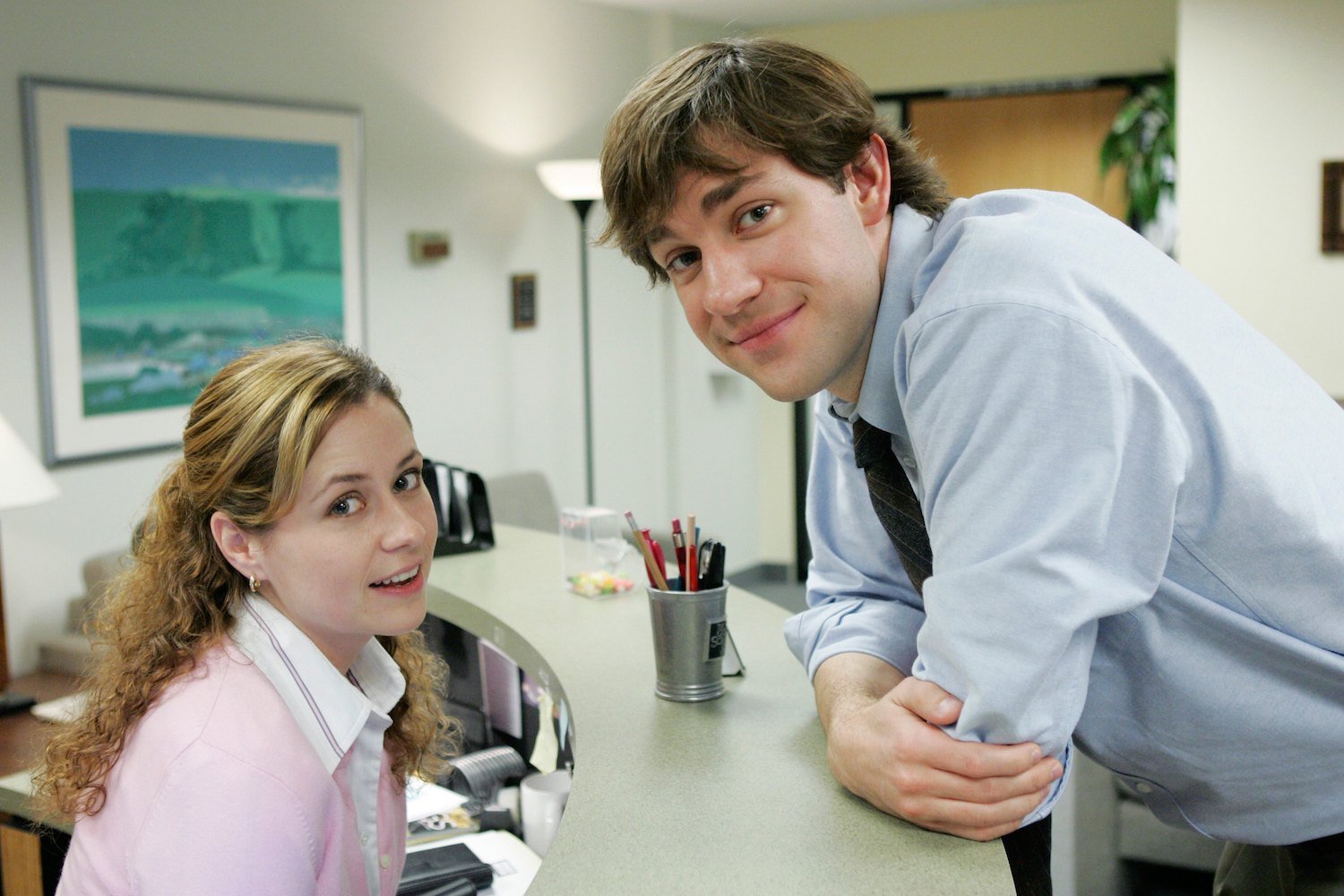 Jenna Fischer hated that Jim wanted to buy his parents' house for Pam
During the July 7 Office Ladies podcast, Fischer and Angela Kinsey discussed the season 5 episode "Customer Survey," in which Jim finds himself in jeopardy of losing a bonus because customer feedback about him is so poor. Jim reveals that he needs the money to buy his parents' house for Pam.  
Fischer weighed in on Jim's romantic gesture and — unpopular opinion — she said she didn't find it all that endearing.
During the episode, Pam and Jim are communicating with teeny Bluetooth earpieces but when Jim receives the bad news about his customer reviews, he turns off the earpiece so Pam can't hear him.
"And then he has a talking head where he reveals some pretty big news — that he was counting on this bonus because he's going to buy his parents' house," Fischer said. "Pam doesn't know this. And also clearly it's going to put him in debt because he says, you know, he's going to buy something he can't really afford."
Jim tells Pam about the bad review he received but not about his plan to buy the house. "How do we feel about that? Am I opening a can of worms?," Fischer wondered.
The actor explained how it's a big decision to buy a house and Jim is putting her character in a position Fischer didn't like. "I think that people should pick out their living space if they're going to live in it," she said of her reason for having a beef with Jim's decision. "But also because it's a financial burden."
She continued, "Jim has just revealed this is going to burden him. And then also Pam. And I think that something of that gravity you should speak about with your partner before you do it."
"I personally don't find large financial purchases that I then have to live in to be a romantic gesture," she added.
Jenna Fischer thinks Pam was criticized for her choices but Jim 'gets a pass'
Fischer further dished about how her character was often criticized for her choices but this big life decision Jim made by himself didn't come under fire.
"I think this sort of speaks a little bit to where, you know, Pam was so heavily criticized for [her art school friend] Alex's attention on her that she never reciprocated," Fischer noted.
"But there's not a lot of criticism of, like, how Jim is partnering," she noted. "And that's sort of where, I don't know, he gets a pass maybe because he's so, like, charming and it's seen as, like, romantic."
Fischer thinks the Pam hate was 'sexist'
On the May 26 episode of Office Ladies Fischer discussed how fans had been angry at her character many times during the show's run.
When Pam goes to art school in the season 5 episode "Weight Loss," Kinsey recalled how "people were not happy with Pam when this episode aired."
Fischer thought the hate Pam got wasn't fair. "I just want to say that when Pam went to art school for only three months, when she was not yet married and didn't have children, people came down real hard on her because of Jim's feelings," she explained.
"Then when Jim invested in a business without telling Pam and left his family and left Pam alone to care for their two children while he chased his dreams, people came down on Pam again for not being supportive enough of Jim," Fischer continued.
The actor pointed out the imbalance of the criticisms. "So in both of these instances, I just want to say I noticed a lot of hate for Pam," Fischer said. "Do I want to call it sexist? I do. I do."
RELATED: 'The Office' Writers Followed 1 Rule That Was the 'Signature of The Office at Its Best'