'The Office': Jenna Fischer Said 1 Intimate Jim and Pam Moment Made Her Uncomfortable
The Office teased the possibility of Jim and Pam getting together during the show's early seasons and, while they definitely had some flirty moments, the two didn't connect for some time. In the second season, however, Jim and Pam shared one flirty scene that star Jenna Fischer said made her uncomfortable.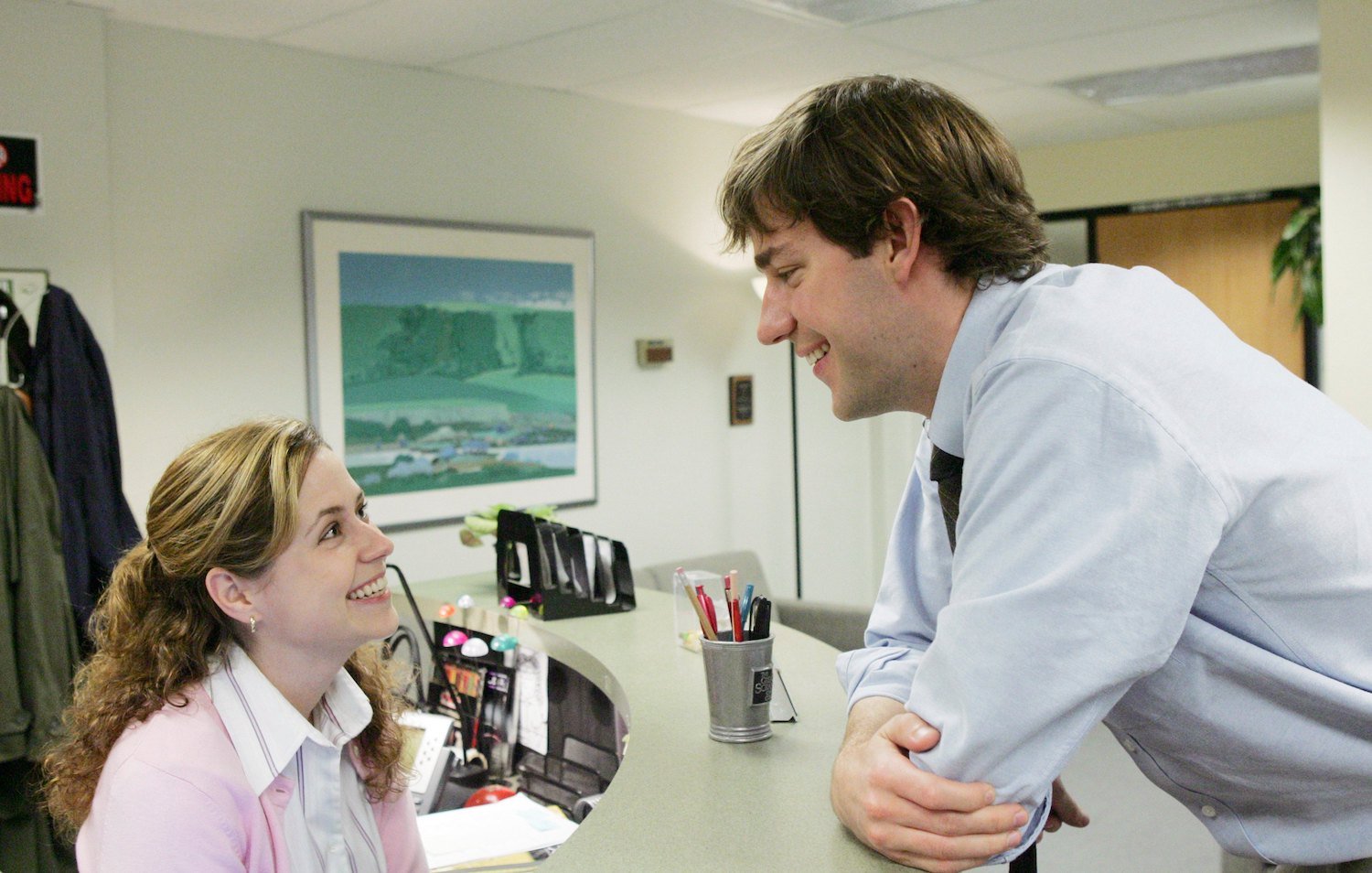 Jim and Pam had brief moments of connection on 'The Office'
During a January 2020 episode of the Office Ladies podcast, Fischer and Angela Kinsey discussed the season 2 episode "The Fight" and mentioned an interesting way the show presented an intimate Jim and Pam moment.
In one scene, Pam reads Jim's palm, using a website to guide her in the reading. "Your major and minor lines cross at a ridge — that sucks," she tells him.
Kinsey pointed out that the way Pam touched Jim's hand "is a sign of physical intimacy."
"These are two people who shouldn't be flirting, but so desperately want to be flirting," Kinsey noted. "So they have to find ways around it … So here she is bored at the front reception. She says, 'Jim, let me read your palm.' Flirty, flirt, sneaky flirty."
Fischer said that those early Jim and Pam moments were always a big area of discussion. "How can Jim and Pam physically touch without it being …," she said, as Kinsey finished her sentence, saying, "inappropriate."
Kinsey said that even though it was just a brief interaction, "it was very intimate. I even looked up online about hand touching and it is considered physical intimacy. That was some major flirting."
Jim and Pam's flirting on 'The Office' got very playful
The two characters stepped up their flirting game later in the episode when they were at the dojo where Michael and Dwight planned to fight. Pam wore a karate pad on her hand and Jim pretended to read her palm, but then their flirting escalated, with Pam telling him to "look closer" as she bumped him in the face, and Jim responded by tapping her on the forehead.
Their exchange got more playful and they pretended to box, then Jim grabbed Pam and wrapped his arms around her. Jim even picked Pam up off the ground and, in that moment, her shirt lifted up slightly, exposing her stomach.
Meredith noticed their inappropriate moment and after Pam saw Meredith clock what was happening, she demanded that Jim put her down, then walked away from him.
Jenna Fischer said one moment of Jim and Pam's flirting made her uncomfortable
Fischer said that having her stomach make an appearance during the scene was scripted, but that she was uncomfortable about showing any skin.
"It was in the script that my shirt would come up a little bit, and that was all to make it even more of a vulnerable thing for Pam," Fischer explained. "That she was literally exposed."
Kinsey recalled that Fischer was "nervous" and "really embarrassed about" doing the scene.
Fischer said that, looking back at that scene, she was happy to have her "cute belly" on display. "Well, I am kind of glad that it was scripted that you see my belly because I've got it on film now that in one time in my life, I had a cute little belly and belly button," she joked.