'The Office': Jenna Fischer Said This Jim and Pam Scene Was 'Mental Gymnastics' and Made Her Question the Show's Writers
Jenna Fischer found one Jim and Pam scene challenging to act in because of her own personal opinions. Fischer shared that she didn't like Jim's romantic gesture of buying Pam a house, but her character ended up loving it. Fischer explained how she played the scene with Pam's journey in mind.
When it came to playing Pam on The Office, Jenna Fischer often felt like she understood and connected with her character, which allowed her to deliver a convincing portrayal over the show's nine seasons. Fischer shared that there was one Pam and Jim scene that made her question the writers because she couldn't quite understand why Pam reacted the way she did.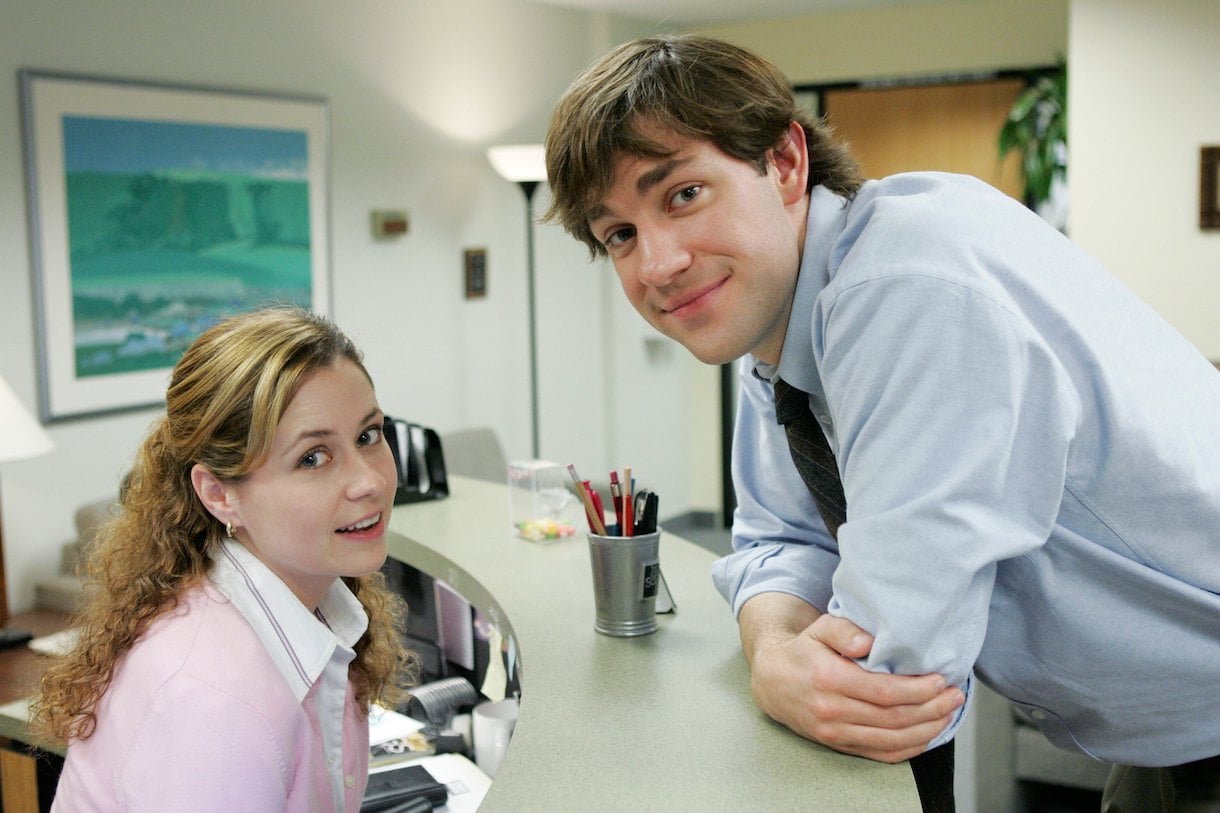 Jim bought his parents' house for Pam
Jim surprised Pam with a new house, a gesture that Fischer didn't really think was that thoughtful. During the July 7 Office Ladies podcast, the actor explained that the way Jim made a big purchase without Pam's knowledge wasn't all that romantic.
"I think that people should pick out their living space if they're going to live in it," she explained, especially since it would be "a financial burden."
Fischer continued, "Jim has just revealed this is going to burden him. And then also Pam. And I think that something of that gravity you should speak about with your partner before you do it."
"I personally don't find large financial purchases that I then have to live in to be a romantic gesture," the actor added.
Jenna Fischer found 1 Jim and Pam scene on 'The Office' challenging
When Jim brings Pam to the house to surprise her with the big news, she seems stunned. When he gives her a tour of the place, Pam is quiet as Jim points out all of the home's flaws. He finally brings her to the garage, where he's created a makeshift art studio and begins to tell her that he understands if she doesn't like the house. She interrupts to tell him, "I love it. I mean, you bought me a house!"
Given Fischer's point of view about Jim buying the house, she said it was challenging for her to tap into Pam's joy that her husband-to-be made this big decision without her input.
During the July 21 Office Ladies podcast, Fischer said a fan asked, "What went into how you decided to play the scene?" She shared how she had to better understand the way Pam felt about the house to perform the scene.
"Well, guys, we've already discussed my personal opinions on someone buying someone else a house without telling them," she explained. "So this was a little bit of a mental gymnastics for me to get Pam to the place where she's going to say she loves it and where she says that line, 'I mean, you bought me a house…' because it was not how I would react as Jenna."
She continued, "You know, I had to really play the character and play the character's truth. And in the script, I was being told that my character's truth was that she loved this gesture and it made her feel loved."
Fischer had to better understand Pam's reaction
Fischer recalled the talking head in an earlier episode when Pam was still engaged to Roy and she describes her perfect home. Jim's parents' house is nothing like what she described.
"So I did bring that up [with the writers]," she explained. "I said, you know, we've established that Pam has daydreamed about what her home would look like and now this person has taken her out of the process."
Fischer hoped to get some clarity about the character's reaction to Jim's gesture. "And so I was saying, like, help me understand why Pam now is so happy and so excited."
The actor came to the realization that Pam gave up art school because "graphic design wasn't what she meant she wanted to do as an artist," Fischer said. "She's very, very ready to start living this married life, to be in the season of family and marriage with this man that she's been waiting years for."
"And so this home is her fast track to that season of her life," Fischer added. "And she's just ready."
Kinsey pointed out that Pam described her dream house when she was unhappy in her relationship with Roy. "When you're in a place you feel stuck in life or you're unhappy, you daydream and you daydream about these fantastical things and they're coping mechanisms," she explained. "And then when you're with someone you really love, you don't need the fantasy anymore."