'The Office': Jenna Fischer Admits That She Couldn't Get Through 'Kevin Scenes'
There are many funny characters on The Office, but there was only one that hit Jenna Fischer's weak spot. That would be Kevin (Brian Baumgartner.) Find out what she said about filming with him and having a scene cut from an episode.
Steve Carell would try to get other actors to break on 'The Office'
It can be tough to keep a straight face through the funny moments of the show. However, Angela Kinsey and Fischer talked about Steve Carell making things even harder for his co-stars on Office Ladies.
They talked about a scene where Michael is doing the robot in front of Oscar (Oscar Nuñez.) "Oscar's trying to get a word out, and Steve just keeps doing the robot thing," Fischer said. "I remember shooting that. So in the script, that was not supposed to go on that long. That was supposed to be like a quick little thing, but Steve really dragged it out, and that was an example I think of some of his just brilliant comedic timing."
Kinsey added, "I honestly think that Steve would drag things out like that to see when he could get all of us to break." Fischer said the funny actor was usually successful.
John Krasinski really enjoyed Creed's character
Fans aren't the only ones to have a favorite character on the show. The actors also find particular characters funny and for John Krasinski that would be Creed (Creed Bratton.)
Kinsey and Fischer talked about this on their podcast, Office Ladies. The co-hosts talked about the episode "The Secret," where Jim's secret of liking Pam is at risk of getting out to everyone in the office. There is a scene of Kevin telling Creed about it.
"This is John Krasinski's favorite line of the entire series. He lost it when he saw it. When Creed says, 'Which one is Pam?'" Fischer revealed. "John loved Creed, the character Creed," Kinsey said before adding, "The character Creed would make John disintegrate." Fischer couldn't keep a straight face with a different character.
Jenna Fischer said she couldn't get through Kevin scenes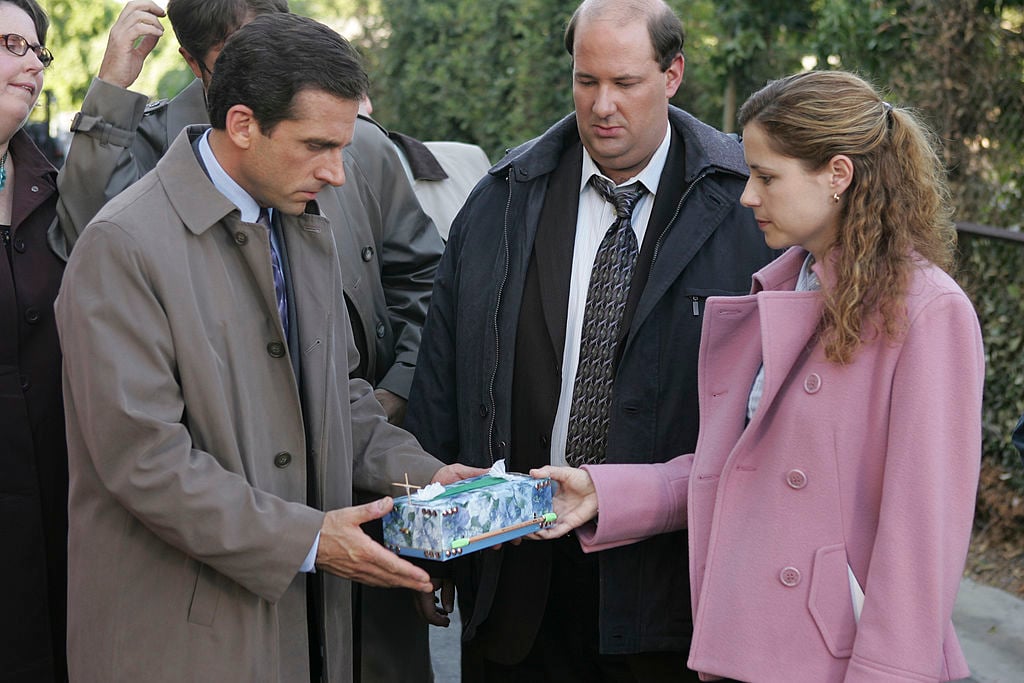 The Office Ladies co-hosts talked about the episode "Drug Testing." Dwight (Rainn Wilson) spends the whole episode investigating who was smoking weed after a blunt is found on the property.
He accused Kevin and believed the description of someone who is high being slow-moving, inattentive, dull, constantly snacking, and lack of motivation as a perfect match for Kevin. Kevin gets offended by this, and there is a blooper of him going to Pam to talk about it.
"There is a blooper where Kevin is talking to you at front reception, and he goes, 'He said I was dull' and you can't get through it," said Kinsey. "You keep laughing.
Fischer admitted her weakness when it came to filming. "I could not do Kevin scenes. Brian made me laugh so hard all the time," she said. She also remembered shooting that scene, and it had to be cut because she couldn't get through it.