'The Office': Jenna Fischer Said She Loved This 'Delicious' Dwight and Andy Scene 'So Much'
The Office featured some hilarious moments between Dwight Schrute and Andy Bernard but Jenna Fischer said there was one particularly "delicious" scene that played out between the characters.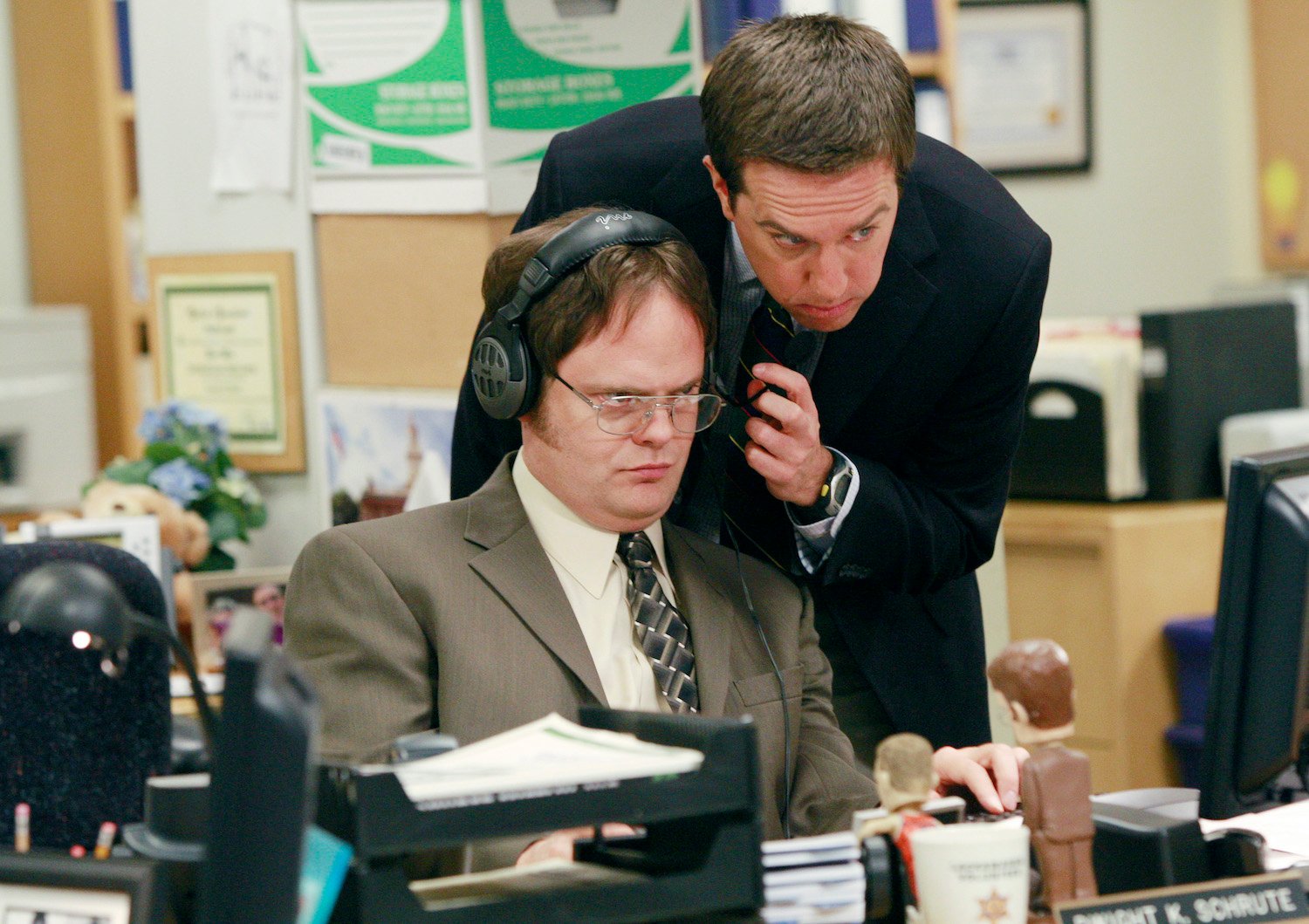 Dwight got under Andy's skin on 'The Office'
During the June 30 Office Ladies podcast, Fischer and Angela Kinsey discussed the "Employee Transfer" episode which involves a storyline where Dwight claims he's going to apply to Cornell, which annoys Andy because he went to the university.
Dwights starts by arriving to work in a Cornell sweatshirt and shows off a variety of university merch to further bother Andy.
In a talking head, he explained, "Cornell is a good school, and I want to better myself through higher education. If it makes Andy angry, so be it." Andy is seen fuming in the background of Dwight's talking head.
Andy then stands outside the bathroom waiting for Dwight but when Stanley emerges, it hilariously throws Andy off. "And then Stanley comes out and he's like 'Ugh,'" Kinsey said of the scene. "And then he has to get his energy back up for Dwight. I love that little moment."
Jenna Fischer called 1 Dwight and Andy scene 'delicious'
When Andy confronts Dwight, he tells him he'll be conducting the Cornell admissions interview, a scene that Fischer called "delicious."
"All of this is going to lead to a delicious scene in the conference room because Andy informs Dwight, 'Guess who is conducting your interview?,'" Fischer explained. "And Dwight's like, 'Bring it on.'"
"I love this conference room scene so much," she added.
Kinsey and Fischer confirmed that the scene was "almost all scripted" but that it was so hilarious the two actors struggled to get through it.
"And these guys kept laughing," Kinsey said. "They were breaking so hard in the scene."
Rainn Wilson and Ed Helms improvised 'The Office' table tug of war moment
Dwight then begins to critique Andy's interviewing skills and things reach a fever pitch as the two start a tug of war with the conference room table.
Anthony Ferrell, who wrote the episode, shared some behind-the-scenes details about the Dwight and Andy scene.
"That scene that we had in the conference room where they were the double interview, as it were, that was always like had always been in there as a fun scene for the two of them to square off at the end of that episode," Ferrell shared. "I do remember there was a moment where it was either Rainn or Ed started pulling the table. And I was just like, 'Oh, we've got to do that more.'"
Ferrell said he spoke with Dave Rodgers, who directed the episode. "I was like, 'They've got to just let him play with that table … let them pull it back and forth, like, let them struggle with that and see what happens,'" he recalled. "And I think that was the only take I think we did of that where Rainn just pulls it all the way to the wall and thanks him for coming."
"Those characters are all about conflict, all about power shifts," the writer added. "And that whole dynamic felt like the right place to end up with those characters. And so that was a nice little bit of improv that we got to enhance on the day."
RELATED: 'The Office': Jenna Fischer Says This Hilarious Michael and Dwight Scene Is Her 'Favorite of All Time'