'The Office:' Jenna Fischer Posts 10-Year Anniversary Photo With Her Husband But Fans Are Asking For Jim
'The Office' alum Jenna Fischer took to Instagram in celebration of her 10th wedding anniversary to Lee Kirk, yet most responses were about Jim.
Fans of The Office still idolize the sweet romance of Pam Beesly (Jenna Fischer) and Jim Halpert (John Krasinski). Going from flirtation and courtship to tying the knot, the Dunder Mifflin couple is considered a legendary love story in television.
Though both Krasinski and Fischer are married to others, they still seem to get paired together even seven years after the show's finale. Fischer just celebrated her 10-year wedding anniversary with husband Lee Kirk, yet most comments on her Instagram photo were directed at her former onscreen spouse.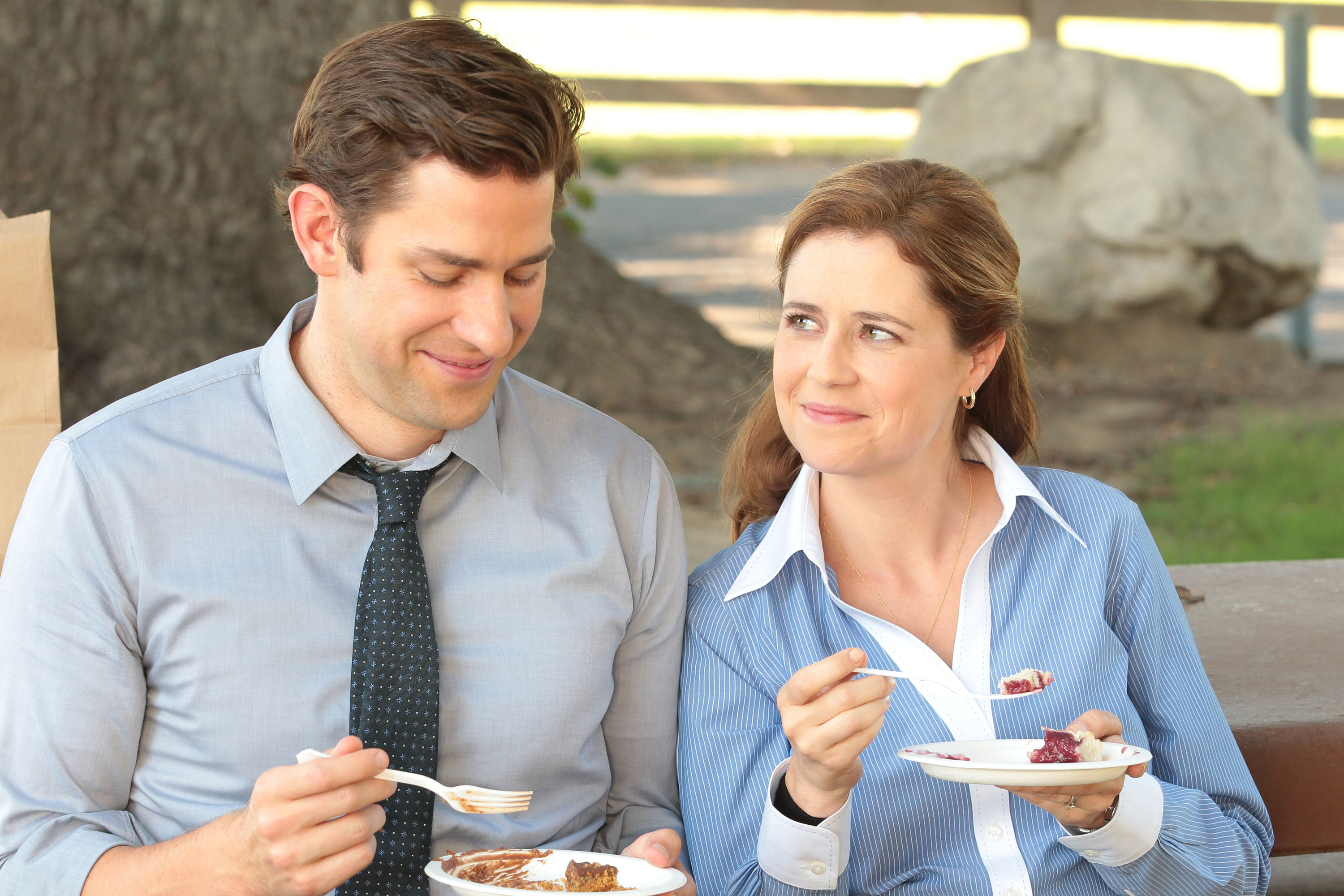 Fans go crazy for Jenna Fischer's 'genuinely in love' comments
In a conversation with Andy Cohen on Bravo TV's Watch What Happens Live with Andy Cohen, Fischer spoke of the undeniable spark between herself and Krasinski.
"John and I have real chemistry," Fischer said of the 13 Hours star, according to the Los Angeles Times. "There's like a real part of me that is Pam and a real part of him that's Jim. And those parts of us were genuinely in love with one another."
While fans of the show relished the statement hoping that life would imitate art, The Office alum clarified that they wouldn't be compatible off-camera. Still, Fischer revealed she continued to feel a close bond with Krasinski.
"In real life, we aren't totally Pam and totally Jim. So in real life, we're not like the perfect match," Fischer explained. "It's a really complicated thing. He was like a type of spouse that I had for a long time. He was my partner and we will always be close because of it."
'The Office' star finds love outside of Dunder Mifflin
While working on the 2012 film The Giant Mechanical Man, Fischer apparently had some chemistry behind the scenes with Kirk, the movie's writer and director. Their romance blossomed as they collaborated on the project.
"I attached myself as producer and actor to the movie. Then, for the next six or eight months or so, Lee was writing the movie, and he would turn in different drafts, and I would give him my thoughts," Fischer said, according to Vulture. "Very slowly, over those months, our meetings started turning into dates."
Heading to the altar in July 2010, Fischer confessed that she was reluctant to reveal her feelings for Kirk while they were working together since she was also attempting a producer role for the first time.
"I was hesitant to tell him that I was developing feelings for him because this is my first producing job," The Office star admitted. "I wanted to be professional! And here I am, falling in love with the writer."
'Where's Jim?'
Taking to Instagram to celebrate her 10th anniversary with Kirk, Fischer posted side-by-side photos of the two from their wedding day to present day along with a humorous caption.
"This weekend we celebrated our 10th Wedding Anniversary," the sitcom star wrote. "Ten Years! It's gone by so fast. I love you Lee! Nothing has changed except we both need glasses now. 👓 ❤️ 🥂✨"
Former co-star, podcast partner, and BFF Angela Kinsey congratulated the pair, writing, "Awww love this and love you two! Happy Anniversary!!" The Office alum Ellie Kemper also posted her well wishes, commenting, "LOVE THIS COUPLE, Happy Decade, Jenna and Lee!!"
While the pic clearly showcases Fischer with Kirk, many of her followers were making reference to her former onscreen spouse.
"That's not Jim though…," one fan pointed out. "Jim is punching the air right now," another wrote. "Sad this isn't jim but congrats," a follower commented. "What happened to Jim!!!" another posted. "wait that's not jim," one wrote. "Jim's changed over the years," another commented. You get the idea…
Thankfully, Kirk was acknowledged though it was mainly for his cameo as Pam's lactation consultant on The Office in the 2010 episode "The Delivery," and his resemblance to Toby, portrayed by Paul Lieberstein.
"The lactation consultant!!!!!!!! Wow. I'm clearly late to the party but I had no idea!" a fan posted. "OMG it's the lactation consultant!!!!" another remarked. "Anyone else think that was toby???" a follower asked.
Despite the onslaught of comments directed at the Pam-and-Jim connection, the actress is clearly enjoying married life with her real-life husband!